Trainer Joe Gallagher says Scott Cardle has more power than he's given credit for
Scott Cardle has the power to be a force at light-welterweight, according to trainer Joe Gallagher.
Last Updated: 12/03/14 1:20pm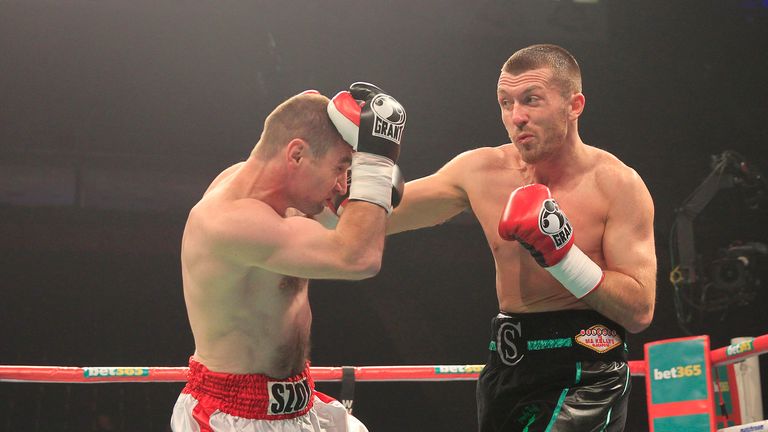 The Lytham lightweight has built a 14-0 ledger since turning professional two years ago when his chance of competing for Team GB at the Olympics had gone.
The 24-year-old has picked up the Central Area title at lightweight but performed in a higher weight class as an amateur and Gallagher is looking forward to the time when he can step back up.
Cardle has gained only three of his 14 wins inside the distance but the trainer believes some power has been given up with the loss of weight.
"As an amateur he boxed at a much higher weight and I do think that as he gets better and bigger opponents he'll start to look better," Gallagher told Sky Sports.
"I've seen it in the Wild Card Gym in Los Angeles, the first time I took him he was brilliant sparring Ray Beltran and then he comes back and fights journeymen - it's not easy.
"He boxed well against Maxi Hughes (last April) which was his first test, and back at the Wild Card this year he's sparred some really good kids.
"People say he doesn't have any power but he does, I've seen him knock out bigger guys here and in America. I was considering moving him up to light-welterweight as dropping down at lightweight has maybe taken something out of him."
Cardle, who was out of action last summer after suffering a bad cut in the victory over Hughes, scored arguably his most impressive victory over Paul Appleby earlier this month, stopping the experienced Scot in the eighth and final round.
Pit-bull
As in many of his fights, Cardle suffered a cut but he also showed the hand speed and skills that have so impressed Gallagher.
"I was pleased about the victory over Appleby, he was a good opponent who wasn't weight-drained and he looked really strong on the scales and came with a gameplan," he added.
"Cardle had a couple of tough rounds but he managed to come again and raise it to another level and once he smelled the other kid was in trouble he locked on like a pit-bull and the finishing shot was a great one.
"I think early on in the fight he was picking him off nicely but slowly but surely Appleby was getting to him, landing some decent shots downstairs and without realising it Appleby was back in the fight.
"Sometimes fighters think they are cruising and they are not really and he just needed a re-awakening and telling how it really was. I wanted him to quell any aspirations Appleby had of coming on strong in the later rounds and that's what he did."
It is unclear which direction Cardle takes from here with the domestic lightweight division being extremely competitive. However, Gallagher would have liked to have thrown him in with the resurgent John Murray, although he now fights stable-mate Anthony Crolla instead.
"It's a strong division, the British title against Martin Gethin is there, and I really wanted him to fight John Murray which would have been a good test for both of them, whatever people say," he said.
"Murray hasn't fought a live lightweight since he's come back and Cardle certainly is that.
"But now we'll just have to see what's out there, possibly an English title or something like that."