Tony Bellew has threatened to retire if he loses to Valery Brudov on Saturday
Tony Bellew has threatened to quit the ring if he loses to Valery Brudov on Saturday night.
Last Updated: 13/03/14 10:34pm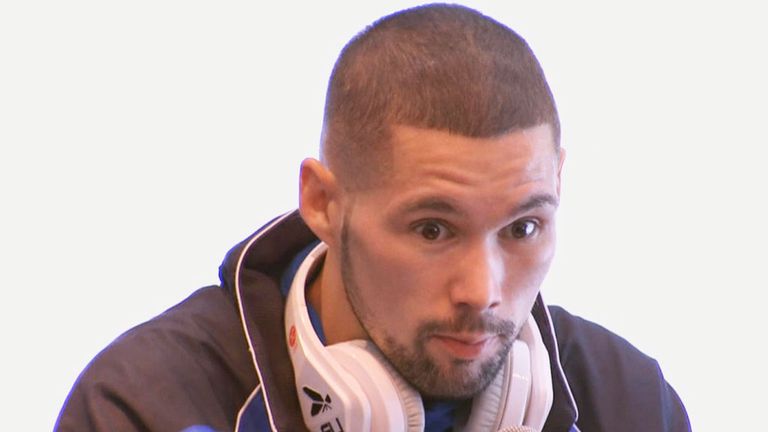 Bellew steps up to 200lbs against the big-punching Russian after his bid to win the WBC light-heavyweight title was ended in six rounds by Adonis Stevenson in Canada last time out.
The vacant WBO cruiserweight title will be up for grabs at Liverpool's Echo Arena and Bellew knows he cannot afford to make an slip ups.
"It's the be all or end all," admitted Bellew. "It's that big, if I can't beat Valery Brudov then I'm not going to be a world champion and I just don't think there's much point in carrying on to be totally honest, so this is it for me.
"Make no mistake this is a tough fight, this guy has got more knockouts than I've had fights. He has got 28 KO's, I've had 23 fights... 45 fights, he got to 30-0, not many people can say they got to 10-0, this guy got to 30-0.
"He's tried, tested and proven, he's solid, and the look in his eye says he's coming to win, he's not coming here for a pay day, to make up the numbers, and he is coming to win.
"He just said to me 'god bless you', I think he's trying to tell me I'm going to need it."
Stronger
Bellew has promised fight fans an explosive night's entertainment and believes he will be a stronger fighter at cruiserweight.
"I'm looking forward to Saturday night, I can't wait," said Bellew. "It feels real every time I step on the scales and the scales say 200lbs. I know what I'm getting into, when you are in sparring with big guys you know what it is about.
"I've sparred with big guys that are a lot heavier than me, so it's been real from day one, it was real the minute I left Quebec City.
"I think we will see excitement, I think we will see somebody who is not frightened to exchange, somebody who doesn't feel like he's got a vulnerability factor to him.
"I just think it's time to show what got me a name. People don't turn up to see a tickling contest, people don't turn up to see someone run away and win points for 12 rounds.
"People turn up because they want to see a fight and on Saturday night you are going to see a fight. This guy knows no way but forwards and I'm not afraid to mix and get stuck in.
"Like I say there's no vulnerability factor to me, I'm just looking forward to Saturday night."
Tony Bellew, Kell Brook, Rocky Fielding and Kevin Mitchell will all be action on Saturday night live on Sky Sports 2