Tyson Fury turns over table in bad-tempered press conference with Dereck Chisora
Tyson Fury stormed out of his press conference with Dereck Chisora ahead of their heavyweight rematch this summer.
Last Updated: 20/03/14 6:42pm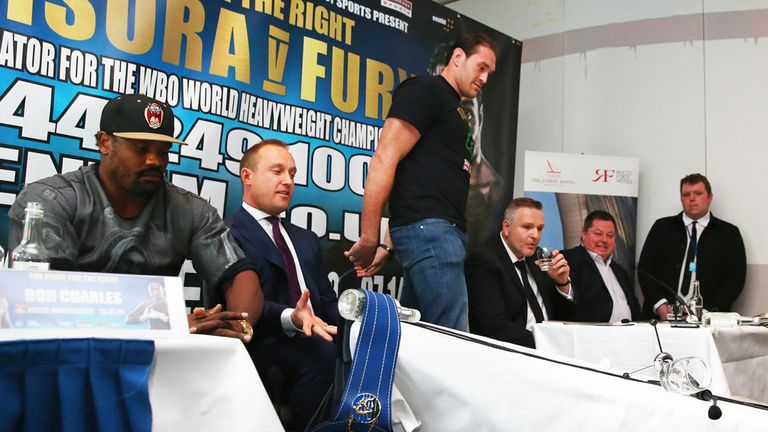 Fury had poked fun at Chisora during a media event in London earlier this week, but there was nothing light-hearted about their second meeting in Manchester.
The British duo will battle for a second time in Manchester's Phones 4u Arena and the rivalry has already boiled over ahead of their clash on July 26.
Fury defeated Chisora on points in their first meeting and when asked for his opening remarks, he said: "All this mumbo-jumbo, great fights and all that - basically, let me tell you straight how it is."
He then stood up, grabbed a microphone, and declared: "Listen, I'm Tyson Fury, I'm the best heavyweight on the planet, this idiot is getting knocked spark out and I'm sick to death of this."
The 6'9" tall fighter then directed a foul-mouthed rant at Chisora, flipped over a table and marched out of the room.
Chisora applauded Fury in a sarcastic manner and shrugged off his latest verbal attack.
The Londoner said: "What can we say about that? Shall we give him a Golden Globe or not?
"He needs to get a bit of publicity - he needs people to talk about him. But we just laugh."
Chisora himself has a reputation as a hot-head, having slapped Vitali Klitschko across the face in the build-up to their 2012 world title bout in Germany and then brawled with David Haye at the post-fight press conference.
But he has subsequently taken part in anger management sessions and said: "My emotions are more calmed down now. With him (Fury) swearing at me, two or three years ago we would have been rolling around on the floor right now.
"I'm not a punk - don't look at me and think that. I'm more of a gangster than anybody else.
"But, as you can see, right now I'm very calm. I'm a boxer, a professional athlete now."
In the first meeting between the pair in 2011 at Wembley, Fury claimed the British and Commonwealth titles with a unanimous points victory over Chisora, who admitted he had not been fit enough for the contest.
The latter goes into this encounter - which is a WBO title eliminator - as the European champion, while the vacant British title will also be up for grabs.
And Chisora, victorious in his last five fights following defeats to Klitschko and Haye, is looking ahead to the bout in confident mood.
"I don't have much to say because the person I want to say it to is not here," Chisora said.
"There is no need for me to badmouth him while he's not here - I'm not a backstabber. I like to tell the truth in front of people's faces.
"I have made my name already and we know Tyson hasn't been on the biggest stage in his career so far.
"He needs to understand I'm giving him another payday. I am the champion.
"The first fight was great - he trained hard, he came to take the titles and he did that. But this time, it will be different."