Luis Collazo: Amir Khan is overlooking me and better watch out on May 3
Luis Collazo says Amir Khan is in for a shock if he goes into their May 3 fight with Floyd Mayweather on his mind.
Last Updated: 29/03/14 11:59am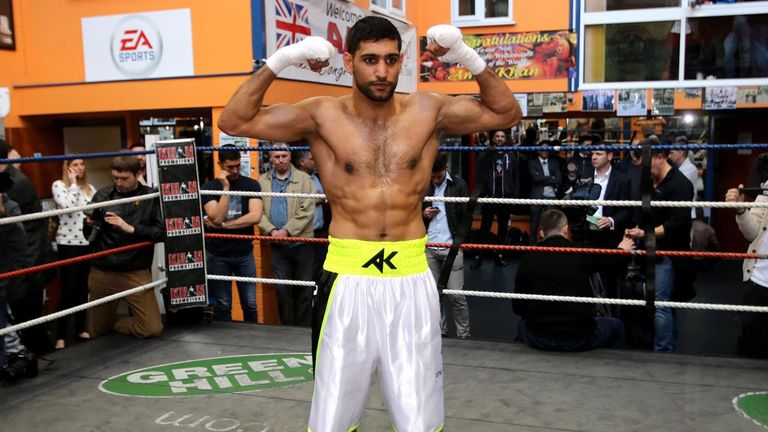 Khan was this month forced to accept second billing on the Mayweather-Marcos Maidana card after missing out on his dream fight against the unbeaten superstar.
Instead the former light-welterweight champion will make his debut at 147lbs against Collazo, the New Yorker who took Ricky Hatton the distance eight years ago and announced his return to the world stage with a second-round stoppage of Victor Ortiz in January.
Khan insists he is focused solely on Collazo, although the Briton has already announced his intention to call out Mayweather at ringside in Las Vegas.
Asked whether he believes Khan is in danger of overlooking him, Collazo said: "Yes, he is. At least that's what I'm hearing.
"On May 3 I'm going across the ring once that bell rings, and he's just got to get ready. I know I'm getting ready, and I hope he's getting ready the same way, because we've got to give the boxing fans some excitement.
"You know, he's his own fighter and if he takes me lightly, more power to him. But come fight night, I'm just going to try to capitalise on all his mistakes."
Improved
Collazo will be Khan's first opponent in more than a year spent waiting for a date with Mayweather that did not materialise.
But Khan says the long-lay off has made him "metaphysically and mentally a better fighter" and is determined to make his mark on Mayweather's night.
He said: "I know I will be in Floyd's eye. Even though (a fight) didn't happen last time, it's not going to affect me in any way.
"I'm just going to be focused for my next fight, really. I know I'm up against a tough guy. I really believe that this fight can steal the show on the night."