Andre Ward describes Froch-Groves II as a 'domestic fight', says pair are avoiding him
Andre Ward has branded Carl Froch's rematch with George Groves as a 'domestic fight' and believes the pair avoided him.
Last Updated: 15/05/14 1:42pm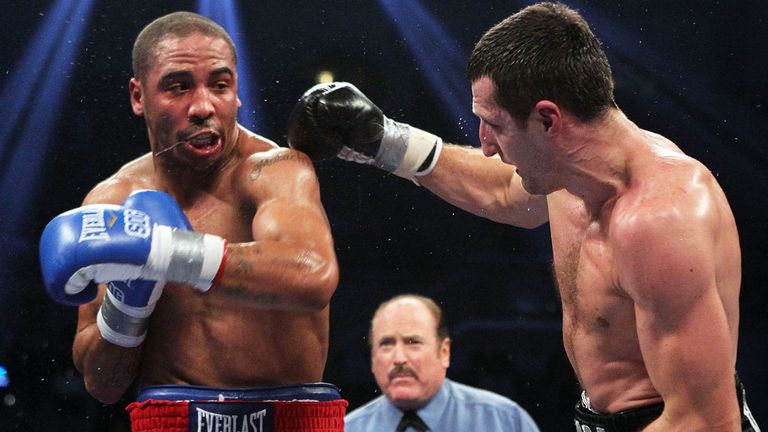 Froch will put his WBA and IBF super-middleweight titles on the line against Groves in a highly anticipated second fight at Wembley on May 31st, live on Sky Sports Box Office.
Tickets for the fight were sold within a few hours and around 80,000 fans are expected at the national stadium, but Ward has poured scorn on the world title unification clash.
The American, who is considered the No 1 in the division, already holds a points win over Froch, but claims that Groves turned down a bout with him shortly after his controversial defeat by 'The Cobra' in November.
He insists the pair will only receive genuine recognition in the sport if they agree to face him in the United States.
"This is not to take away from anything that they're doing, but that's a domestic fight," he told this week's Ringside Toe2Toe podcast.
"You've got to remember that. It's not here in America, that's not in Vegas, it's not in New York, that's a domestic fight, so there's a difference.
"If they crossed the Atlantic and came here, then I think they've got to see me.
"I don't think either guy wants the fight, that's just how I see it. You know when Groves and Froch was in limbo, I reached out to Groves and I said let's talk about a fight, and you know... well we'll see maybe, and Froch clearly doesn't want the fight.
"It's tough to say, I think those are questions for those guys."
Questions
Froch has fought a succession of big names over the years, defeating the likes of Mikkel Kessler, Lucian Bute, Arthur Abraham and Jermain Taylor.
But Ward has questioned his reputation, accusing the Nottingham man of rejecting a rematch after his decision victory in the Super Six final in 2011.
"It's one thing saying 'I'm not ready, I don't want the fight', but when you talk the way Froch does and then when the phone is picked up and (I) said, 'Hey let's follow this up', and you get no response, that's the kind of stuff that has me scratching my head. I don't understand it," Ward said.
Groves emerged from the first fight against Froch with plenty of credit, having floored the champion in the opening round before he was controversially halted in the ninth.
His performance even earned praise from Ward, although the Oakland man thinks Groves still needs to answer questions about his stamina in the return bout.
"I think it's a good fight, probably a 50-50, 60-40 kind of fight. I think whoever shows up that night," said Ward.
"I just saw the knockdown that Groves had and I saw the stoppage, those were the only two points that I saw, but I read about it, I know what happened.
"I think he's a contender, I just think he needs to prove he has a gas tank beyond six rounds. I think that's the challenge for him, he has to prove he can go the distance. That's the key.
"In terms of the heart, in terms of the ability he has that for sure and even the mindset. He did everything that he told Froch he was going to do. He said, 'I'm going to meet you in the centre of the ring, I'm going to hit you with a right hand and I'm going to knock you down', and that's exactly what he did."
On the Froch-Groves undercard, James DeGale has been handed a tough test against Brandon Gonzales, a fighter that Ward knows well.
Ward trains alongside Gonzales at Virgil Hunter's gym and is confident his stablemate can defeat DeGale in their IBF final eliminator.
"Good fighter, I've been with Brandon probably seven, eight, nine camps and he's a tough kid, very skilful," he said.
"We have a lot of similarities, we've got the same coach, train the same way. He's himself but we've got a lot of similarities and I think this is a make-or-break fight for both of these guys.
"The winner moves on to bigger and better things, the loser goes to the back of the line, that's just how it works in the sport."