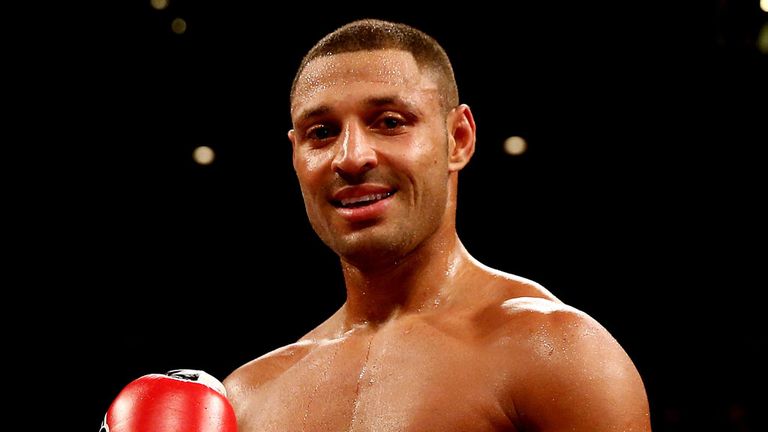 Undefeated British welterweight star Kell Brook looks set to finally get his shot at a world title after agreeing a deal to fight Shawn Porter for the IBF title in New York on August 9.
The 28-year-old has seen three previous world title fights against previous IBF champion Devon Alexander fall by the wayside because of injury isses, but now has the opportunity to make his mark on the big stage.
Porter, who is also unbeaten, beat Alexander to take the world title before demolishing Paul Malignaggi in four rounds in his last bout.
Brook's trainer Dominic Ingle said clinching the deal for the fight was a relief.
"It's been a long time coming and it feels like we've been waiting for this fight forever," Ingle told Sky Sports' Toe 2 Toe.
His mind's firmily on the job and he's ready to go.
Dominic ingle
"Kell's been permanently fighting final eliminators and now the dream has become reality and Kell is well prepared.
"I'm surprised how well he's coped considering the carrot on the stick kept on getting dangled in front of him and then taken away. He's managed to maintain his focus - he's had three fights since the Devon Alexander fight fell through and he's trained well for each one and come through them.
"His mind's firmly on the job and he's ready to go."
Confident
Porter's performance against Malignaggi made a real impression on many observers, but Ingle said he was confident his man had enough to triumph - even in America.
"I don't think Porter has been overhyped but up until he fought Devon Alexander he'd been under the radar and he hadn't really impressed me," added Ingle.
"I've watched him and Keith Thurman a few times and I think Thurman is the better fighter of the two. On paper the Malignaggi and Alexander fights look good but neither of those fighters have got the power that Kell has got.
"Once Kell catches you with a powerful jab or a straight right hand he'll stop fighters like Shawn Porter trying to rush in. He has to keep it clean and not get dragged into a wrestling match.
"It's his big chance. It's a big ask to go to America and fight an American on his home soil. There's probably been more failures and successes with British fighters going there but Kell is a special fighter and I think he can pull it off."
British fighter Ashley Theophane has sparred with Porter in America, and said Brook would struggle to make the step up to the quality needed for world title fights.
"I think it's a very good fight, it's a good clash of styles," said Theophane.
"Shawn can come forward but he can box as well. I like his coach, his father Kenny, who's really on top of things: if he's not happy with something he'll stop sparring and speak to Shawn for 30 minutes if he has to.
"Personally I side with Shawn because I've sparred with him and I think he's been at a higher level. For Kell Brook - like a lot of British boxers - they wait until the biggest fight of their life before they go to America."