Muhammed Ali's gloves from 'Fight of the Century' sold at auction for $388,375
Last Updated: 01/08/14 12:57pm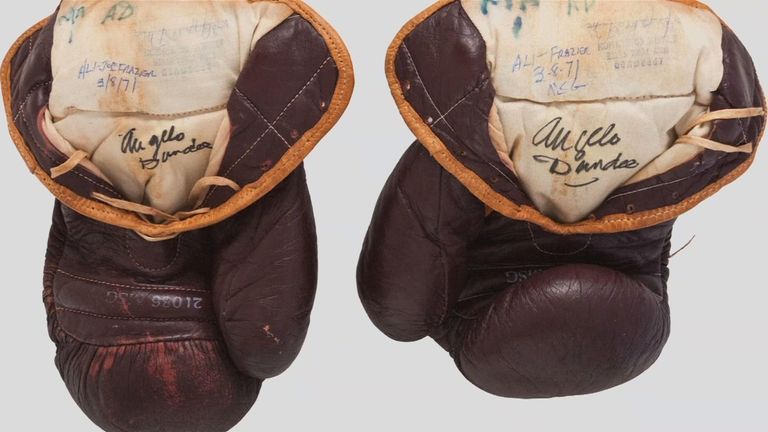 The boxing gloves worn by Muhammed Ali during the 'Fight of the Century' with Joe Frazier have been sold at auction for $388,375 (£230,635).
The gloves were bought by an anonymous bidder at the auction in Cleveland, United States.
Frazier defeated Ali on a unanimous decision in New York's Madison Square Garden to become the undisputed world heavyweight champion.
Ali later avenged the loss with victories over 'Smokin' Joe' in 1974 and the 1975 Thrilla in Manila.
The fight in 1971 came after Ali had been stripped of his title for refusing to enlist in the US Army during the Vietnam War.
"The Fight of the Century, as it was known, more than lived up to its billing despite the fact Ali lost," said Chris Ivy, director of sports auctions for Heritage.
"I can think of no piece of memorabilia associated with it that could be more evocative than the gloves the Ali wore.
"Yes, he was defeated, but the fight really changed Ali as a man, starting the transition from a brilliant, rash rabble-rouser into the most beloved sports figure of the 20th Century, if not of all time."
Previously, a pair of gloves worn by Ali in his first world championship fight was sold for $836,500 (£496,752).