Boxing: Brandon Rios ready to go to war with Diego Chaves in Las Vegas
Last Updated: 01/08/14 6:05pm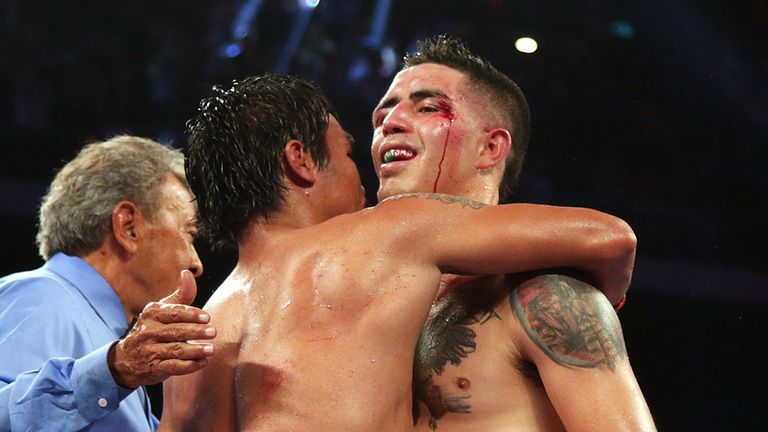 Brandon Rios has vowed to go to war with Diego Chaves to secure victory in what he says is a must-win fight in Las Vegas on Saturday.
The 28-year-old is looking to revive his fortunes after consecutive defeats against Manny Pacquiao and Mike Alvarado.
And the Texas-born fighter has promised fans he will bounce back in style when the pair clash at the Cosmopolitan Hotel just off the Las Vegas strip.
"We're just going to give the fans what they want. They're going to see a nice little war in the ring as long as it lasts and it's going to be a tremendous fight," said Rios.
"I know he has tremendous skill and punching power, but I have punching power too. And I do have some skills, kind of. But we're ready 100%.
"I know this is a do or die fight for me, so I'm going to make it a 'do' instead of a 'die' and the fans are going to see the old 'Bam Bam' back."
Rios burst onto the scene in 2011 when he claimed the WBA lightweight with a 10th round stoppage of Venezuelan Miguel Acosta.
But two defeats in 2013 made it a year to forget for Rios who blamed complacency for the dip in in his fortunes.
"It is going to be a better year for me, I'm ready and well prepared and I have already put those two losses into the past," he said.
"I'm looking to rejuvenate myself now. I got caught up in too much stuff and got comfortable too quick.
"It's all about the future for me now. Everyone thinks I'm done - they think I've been in too many wars. I'm ready to win this fight.
"I made a lot of money and got too comfortable but now I've got to come back down to earth and need to do the things that got me to that high point in the past.
"I promised my trainer I'm going to do everything right and that's what I have been doing and you'll see that on Saturday night."