Kell Brook is relishing the opportunity to challenge IBF Welterweight champion Shawn Porter
Last Updated: 01/08/14 6:03pm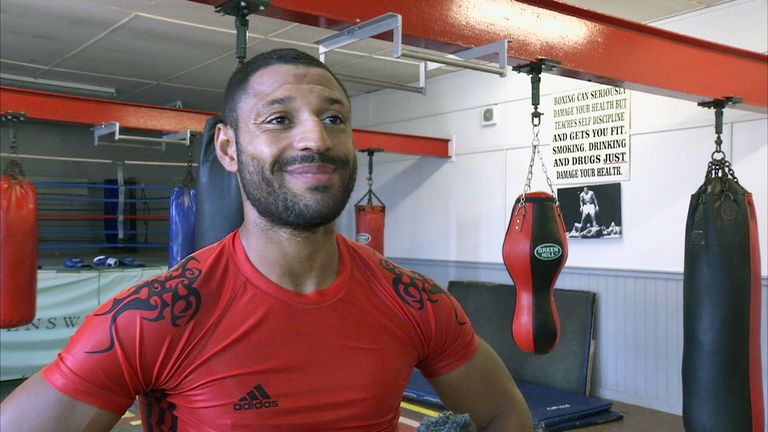 Sheffield welterweight Kell Brook is relishing the opportunity to get into the ring with champion Shawn Porter on August 16.
Brook, also known as the Special One, will go into battle for the IBF Welterweight title against his Ohio opponent, at the StubHub Center in Carson, California.
The 28-year-old has shrugged off the disappointment of having three world title dates with former champ Devon Alexander cancelled through injury to both men.
After enduring much frustration and having to be assured by promoter Eddie Hearn, Brook is desperate to put the frustration behind him and take his shot at the title. 
"It feels unbelievable knowing that all my dreams are going to come true in two weeks' time," said Brook.
"I am focusing on my dream. People have been writing me off but that has just made me push on even more.
"All the injuries and speculation was frustrating but I was taking it one day at a time and listening to my team around me.
"They were telling me that my time would come so I kept moving forward and believing in my team and ticking over in fights, and now I'm in the position I want to be, the big one.
"I was worried in a way that it wouldn't happen but I was constantly talking to Eddie and the fact is there's no way they could've boxed anyone else for the IBF as I was mandatory.
"I know nothing is ever nailed on until you are in the ring but I believed in my team and they told me it was going to happen."
As Brook was waiting for his shot at the title, he exacted revenge on Carson Jones, stopped former world champion Vyacheslav Senchenko and swatted aside Alvaro Robles, while he was watching with interest as the IBF crown was changing hands in the States.
Porter took the title from Alexander in December then stopped Paul Malignaggi in April, and the latter has spoken to Brook ahead of his bout.
"It was good of Paulie to call me up and have a chat," Brook said. "He gave me some knowledge about him and we take all that with open arms. I know he'll bring it all because he is up against it. I'm expecting a dog fight, expecting to box and fight, every different situation in the ring.
"I was 100 per cent confident of beating Devon Alexander but Shawn beat him and beat him well. I have watched him in action; he's determined, aggressive, he comes forward and he wants to win.
"He possesses power and has all the ingredients of a dangerous man, but he's facing someone in me that is a lion who wants something he's got and is coming to take it.
"I have been in camp for about 13 weeks, I've been to America, in Sheffield and over in Spain, no stone has been left unturned for this, no corners cut. I feel great, my weight is great, I'm fuelled up for training and I have never been at a better weight."
Watch Brook take on Porter live on Sky Sports on Saturday, August 16