Deontay Wilder stopped Jason Gavern in California to make it 32-0 with 32 knockouts
Last Updated: 17/08/14 1:54pm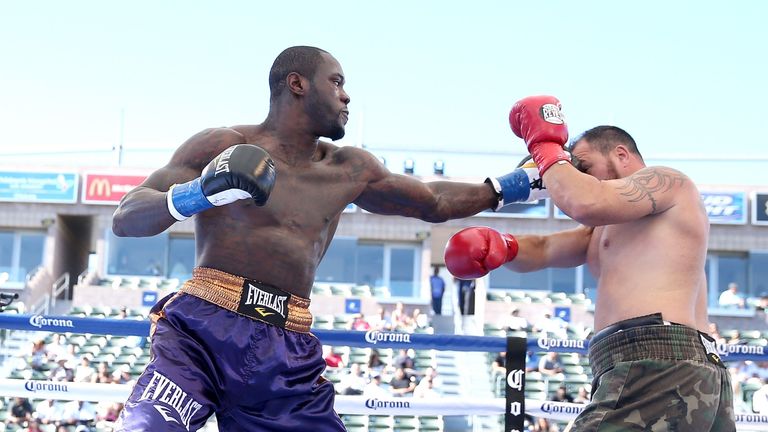 Deontay Wilder continued his perfect knockout run against the game Jason Gavern.
The big American heavyweight hope won his 32nd fight and for the 32nd time was not dragged into the fifth round.
Gavern's corner threw the towel in at the end of a fourth round that saw the former Prizefighter contender start to fade, even if it didn't see Wilder produce the sort of stunning display we are still waiting to see.
He was always going to win, so all eyes were on how he was going to do it. And that was disappointing rather than devastating.
A sparse, but ever-growing StubHub Center crowd were not treated to a show from the Bronze Bomber, who barely landed a decent jab for three rounds and while his right was cocked from the first bell, there was little else to impress.
He barely put a combination together and the first knockdown, in that third, left Gavern complaining to the ref that he had been pushed over by a shoving jab and then hit on the back of the head with a right.
It left the 37-year-old conversing with someone in a neutral corner at the end of the round and although he was down again, with a right that almost grazed wide of the mark, the man called the 'Sensation', made more noise on one knee.
Perhaps it woke Wilder up and suddenly the jab started to ping at pace and as Gavern started to fade, it was a question of when that right was coming.
Well, he was pushed over again just before the end and the first attempt at more than a solitary punch being put together sounded the bell for the end of the fourth and that was it.
It was another win for Wilder, it was another intriguing fight at best but it was at least four more rounds before that WBC showdown with Bermane Stiverne he has - somehow on this basis - earned. Tyson Fury in the meantime, will have nothing to fear.