James DeGale's trainer Jim McDonnell says he wanted his fighter to take on Carl Froch
Trainer respects Froch but still expected DeGale to beat him
Last Updated: 05/02/15 10:28am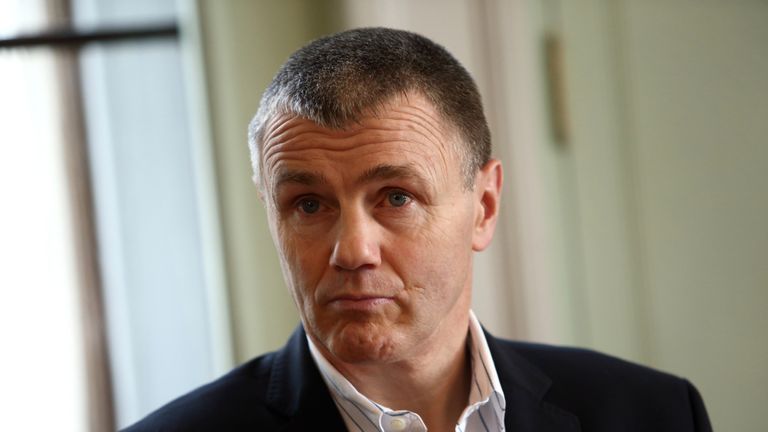 Jim McDonnell admits he would rather have seen James DeGale fight Carl Froch for the world title.
IBF super-middleweight rankings
1. James DeGale
2. Andre Dirrell
3. Gilberto Ramirez
4. George Groves
5. Julius Jackson
6. Porky Medina
7. Rocky Fielding
8. Brandon Gonzales
9. Christopher Rebrasse
10. Robert Stieglitz
Froch gave up the IBF super-middleweight belt on Monday leaving DeGale to fight for the vacant title in London in April, most likely against American Andre Dirrell.
But McDonnell is confident his man is the best in the 168lbs division and had a gameplan in place to end Froch's reign, admitting he would have loved to have taken on The Cobra.
"James' career has always been targeted towards a world title and opponent-wise, I will genuinely say I would have liked it to be Carl Froch," he told Toe 2 Toe.
"It is a big domestic fight, and style-wise and with everything else, it would've been one where James got so much kudos. It would've been incredible.
"Obviously we've seen Carl box for years, being a British fighter, so there are no surprises really. James had to be what he is, himself, and we were very confident.
"But Carl is doing what he's doing and we wish him all the best, and if I were him, I think it's a wise decision.
"James genuinely doesn't care, whether it's Carl Froch, George Groves, or Andre Dirrell. Out of all of them, I think Dirrell is the trickiest - a bit like James, he's a switch-hitter, a multi-talented guy.
"On the downside, he's had a bit of inactivity recently, and I think getting in with a motivated DeGale at this stage, who is the best I've ever seen him, and in the shape he's in and at the pace he will fight at, I believe it's beyond anyone in the 168lbs division to stay with him.
"His belief in himself is total. One, with his development, and two, he's now injury-free. His training is completely different - it's a fact he was fighting injured, and fighting top fights.
"I said when he turned pro that his peak time would be late 20s, early 30s. He's just 29 now and over the next four years I see James as a dominant force - I always knew that would be the case."
To hear more from McDonnell on Andre Dirrell, George Groves and DeGale's maturity, download the Toe 2 Toe podcast at skysports.com/podcasts/toe-2-toe