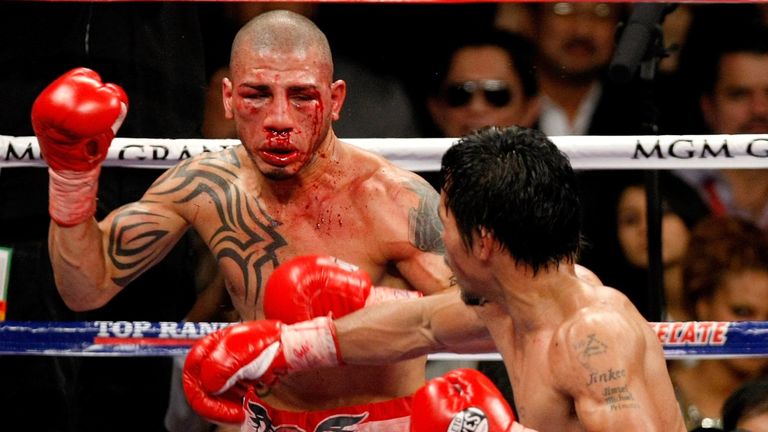 Miguel Cotto is backing Manny Pacquiao to defeat Floyd Mayweather when the pound-for-pound rivals meet in their welterweight showdown on May 2.
Cotto has shared a ring with both fighters and believes Pacquiao will upset the odds in Las Vegas with Freddie Roach - his own trainer - in the Filipino's corner.
"After working with Freddie I think he is going to be huge in the fight," Cotto said. "I'm going for Manny."
Cotto was floored twice by Pacquiao before being stopped in the 12th round of their 2009 bout and then two-and-a-half years later lost a unanimous decision to Mayweather.
The 34-year-old, who is the reigning WBC middleweight champion, has just signed a multi-year, multi-fight deal with music mogul Jay Z's Roc Nation.
"I never met him, but who doesn't know about Jay Z," said Cotto. "Working with his company is big for me. In this chapter of Miguel Cotto's career, it will make a difference."
No fight has been finalised, though Cotto hopes to defend his title at Madison Square Garden on June 6, just a day short of a year since he stopped Sergio Martinez to become the first Puerto Rican fighter to win world titles in four weight classes.
"I'm in the final stage of my career and I want to finish my career in the best way possible," added Cotto. "This is going to be a new challenge for me and we want to do it with Roc Nation."
Before joining Roc Nation, Cotto had been in negotiations to face Canelo Alvarez, who will now face James Kirkland on May 9 in Houston.
Another potential opponent is Gennady Golovkin, who holds the WBA version of the middleweight crown.
"I'm going to do what's best for me," Cotto said. "If it's Golovkin, I'll go for him. If it's someone else, it's someone else."
Cotto joins fellow WBA champion Andre Ward at Roc Nation after the super-middleweight signed for the company in January.