Luke Campbell and Tommy Coyle make weight for hometown fights on Saturday
Last Updated: 07/03/15 7:35pm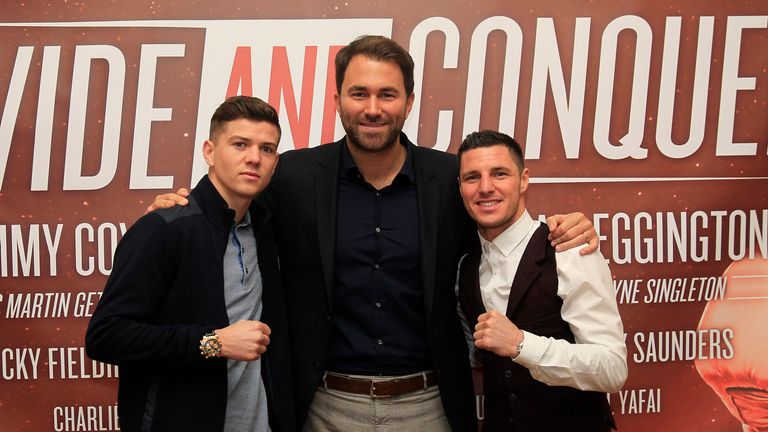 Luke Campbell and Tommy Coyle both made weight for Saturday's lightweight clashes as they warm-up for their showdown in the summer.
At the top of the bill, Coyle takes on Martin Gethin in his hometown of Hull, live on Sky Sports 1 HD, and he tipped the scales at 9st 11lbs.
Gethin, a former British champion, matched this weight and both men went nose-to-nose in a tense face-off before they eventually shook hands.
Coyle will be hoping to stay on course for a planned domestic clash with fellow Hull man Campbell, who must get past Nicaraguan Levis Morales.
Campbell made a brave late decision to fight on this card, despite his father's ill health, but still looked in peak condition at 9st 10lbs.
The Olympic gold medallist usually holds a height advantage over his opponents at 5ft 9ins tall, although on this occasion Morales matched up well to him after weighing in at 9st 11lbs.
On a busy undercard, Shayne Singleton faces Sam Eggington in a battle of two upcoming welterweights.
Singleton, who puts his unbeaten record on the line, was inside the limit at 10st 6lbs, with Eggington registering the same weight on the scales.
Unbeaten super-middleweight Rocky Fielding also features on the card and he weighed in at 12st 3lbs, while Latvian opponent Oleg Fedetovs was slightly lighter at 12st 1lbs.
Watch Tommy Coyle, Luke Campbell and a packed bill at Hull Ice Arena, live on Sky Sports 1 HD, from 7.30pm on Saturday.