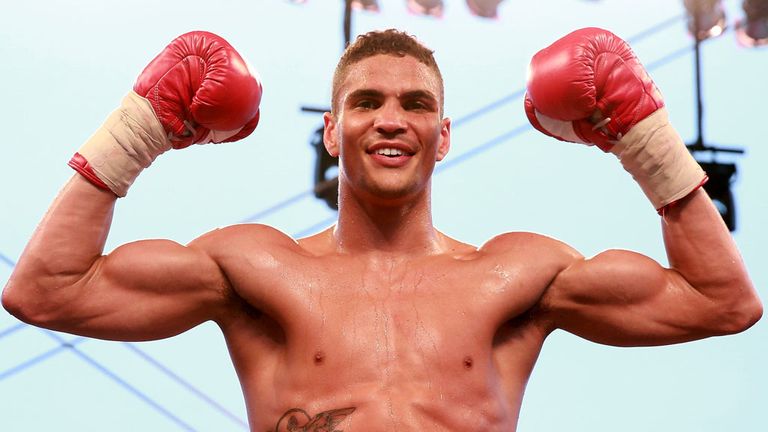 Anthony Ogogo insists he will not let his injury hell prevent him from becoming a global superstar in the middleweight division.
The London 2012 bronze medallist turned professional two years ago and has won each of his seven contests, with four coming by way of knockout.
But the 26-year-old has not boxed since July after a long-standing Achilles injury flared up, forcing him to undergo multiple surgeries.
"I've had really destabilising injuries for the last four or five years now," Ogogo told Sky Sports News HQ. "I had an operation in September which didn't work. If anything, it exacerbated the injury.
"I had to go back in surgery in January and had a big clear out of both Achilles, both sides, and I'm back doing the rehab, working really hard.
"The quicker I can get back in the ring, the better. Hopefully that will be the summer, that's the plan. Fingers crossed I will carry on progressing smoothly back on my road to world domination, hopefully.
"This time out of the ring has been really, really horrible and it's been very destabilising in the early part of my career but it's a case of when I'm back I'm going to be better than ever before.
"Even though it's been very upsetting, my excitement (about the future) outweighs the disappointment."
Ogogo was asked if he fancied a crack at undefeated California-based Kazakh superstar Gennady Golovkin once he makes a return to full fitness.
"Long-term he's on my radar, yes definitely," he replied. "How can he not be?
"He's beaten a Brit in Martin Murray and Matthew Macklin, another Brit, so I'm watching those fights thinking I want to get one back over on him and get one over the Kazakhs.
"As soon as I can get back in the ring, get back in the gym training, he'd be one of the guys I'd like to fight in two or three years' time. In the meantime, there will be some big domestic fights and as I said, I want to take over the world in the middleweight division and become a boxing superstar.
"That's what I've always dreamed of and that's what I believe I can attain."