Mayweather vs Pacquiao: The Filipino felt he had earned a famous victory over Mayweather
Last Updated: 03/05/15 11:02am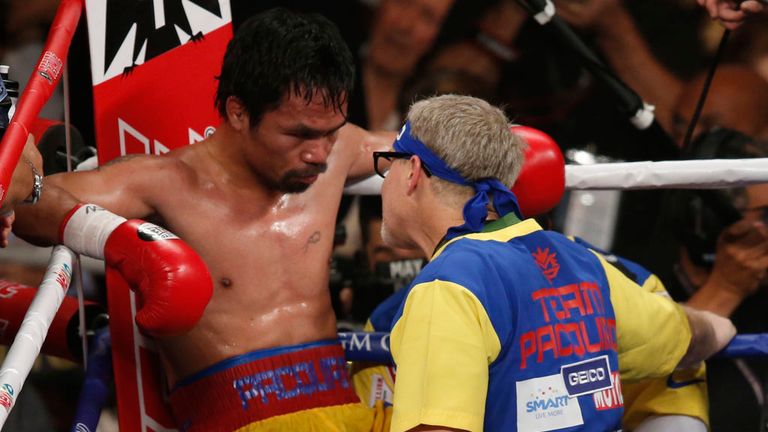 Manny Pacquiao felt he had done enough to inflict a first defeat on Floyd Mayweather, despite his unanimous points loss in Las Vegas.
The long awaited showdown between the sport's biggest stars was largely controlled by the American, who extended his unbeaten record to 48-0 with scores of 118-110, 116-112 and 116-112.
Pacquiao visibly troubled Mayweather in the fourth round, trapping the 38-year-old on the ropes, but 'Money' quickly reasserted his control with a stream of right hands.
Questioned about the judges' verdict, Pacquiao said: "Well it's a good fight, I thought I won the fight.
"He didn't do nothing, he moved away. I got him many times with solid punches. I thought I won the fight."
The 'Pac Man' failed to adjust his tactics and was restricted to solitary punches in the closing rounds at the MGM Grand.
He blamed his opponent's elusiveness and dismissed suggestions that he was dissuaded by Mayweather's sharp counters.
Pacquiao said: "He was moving around. It's not easy to throw a lot of punches if your opponent is moving around, but if he stays I can throw a lot of punches. I was countering him, but that's the fight.
"I can handle his power, it's not strong like (Antonio) Margarito or other opponents, (Miguel) Cotto like that."
Asked if he thought he was ahead in the fight, Pacquiao simply replied: "Yes."
A third defeat in six fights has further dented his reputation, but Pacquiao suggested he will fight on.
"Take a vacation and (promoter) Bob (Arum) will take care of the rest," he said.