Manny Pacquiao thought he had defeated Floyd Mayweather, says his promoter Bob Arum
Last Updated: 06/07/15 6:57pm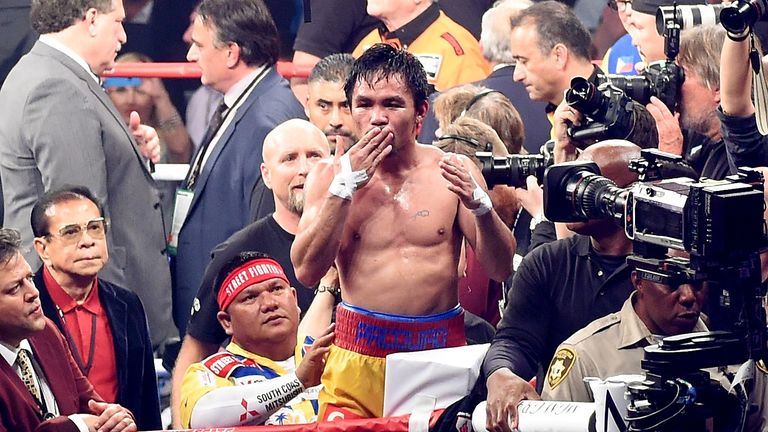 Manny Pacquiao felt he was harshly treated by the judges after losing his May mega fight with Floyd Mayweather on points, says the Filipino star's promoter Bob Arum.
The eagerly awaited 'Fight of the Century' saw Mayweather confirm his status as the best fighter on the planet, taking a unanimous decision over long-term rival Pacquiao in Las Vegas.
In the aftermath of his defeat, 'The Pac Man' revealed that he had been hampered by a serious shoulder injury, but still believed he had done enough to earn the decision.
"He thought he won the fight," Arum told boxingscene.com. "With both shoulders, he felt he would have won easy."
Pacquiao's injury claims have been openly mocked by the unbeaten Mayweather, who ruled out a rematch, and 'Money' has vowed to hang up his gloves after his 49th fight on September 12.   
Arum, who recently mentioned Sheffield's Kell Brook as a potential comeback foe for Pacquiao, saw the fight differently and scored it a draw.
"I watched the fight over and over again," he said, "Without being biased - in addition to the four rounds that (two) judges gave Pacquiao - I gave him the second. 
"I don't see how you could take the second round away from him. And the last round as well, which would have made it a draw."