Tyson Fury mocks 'boring' Wladimir Klitschko ahead of world title clash
Last Updated: 22/07/15 10:36am
Tyson Fury has slammed heavyweight kingpin Wladimir Klitschko for having "as much charisma as my underpants" ahead of their world title clash on October 24.
The 26-year-old Mancunian (24-0-KO18) was in playful and then aggressive mood at the first press conference for his showdown with WBO, WBA (super) and IBF champion Klitschko (64-3-KO53) in Dusseldorf - enthralling the German media with some mischievous insults and solemn threats.
Fury said: "Guten aben alles. Ich bin Tyson Fury, der sexymeister from Great Britain!
"I believe he has never faced a challenge like me before and I don't believe he will again. I'm a unique fighter, one of a kind. There's never been someone like me in history - a fighter like me only comes along every 1,000 years."
Then, addressing Klitschko after the world champion had spoken, Fury said: "It's a personal mission for me to rid boxing of a boring person like you. I've just been falling asleep listening to your stupid speech there. I don't hate old men, but listen when being spoken to. You asked the question and I will answer.
"Personal business between you and me. I'm not interested in all the titles and all those belts you've got on there - I'm interested in breaking your face in. That's what I'm interested in.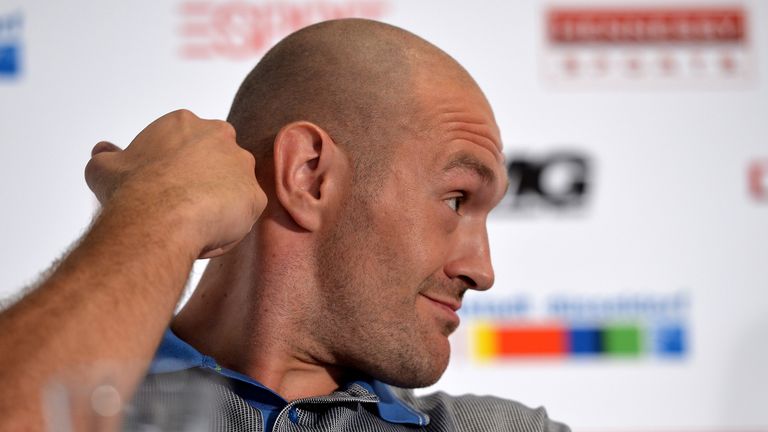 "You're boring and I want to get you out of the heavyweight division. Your jab and grab style means that surely all of Europe wants to see you get beaten and all of Europe and the rest of the world will see you get beaten.
"You have about as much charisma as my underpants. Zero.
"You're not even a heavyweight. The first time I actually met you face to face was in your training camp in Austria in 2010. I expected a great guy, a great champion and what did I find? A man with a pair of boxing gloves on throwing jabs and one-twos. The same thing over and over again.
"I went away from that training camp with pure confidence. You're nothing. Remember that. You are nothing and you are getting knocked out."
Klitschko, who is planning to fight again five more times despite being less than a month from his 40th birthday, believes Fury's antics will be increasingly bizarre as the fight draws closer.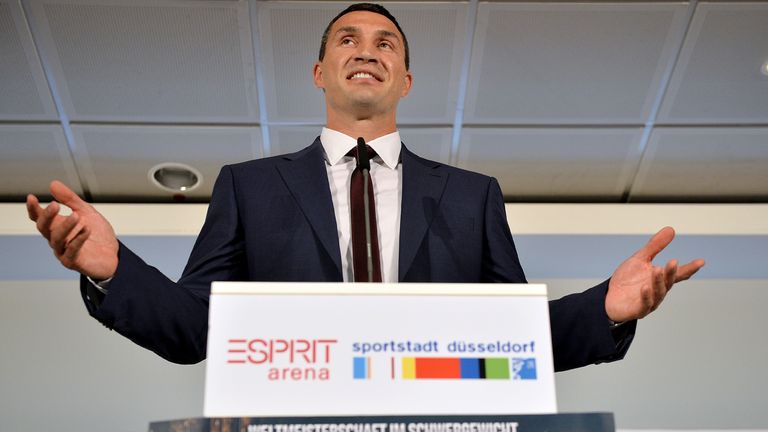 Is this it? He didn't throw the table? He didn't throw a microphone somewhere? His shoe?
Wladimir Klitschko
The Ukrainian said: "I believe Tyson Fury is really meaning what he's talking about. He's definitely not coming here on October 24 to be present and on the canvas. No, he's here to win the championship.
"I think that this fight is going to create a lot of attention. I think it's going to build up in portions and become more entertaining, because I was a little bit disappointed. 
"Is this it? He didn't throw the table? He didn't throw a microphone somewhere? His shoe? I don't know. There has been flying shoes and so much entertainment before - I'm sure it's going to show up. It's going to be very enjoyable for the fight.
"At the end of the day, it is going to be the fight. That speaks louder than any other action and any words."