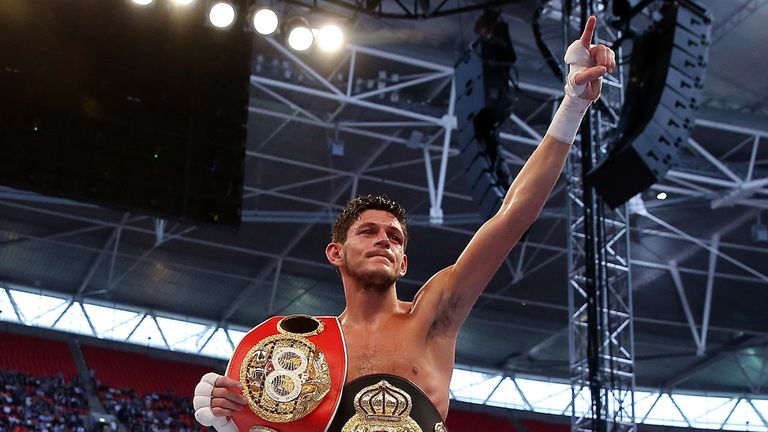 Jamie McDonnell has warned Scott Quigg he is coming for him - after proving for good he has the better of Tomoki Kameda.
Doncaster's world bantamweight champion ended Kameda's unbeaten record in a thriller in May, getting off the floor to outpoint the Japanese and retain his WBA title.
McDonnell has left nothing to chance in his preparations for the rematch, live on Sky Sports from Texas on Sunday, but is already planning his next career move.
And that means moving up to a division packed with stars, few brighter than the WBA's super-bantamweight king Quigg.
"This is a massive fight and one I really wanted before looking at that move up to super bantamweight," McDonnell said. "The plan is to beat him again and then move up and I'd love the Scott Quigg fight; that would be a massive night.
"I've already proved that I belong at the elite level and it's only four pounds, it's not a massive difference and I am a big bantamweight.
"I feel I am hitting harder, I've been working on my power in the gym and I feel it's going to pay off. I'm always in great shape and I've been flying in the gym.
"I am really looking forward to this one, I feel I have a lot to prove still even though I am a two-time world champion. We're here and we've settled quickly and I am just going to soak it all up and I really feel that I am going to destroy him on Sunday.
"We know each other inside out because we've done 12 rounds. I can't be sloppy, I've got to stay focused. I've got to forget the first fight because he's going to bring his A-game to the table and so I am so it could be a totally different fight to the first one.
"I think it will be a fast-paced fight, I started too slowly last time so I don't want that to happen again. I believe I will stop him late on, I took him into the trenches last time but I didn't put it on him enough. I think I will make that big statement - and then move up."
Watch Jamie McDonnell v Tomoki Kameda live on Sky Sports 5 from 9pm this Sunday.