Wladimir Klitschko's trainer Johnathon Banks says Tyson Fury's verbal attacks may be part of an act
Last Updated: 08/09/15 6:11pm
Wladimir Klitschko's trainer Johnathon Banks believes the public are being misled by Tyson Fury's verbal attacks.
The unbeaten challenger (24-0-KO18) has been fiercely critical of the WBO, WBA Super and IBF heavyweight champion since long before their October 24 was announced.
But Banks, who served his apprenticeship under legendary trainer Emmanuel Steward, recalls a very different Fury visiting the Kronk gym and Klitschko's training camp before Steward sadly past away in 2012.
On reports Steward tipped Fury as a future world champion at the time, Banks told Sky Sports: "You're hearing a lot from the Fury camp saying this but I was around Manny for a lot longer than any of them. Before they even knew him, I was working under him.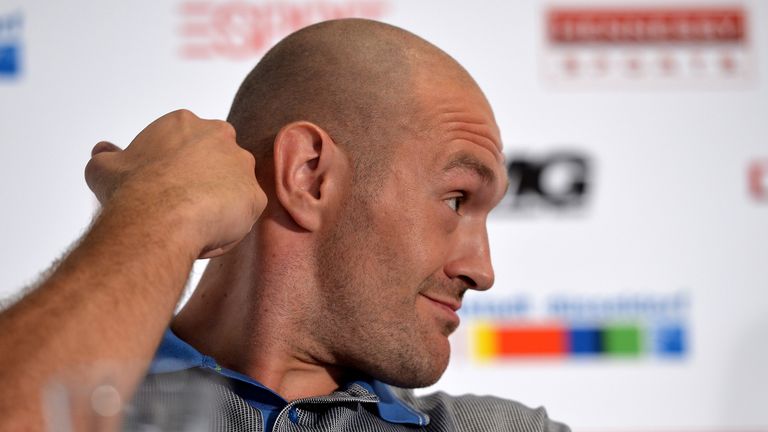 All this stuff he's talking he wasn't doing it then. That leads me to believe it may not really be him.
Banks on Tyson Fury
"Tyson came to the Kronk gym and I sparred him. Tyson also came to Wladimir Klitschko's camp but didn't spar with him or anything. He was just happy to be there. He even took a picture of Wladimir. He was just happy to be around.
"He was saying that he can't wait to be a heavyweight champion and how he wanted to train in facilities like that. He wasn't doing all the talking he does now. 
"We went to dinner together and he's always been a singer so that doesn't surprised me, but all this stuff he's talking he wasn't doing it then. That leads me to believe it may not really be him. Maybe he's doing it for the people, I don't know.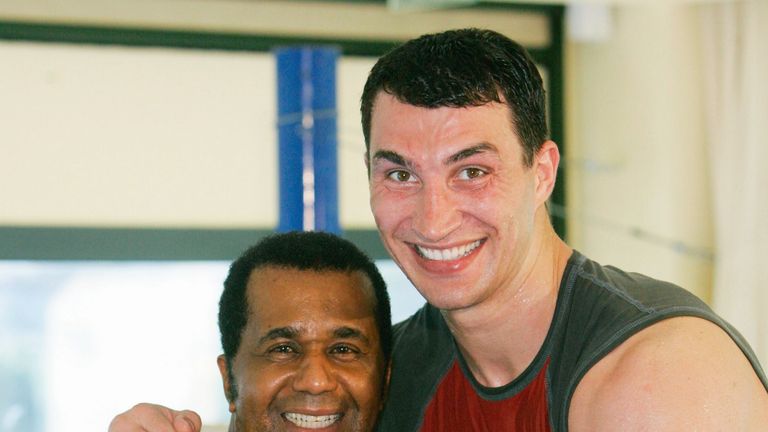 "I remember Manny telling me he could become world champion because of how big he is. He said if he developed right. He didn't say he'd guarantee it. At least he didn't to me. Everyone knows how close I was to him - I was around him since I was 15 years old, lived with him and everything."
While Banks accepts Fury poses a genuine threat to Klitschko (64-3-0-KO53), he expects the Ukrainian to deal with whatever the Mancunian throws at him.
Banks added: "He's a threat because he's a big man. Any fighter is a threat to another fighter and Tyson Fury really believes he will be champion but on this particular night, a lot of things come in to play.
"You've got emotions, feelings, your family and all the stuff you've been through to get to this point. Will it be enough to get him over the hump to win? Me personally, I don't think so.
"I don't think he's been in with enough guys with the size, dominance and power of Klitschko to get past this guy. You don't win a world championship off one fight - you win it off the several fights leading up to that.
"Wladimir has faced guys like Fury before but Fury has never faced anyone like Wladimir. I just think Wladimir's dominance will overpower Fury and that he'll win by knockout.
"In 2004, when Wladimir was on the canvas, he could have said he was done with boxing. He'd made enough money then and he was done. But there was the desire. You can't stop a man with desire and the will to win. He said he wanted all the titles.
"Tyson Fury is another ticket to gaining all the titles. You see that the WBC wrote a report saying they won't stand in his way to fight for the WBC championship if he gets past Fury, but we're not looking past Fury at the moment."