Klitschko vs Fury: Tyson Fury is sparring 'massive lads' ahead of world title shot
Last Updated: 18/09/15 2:49pm
Tyson Fury has told Sky Sports he is sparring 'some massive lads' ahead of his world title shot at Wladimir Klitschko on October 24 - live on Sky Sports Box Office.
The unbeaten Mancunian (24-0-KO18) will travel to Dusseldorf to take on the division's kingpin (64-3-KO53), who has not lost in the last 11 years and is expected by many to retain his WBO, WBA Super and IBF belts.
At 6'9", underdog Fury will enjoy a three-inch height advantage over the Ukrainian and having fought shorter opponents such as Christian Hammer and Dereck Chisora of late, Fury has recruited some big guns to help him prepare for the October 24 showdown.
Speaking from his camp in Aintree, Fury said: "I've got some massive lads in the gym. There's nobody under 6'6" in the gym for sparring. They work me very hard and I'm doing 12 rounds every day. It's one in, one out so I'm getting a fresh guy every time. Let's face it, it's very hard.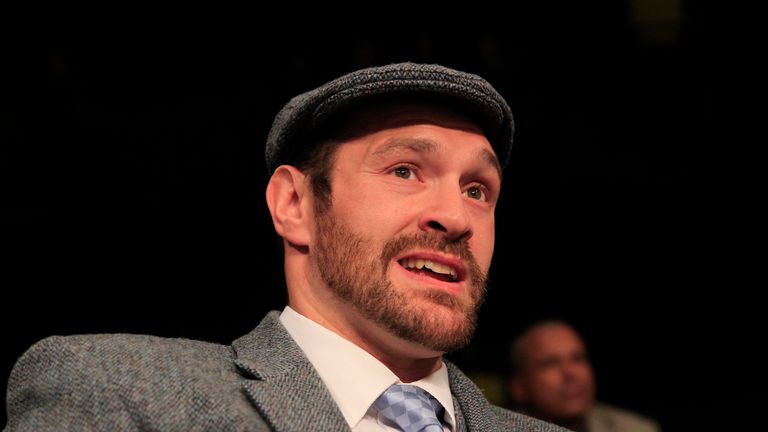 I'm working harder than I've ever worked before because I'm more determined. I'm just on it. On it, on it, on it.
Tyson Fury
"I'm enjoying preparation. It's the biggest fight of my life. I'm working harder than I've ever worked before, because I'm more determined. I'm just on it. On it, on it, on it.
"It's different to anything I've ever done before. We're looking for explosive power. Snap. I need a knockout in Germany to win and that's what I'll be getting. We're working on explosive movements, power movements - lots of stuff we didn't do before.
"Before, it was always heavy weights and low repetition, always thinking we need lots of strength. We got introduced to this guy and he started doing all these special jumps and it's just different stuff to what we'd usually be doing. It's very hard. I'm getting used to it now,
"It's five weeks and three days out and I'm already in fantastic shape. I'm way ahead of schedule. Hopefully, I'll be feeling fit and fire on the night.
"We've been training like this for five weeks and I can already feel the difference. I feel stuff is coming easier. It was really hard when I first started. The only thing I hate is swimming, and that's what we've got to do in a minute!
"Whatever it takes to get the W on the night, I'll do. If I have to jump in front of cars and move them out of the way, whatever it takes. I'm willing to try it and do it because I want to be victorious on October 24.
"I'm grinding it out. I have good days and bad days but at the end of the day, I'm going to become greater. It's all about exercise, progression, learning and practicing the game plan."
Klitschko was last in action back in April when he defended his titles against America's Bryant Jennings via unanimous decision.