Callum Smith blew Hadillah Mohoumadi away in Liverpool and looked like a world-beater
By Isaac Robinson
Last Updated: 03/04/16 8:00am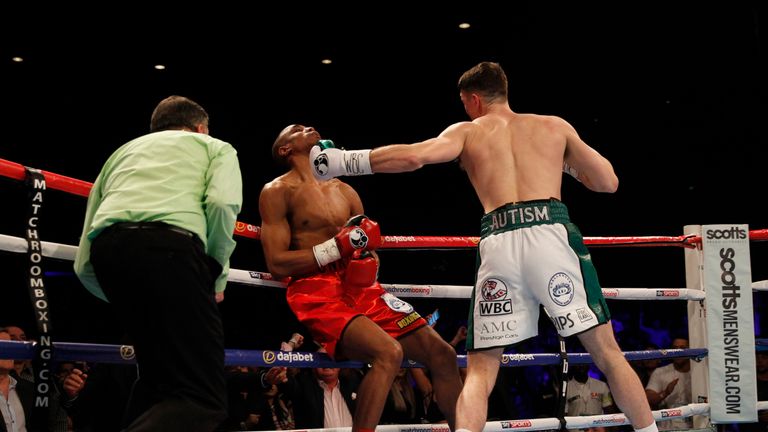 After dealing with Hadillah Mohoumadi inside a round, it looks a case of 'when' and not 'if' Callum Smith will be crowned a world champion.
A night of live Sky Sports boxing had begun in spectacular style with Tom Doran climbing off the canvas to batter Luke Keeler to a halt in just the second round. Then came enthralling, attritional nip-and-tuck battles between Scott Cardle and Sean Dodd and then Rocky Fielding and Christopher Rebrasse.
Sometimes on these nights, the headline act ends up feeling anti-climactic; so could Smith inspire his fellow Liverpudlians to rouse their tired voices again?
Oh yes, he most certainly could. And in such a style that it left ringside pundits Johnny Nelson and Tony Bellew giddy with enthusiasm over Smith's future and claiming the only world super-middleweight champion who is capable of worrying 'Mundo' is Britain's IBF king, James DeGale.
First of all, the facts. Hadillah Mohoumadi had never been stopped. He has even taken DeGale himself the distance in the past. All the pre-fight talk - especially from Team Smith itself - stressed it was a significant step up in class and that they had planned for a gruelling 12 rounder against a teak-tough opponent.
They hadn't accounted for Mohoumadi's risky approach to the opening round. He leapt into action and Smith - cool as you like - invited him on with a high guard and edged into the corner under the Frenchman's barrage in an apparent ploy of entrapment.
Everyone was surprised and some slightly concerned by Mohoumadi's enthusiastic assault. Everyone, of course, apart from Smith, who showed he can adapt immediately to unforeseen tactics. He easily absorbed those opening salvos and waited for the opening to uncork a left-hand counter that rocked the visitor and brought the crowd to life.
We'd seen the power before, of course, when Fielding called on the exchanges in the opening session of their British title fight with disastrous consequences. This was supposed to be different. Boxing, as they say, is about 'levels' and nobody had managed to bully Mohoumadi, even if Europe's former champion regularly weighs in significantly below the super-middleweight limit.
From the moment that left hook connected, though, the predator in Smith emerged in a flash. If not yet fully refined, Smith looks technically sound but at the core of his destruction of Fielding and Mohoumadi is the ability to sense and capitalise on weakness in a heartbeat. He took a clean shot or two from both men, and simply knew he was going to win the trades.
Smith cuts a towering figure in the ring. Should he be required to box a more technical fight in the future - and some will argue he is still yet to face a world-class opponent - then he will need to utilise that lengthy jab and be more selective about when to engage. In this case, his lightning assessment of Mohoumadi's intentions and a brief display of patience opened the door for a whirlwind of devastating offence.
It's hard not to be carried away by the spectacle. Bellew asserted that WBO world champion Arthur Abraham has no chance whatsoever of beating Smith, because: "He can't outbox him, he can't out-muscle him and he can't out-punch him." It's nigh-on possible to disagree. Smith has looked so untroubled by anything coming his way and his own improvements in both physical and technical aspects are likely to compensate for the graduation to world level.
In conclusion, it's possible to entertain the possibility that when Smith does get his world title shot - be that against WBC king Badou Jack, Jack's next opponent Lucian Bute or potentially against a unified champion in DeGale further down the line - he could annihilate an established world-class star of the division in similar fashion. Presuming there is one, just how large is the disparity in punch-power between Smith and other super-middleweights?
What is also remarkable is Smith's maturity immediately after fights, when the adrenaline levels must still be high. Most mandatory challengers (especially those recording first-round victories at every step up the ladder) are in a rush. But Smith said afterwards: "I'm only getting better and better so the longer I have to wait, the better I'll be."
Fielding and Mohoumadi probably can't imagine how, but the super-middleweight division's brightest young star is planning to get stronger, faster and hit harder.
With show-stopping performances like that, pressure is inevitable, and 'Mundo' translates as 'world' in Spanish... but at this stage, you'd have to say there'll be widespread shock if Callum Smith isn't a world champion by this time next year.