It's all about George
Tim Hobbs catches up with George Groves before he embarks on a new chapter in his boxing career.
By Tim Hobbs
Last Updated: 04/11/11 8:40pm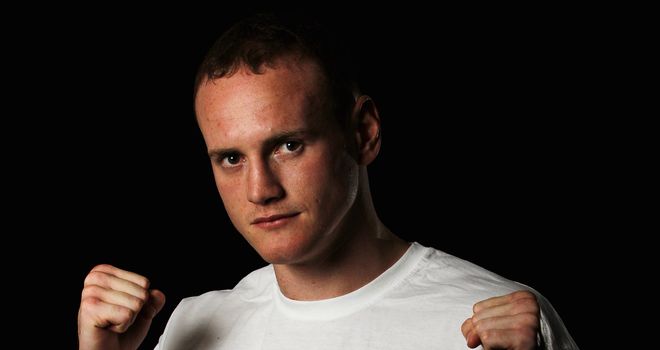 By the time George Groves, as the reigning champion, climbs into the ring on Saturday night it will already be crammed with the usual pre-fight scrum. But the spotlight will well and truly be on him.
Not only will he be walking out at Wembley Arena for the first time as a British title holder, he will be taking his first steps out of the shadows of close friend David Haye and bitter foe James DeGale.
That's not to say Groves has ever been put in the shade by either, but both have been omnipresent throughout his early professional career.
Haye, now retired from the sport, will be part of his corner team and already in the ring, doubtless still attracting plenty of attention.
But the British and Commonwealth Super-Middleweight title defence against Paul Smith will be the first time Groves has not had to share trainers with the former world heavyweight champion in the run-up.
The 23-year-old, who now boxes out of Isleworth having moved in with his longtime girlfriend, made his way as a professional boxer on his buddy's undercards and following in his slipstream. It meant preparing in the Miami sunshine and fighting on the biggest stages of all, but it also meant the brains behind their brawn, Adam Booth, could not devote all his time to his youngest charge.
Even when Groves topped the bill in his own right on that emotional, atmospheric night against DeGale at the 02 Arena in May, Haye's showdown with Wladimir Klitschko was only six weeks away and his training well underway.
It made no difference to the outcome of course, but after six months out of the ring since, the last three of them working solely with Booth, Groves is embarking on a new era.
"I believe it is the first time I've had camp with him all to myself," he says.
"It's given me more time to work on the technical stuff in the gym. You can rush yourself back fit, but you can't really rush the technical stuff.
"Adam said to me he doesn't want us papering over cracks - we fix cracks, making sure the base is solid and getting right all the way through.
"I think he's a superb trainer, he knows his stuff and having his full expertise is great. Also, he doesn't have to worry too much about putting on a show now we're with Frank Warren - they take care of all that.
"I've got Adam's full attention, not just because I'm the only one boxing with him, but because all he has to think about is training - and that's where his real talents lie."
Inspiration
Those training talents played their part in out-smarting DeGale in a fight which Groves admits took its toll mentally as much as physically.
An elongated, intense and at times extremely unpleasant build-up brought their long-standing rivalry back to the boil for three months, only for the coolest combination of gameplan and ring execution to diffuse it again come fight night.
But if that victory surprised the vast majority of boxing brains, most of whom expected Groves to come off second best, then the news that was to follow left everyone in the sport dumbfounded.
With Haye soundly beaten by Klitschko and Hayemaker Promotions winding down as a result of his promised retirement, Warren announced that he had pulled of a major coup and snatched Groves from under Eddie Hearn and Matchroom's nose.
In terms of signing for the enemy (Warren once described Booth the most difficult man he has ever had to work with) think Arsenal unveiling former Spurs skipper Sol Campbell, or perhaps Carlos Tevez swapping United for City in Manchester. Yet only the former, when the defender was shuffled in a side door, hidden in a corridor and unveiled to the gawping media, carried the same shock value.
With Haye gone, Groves had lost an inspiration and with Warren arriving he had, it seemed, moved closer to a major irritation - his new promoter's golden boy, DeGale. And Frank has made no secret of the fact that as long as he's got a say in it, they will meet again. As soon as possible.
Groves and Booth though, are just not interested right now. They, says the fighter, made it quite clear that an immediate rematch was not on their agenda when they signed on the dotted line.
They are both shrewd enough to know that everyone, not least those within their new promotional stable, will be comparing the performance against Smith to DeGale's classy nine-round dismantling of the same man last December.
Purposeful
For his part, Smith insists there is no comparison to be made. He believes he will be facing a one-dimensional fighter who came through their common foe only because of familiarity and one that can still be caught easily, as Kenny Anderson did almost a year ago this weekend when Groves was floored for the first time as a pro.
Groves though, has seen and heard it all before.
"I think if I was Paul Smith, to try and drag me into a fight where I lose my rag, would be my only hope," he says.
"He'll be banking on being able to land his shots and hurt me. People latch onto mistakes and it's easy for them to do that. Since the Anderson fight all my opponents have jumped on it and said that, including Anderson himself.
"I got caught, started boxing untidily and then boxed the worst one-and-a-half rounds of my boxing career.
"But that's going to stand me in good stead. I've been in trouble, I know how to deal with it; I know what I did wrong and I know I made the situation much worse for myself."
Then, after those considered opening shots, Groves comes out swinging.
Perhaps steeled by surviving and emerging with huge credit from his slanging match with DeGale, or just sure he will rack up win number 14 on Saturday night, he has no hesitation in returning Smith's fire, with interest.
He doesn't get personal but he does poke fun. It is purposeful, professional fight-picking, with a pinch of trademark Hayemaker mischief-making thrown in for good measure.
"I'm ready for Paul Smith because I think this is probably his last chance," he says.
Benefits
"But I've never seen him perform well to be honest. Even way back when he fought Tony Quigley, I thought he was uptight. Then, when he fought Tony Dodson, I thought he was getting out-boxed for vast amounts of that fight, it was just that Dodson seemed panicked about blowing up. And obviously he fought DeGale he was annihilated.
"For me, it's about fighting the best Paul Smith. He's got a new trainer in Joe Gallacher for a start. But the thing that benefits me is a lot of those Joe Gallagher fighters fight pretty similar to each other.
"You know they're in the gym doing exactly the same things and I saw Scott Quigg box the other week, so I can probably take more out of that fight than any of Smith's! I've been preparing for Quigg - and he's probably the best out of all that lot!" he laughs.
Groves even disagrees with the notion that with 33 bouts behind him, the Liverpudlian who once owned the British title himself, will at least bring more experience to the ring. He says he has tasted just as much in less than half the time.
A quick glance at their records shows that this will be a fourth title fight at British level or above, for both of them. Groves though, believes he has seen more, not just through travelling from Las Vegas to Germany while his opponent, he jokes, has never boxed out of his native Liverpool.
"Doing it in the public eye and in the spotlight when you're under pressure gives you the confidence to know you can do it," he says.
"That's going to be a massive factor for me. I know I can do it."
"I said one thing to Adam on Tuesday: that I'm becoming a 12-round fighter. When I fought Charles Adamu it was my first 12-rounder, Kenny Anderson was a 12-rounder, then there was that long, hard camp for DeGale - and the 12 rounds.
"I'm not scared of rounds any more, I'm not scared of duration. It is quite startling really, more so in the gym.
"You know there are things you can fall back on; if I need to take a little breather and box on the back foot, I can. If I need to dig my feet in and fight I can do that. I know I can do both and come through both.
That gym, under an arch just off London's Embankment with trains constantly rattling overhead, used to be Haye's domain. Now it is the second home to his protege, the man recently crowned British Boxing Writers Young Fighter of the Year - the third being the nearby Park Plaza hotel that still puts him up before fights.
Groves insists his workplace still has "the same weird buzz, people coming and going, and David popping in from time to time" and says it's "a really good place to be" at the moment, yet still paints a changing picture to the many that know the scene.
But as Smith might find out if he is preparing for the Groves of a year ago, things have changed.
"If you walked into the gym now when we go through sparring sessions you'd think me and Adam had had a row, because he usually sits at the side with a mopey face. I just crack on with it," he says, not entirely joking.
"That's because it's up to me. We've worked that out. When I'm in the ring, obviously I'm getting advice from the corner, but in that split-second when you need to select the right shot, or set up the attack, you have to make that decision.
Familiar
"Adam gives me the tools when we're in the gym, so I've got a big toolbox to work with when I get in the ring; it's just up to me whether I hit him with a hammer or whether I hit him with a spanner!"
Groves may have grown up fully immersed in the same familiar surroundings but until now has rarely been the centre of attention.
A permanent fixture, happy to chat quietly - and always politely - in the background while Haye wooed the media ahead of his latest huge heavyweight fight, he has seen it all from the outside.
A cardboard cut-out of Nikolai Valuev and the rest of the artwork dotted around the corrugated walls still point to the recent past, but smack in the middle, next to the ring where he and Booth have been busier than ever, a new piece has been added to the collection.
Propped up on a table, presumably waiting to be mounted on the wall, stands a blown-up photograph of Groves and DeGale breaking from a clinch on the night they clashed head-on. DeGale has his back to the camera. Groves is face-on, wide-eyed, smiling through his gumshield and clearly loving it. He looks completely comfortable and in complete control and almost fluorescent in the combined glare of camera flash and overhead lights.
There are - and not just because the camera never lies - no more shadows for George Groves to step out of.