Prospects
Hosea Burton is one of many young fighters from the travelling community starting to make a name for himself in the pro ranks. We caught up with promoter Dave Coldwell's charge in this week's installment.
By Shaun Brown
Last Updated: 08/08/13 4:47pm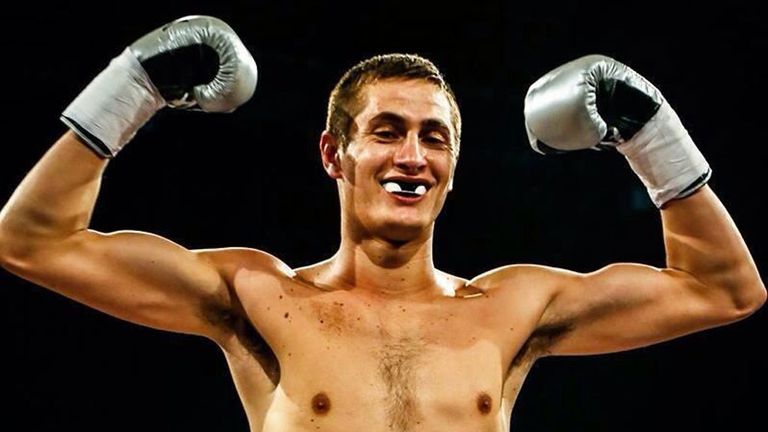 Trainer Joe Gallagher once said that his rising super-middleweight star, Hosea Burton 7-0 (2 KOs) was 'the hardest puncher I've ever had.'
Burton, 24, made a great impression in his maiden professional fight against Viktor Tzonev when his power ripped through the Bulgarian forcing a first round stoppage.
From there, the cousin of Tyson Fury developed a mindset that he would be knocking down all who came before him thanks to his right hand known as 'The Hammer'.
Almost 18 months on from his professional debut and Burton has developed not only much more ring craft but an attitude much more mature and thoughtful since he left the vest and headguard behind.
"When I knocked the first out [Tzonev] I thought I was going to do it all along and then just recently it got to me a little bit," he told Sky Sports.
"I'm still getting to grips with the professional style. I was more rushing things as an amateur and in my first couple of professional fights I was still rushing. My second last fight when I fought Carl Wild [a six round points victory], I caught him early and then I went back to old habits and tried to knock him out again.
"With him being a survivor I went back to boxing and won a decision. Now I've went back to boxing first I've forgot about always trying to knock them out. And when you do go back to boxing the big punch comes. I'm in a better place now.
"Last time out against Jahmaine Smyle, who was known as a big puncher, I knew there was going to be a knockout. I came out looking to box him and he came out aggressive flying across the ring, he was looking to win that fight. He never came to lose so when someone's coming to win a fight they're putting themself at danger to land their own punch.
"It was more speed of hand that got Jermaine [with a first round stoppage]. I've made mistakes in the past rushing in and trying to blast them out but I kept calm and boxed because I knew the punch was going to come, because I caught him clean the first time and the second time I knew he wasn't 100% composed again so second time the punches came again."
Targets
A much more confident and physically developed Burton now has his eyes set on moving up to eight and ten rounds as well as title fights by the beginning of next year and already has targets in his sights.
The super-middleweight finds himself in a division not only steeped in history but when the current brigade retire, Britain already has the likes of Burton, Callum Smith, Frank Buglioni and Rocky Fielding ready and willing to fill the great void that will be left by the likes of Carl Froch.
"Callum Smith's from the same gym so he's out the picture, he'll go one route and I'll go another," Burton added. "Other than Callum I know I can beat everyone else in the land in my class. I wouldn't want to say I can beat Froch and [George] Groves, they're beyond me at the moment but people at my level, well I can whack them all.
"Rocky Fielding is not a problem and (Frank) Buglioni is not a problem for me. I'd fight them whenever I had to. I'd like to fight Buglioni before I fought Fielding. The reason being he hasn't had as much experience as Fielding he'd be more of a fight first. If I had to fight Fielding next week I'd say 'no problem'."
Buglioni, who currently has a two-fight head start on Burton gave a somewhat underwhelming performance last time out in an eight-round decision win over Kirill Psonko. Burton watched that particular fight and had plenty to say on that and the winner.
"Look he fought someone who [Chris] Eubank Jr fought in his first fight. Frank was eating right hands and the guy couldn't miss with it. He fought less than a mediocre man, couldn't knock him out and looked like a rabbit in headlights," he said.
"If I could sell 500 tickets per fight the way Buglioni does I'd be knocking everybody out because I'd be getting hand fed dummies. Say if he got beat or had a hard fight would those 500 fans want to come and watch him fight again?"
From an early age it was eat or be eaten for Burton. He makes no bones about the fact that he comes from the travelling community and that meant the art of fighting has been in his family for generations. The bug for boxing came when his father took him to the gym, "Not to be bullies or boxers," Burton said.
"All my life it's been about boxing, I was no good at school, I was very dumb in school," he said with brutal honesty. "Burton's a fighting name and as far back as you'd like to go they were fighting people. Everyone knows now that I am a gypsy and in the gypsy community if you can't fight you will get picked on and bullied now and again.
"If people know you can put your hands up then you'll have an easier life. Since I was a little boy I wanted to go to the Olympics, that was my one thing - I wasn't interested in turning pro. I didn't make the Olympics like so many great fighters so a couple of years went by and I decided to turn pro for two reasons.
"Instead of fighting for a plastic trophy, well why not fight for a few pounds instead? You gotta do the same training when you go pro and give the same dedication; you don't go out drinking, smoking or taking drugs so it's same dedication so why not fight for a few pound? That's the way I looked at it. Now I'm on the way to winning more than just plastic trophies."