Serious threat
Scott Quigg is looking forward to headlining his first show at a major arena when he takes on Nehomar Cermeno in Manchester next month, but knows he has to stay focused on a dangerous opponent.
Last Updated: 17/03/14 8:15pm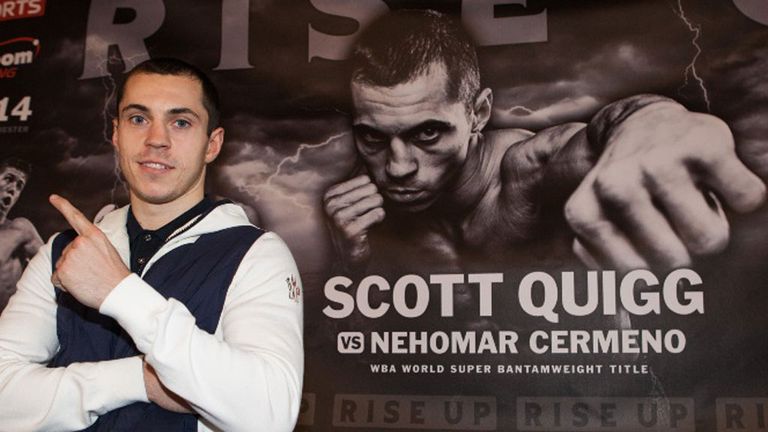 The Bury boxer will make the second defence of his belt against a Venezuelan who has only lost to the best in the business.
Cermeno, now 34, dropped split decisions to world champions Anselmo Moreno (twice) and Victor Terrazas and, like Quigg, drew with stylish Cuban Yoandris Salinas.
But Quigg, who demolished Diego Silva following his contentious draw with Salinas, is ready for Cermeno as he looks to build towards a unification fight later this year.
"We knew we might have this fight so we've been watching him since before it was confirmed," he told Sky Sports.
"He's a very good fighter, been in with Moreno twice and Terrazas where all three were defeats by split decision, like me he drew with Yoandris Salinas and beat Cristian Mijares twice.
"So this is a very tough fight and he's does a bit of everything well, he has all that experience and you can't buy that.
"I've got to be on top of my game and with going over to the Wild Card at the beginning of the year that's only going to put me in a good place for these sort of fights."
Quigg and his gym-mates joined trainer Joe Gallagher on their yearly trip to Los Angeles after Christmas to engage in some quality sparring at Freddie Roach's Wild Card gym.
Improvements
And the 25-year-old believes the experience will be of great benefit not only for his upcoming fight but for the long-term future.
"We spar with different people each time I've been over and it's world class sparring," he said. "We're in that gym Monday, Wednesday and Friday and you're in with someone with quality.
"People turn up from all over LA and they match you up - this last time I sparred with guys I went in with the first time we went and you can see the improvements, the angles and the way you dominate them.
"Freddie can see the improvement since the first time and I did pads with him again and he thinks I've come a long way.
"I sparred guys from all over the world, the likes of Zou Shiming and a 23-0 Filipino called Genesis Servania of whom big things are expected.
"I told Joe I wanted to spar with him and I had no problem in there, you get a lot of confidence from things like that and if you do the right things and live the right life you are going to make those gains.
"They wanted me to go in with Shiming and put pressure on him, I'm a lot bigger than him and it was about pushing him around and cutting off the ring. It's not about letting the bombs go!
"But that's the beauty of going over there, you have lunch with Freddie and talk boxing and try out different things in sparring."
Trainer Gallagher agreed that Quigg will need to be on top of his game if he is to come out on top against a well-seasoned fighter such as Cermeno.
"Cermeno is a very well schooled fighter, it's a huge test and the biggest fight of Quigg's career," he said. "He's a genuine world title threat and people need to come and support Scott because he's a dangerous opponent and a serious threat to his crown.
"Quigg has to bring something different to this fight to beat a different style of fighter and make it an uncomfortable night for him."
Recognition
And Gallagher believes Quigg has the qualities to appeal to a broad range of fans - not only those who clamour for a big domestic fight against Carl Frampton.
"I don't think Carl Frampton is the defining fight. There's room for Scott to have that exposure now that there's only three world champions in Britain with no Darren Barker or Ricky Burns.
"It's unfortunate they lost of course but with Sky getting behind Scott and with Froch on Box Office it's there now for Quigg to get all the build-up and the recognition that comes with it.
"He's a likeable, humble kid and he's very dedicated and determined to get where he wants. But these next three fights will be defining ones - this defence, a fight in the summer and a huge fight we have planned at the end of the year.
"After that people will have to take their hats off to him and acknowledge that in the space of two years he's gone from challenging for the British title to trying to unify the world titles."
Quigg, however, is refusing to look to far ahead, and is focused on headlining a big show at his local arena in Manchester for the first time.
"All I want to know is what's next," he said. "There's Kiko Martinez, Leo Santa Cruz and Frampton out there, they're the fights you want to be in. But they won't happen if you don't take care of the one that's in front.
"It's in the back of your mind but you've got to keep building. It's the first time I'm headlining at the Phones 4U Arena and it's only 10 minutes from Bury. From being a kid watching Ricky Hatton, Naseem Hamed and Michael Brodie there as I did it's what all the work and sacrifice and discipline has been for."