Wayne McCullough says Nathan Cleverly is ready for a unification fight
Wayne McCullough says Nathan Cleverly is ready for a unification fight but must tidy up his defense.
Last Updated: 13/11/12 6:00pm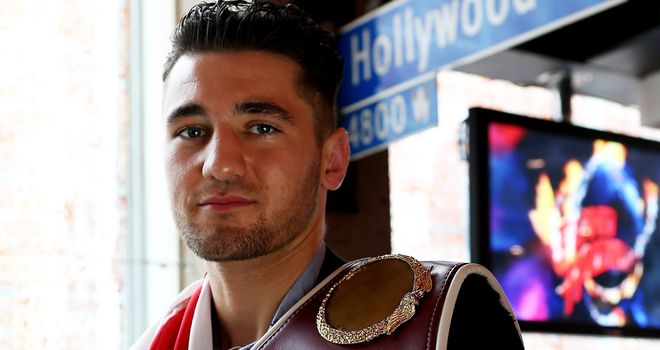 Las Vegas or New York are arguably the two most popular places to fight, but any card will do.
WBO light-heavyweight world champion Nathan Cleverly, from Wales, got his opportunity this past weekend. He's done things the hard way in his career, capturing the Commonwealth, British and European crowns and then a world title.
At only 25, this was his fourth defense of the title he won by beating Nadjib Mohammedi in December 2010 for the interim strap. Although there aren't any really big world names on his undefeated record, he has beaten many on the domestic scene including Courtney Fry, Tony Oakey and Tony Bellew.
He fought in Las Vegas in this 12th fight in April 2008 but the unfortunate thing about his second trip to America was that his opponent had been changed in the final week.
Credit
Ryan Coyne, from Missouri, fell out with contract issues so Shawn Hawk, from Atlantic City, stepped in to replace him.
Hawk, an orthodox fighter with two losses, was coming off a loss in June this year. But he had never been stopped and had to get credit for stepping in at short notice. At only 28 years of age he had to see this as a major opportunity.
The fight took place at the Staples Center in Los Angeles, California, underneath Leo Santa Cruz and Victor Zaleta, who were fighting for the IBF bantamweight title, and the fight between Abner Mares and Anselmo Morenos, who were fighting for the WBC super-bantamweight title.
The fight card was broadcast live nationally on Showtime but the Cleverly v Hawk fight was not shown on the main broadcast in the states.
However, Cleverly did not disappoint his fans, which included Tom Jones and Mickey Rourke, stopping his opponent in the eighth round having had him down three times during the fight.
Fine
Cleverly controlled all the rounds and it was clear to see he had no problems with the late switch of opponent. He started the fight targeting Hawk's head but it wasn't long before he started landing hard body shots. He scored two knockdowns in the seventh and one in the eighth.
A final left hook to Hawk's body forced the referee to step in and stop him even though he was still on his feet. This was his first stoppage loss although he wasn't anywhere near a world-class fighter.
Cleverly did take some hard right hands to his chin but apart from that he put on a fine performance and the American fans should take notice of him now.
With world champions like Beibut Shumenov, Chad Dawson, Tavoris Cloud or even Bernard Hopkins in this division, Cleverly would most likely be happy to take on any of them.
That would be a step up for him but I think he is ready and it would be good to have a unification fight - but he needs to tidy up his defense before that.