Robert Guerrero's win over Andre Berto was one of the fights of the year, says Wayne McCullough
Wayne McCullough says Robert Guerrero's win over Andre Berto was one of the fights of the year.
Last Updated: 30/11/12 12:13pm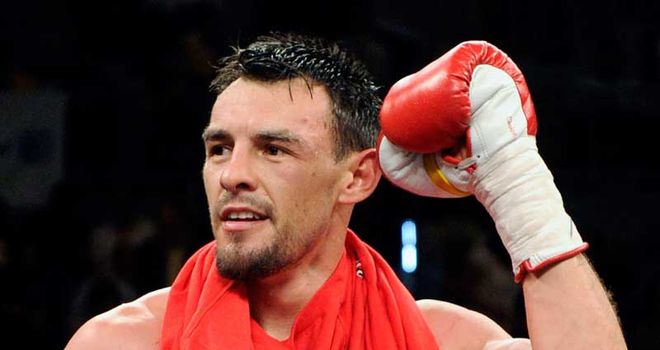 Berto fought the decision claiming contamination. The test revealed extremely small amounts of a banned substance that were inconsistent with any performance-enhancing drug and more consistent with contamination of an otherwise acceptable food or supplement.
He got his license back in California in August. Ortiz went on to lose to Josesito Lopez in an upset, so Berto missed his chance for revenge after their 2011 Fight of the Year. Instead, a fight was lined up against interim WBC welterweight champion Robert Guerrero.
Guerrero won the interim title in July in his fourth weight division, he had won two full versions and two interim belts. (Floyd Mayweather Jnr is the full WBC champion at welterweight).
This was only Guerrero's second fight at this weight having moved from lightweight over light welterweight on up to welterweight in his last fight for an opportunity at a belt.
Berto hadn't seen action in over a year with his last fight being in September 2011 when he defeated Jan Zaveck for the IBF belt, which he later vacated. He fought at this weight or higher throughout his career having made his pro debut in December 2004 at 162 lbs, 2 lbs over the middleweight limit.
Traded blows
Styles make fights but could Guerrero, who is not a big puncher, take Berto's power, or would Berto be able to cope with Guerrero's southpaw boxing skills?
The fight, which took place in California, wasn't the cleanest or most technical fight I've ever seen but it was, in my opinion, a candidate for Fight of the Year. Guerrero had beaten Berto down in the first two rounds and Berto's right eye was also swollen badly from a left hand in the second.
Guerrero was controlling the fight and he looked like the bigger and stronger man. He smothered Berto throughout the fight, not letting him get room to punch. They traded blows round after rounds and by the end of the fight Berto's eyes were swollen shut.
Even though Berto had landed hard uppercuts, Guerrero took them all and didn't move. His game-plan worked by not letting Berto get the room he needed to land anything meaningful.
Guerrero successfully defended his interim belt winning 116-110 on all three scorecards, which works out at eight rounds to four with two extra points for knockdowns.
Both fighters gave everything they had and more as they traded blows until the final bell. I'm sure a rematch isn't out of the question and something the fans would love to see.
Never forgotten
Ricky Hatton returned to the ring on Saturday night in his beloved home city of Manchester at the MEN arena in front of a sold-out crowd.
The last time we saw Hatton in a boxing ring was back in May 2009 against Manny Pacquiao but he was destroyed by KO in the second round. Hatton retired, went on to make headlines for the wrong reasons, and now got back in the ring at 34 years of age.
Former champion, Vyacheslav Senchenko, was the chosen opponent for Hatton's return.
Senchenko was a fighter with only one defeat out of 33 fights, although the loss was to Paulie Malignaggi, who Hatton had demolished in 11 rounds back in November 2011. Malignaggi had stopped Senchecko in the ninth round of their fight and Paulie is not a puncher.
Senchecko was one of the worst champions on paper so it looked like a great opponent for Hatton to come back with. To taunt Hatton, Senchecko wore a Manchester United soccer jersey into the ring - probably because Hatton is a die-hard Manchester City fan.
When the fight began, Hatton was missing with wide punches but Senchecko was easily landing with jabs and connected with a big right at the end of the round to Hatton's head. I thought Hatton looked a little uninterested at times. He was landing some uppercuts in the second but Senchecko was landing hard rights of his own.
A left hook hurt Senchecko in the third and it didn't look that hard and he recovered quickly, coming back with rights of his own at the end of that round.
Hatton got a little rhythm going in the fourth landing left hooks to his opponent's body and head, but he was slowing round after round. The fifth was close as Hatton slowed more and Senchecko continued landing his jabs.
A hard right by Senchecko landed on Hatton's head and he was counter punching Hatton as he enjoyed a good 6th round. It looked like the seventh also belonged to Senchecko as he was landing the cleaner shots including left-rights to the head and lefts to the body.
The eighth round was closer as Hatton landed hooks to Senchecko's head but Senchecko was still in the fight and it looked like it could be tight.
In the ninth, Hatton kept pressurising again landing shots. It looked like he was getting ahead in the fight and on his way to winning but Senchecko caught Hatton with a beautiful left hook to the body dropping him and he was counted out. A liver shot finished the fight for Hatton and it should finish his career for real this time.
Hatton was a good fighter. He was a champion and his fans cheered him even in defeat. Hatton will never be forgotten for what he did in the ring but the exciting fights that he put on will be missed.
Hatton admitted his punches were off and he was missing a lot but thought he was winning. The judges had it 78-74 and 77-76 twice so it was close. I had it 76-76 at the time of the stoppage.
He was definitely not the old Hatton but hopefully now he will keep his life on track.