Wayne McCullough blogs on the futures of Juan Manuel Marquez and Manny Pacquiao
What next for Juan Manuel Marquez and the defeated Manny Pacquiao? Wayne McCullough has his say...
Last Updated: 12/12/12 4:59pm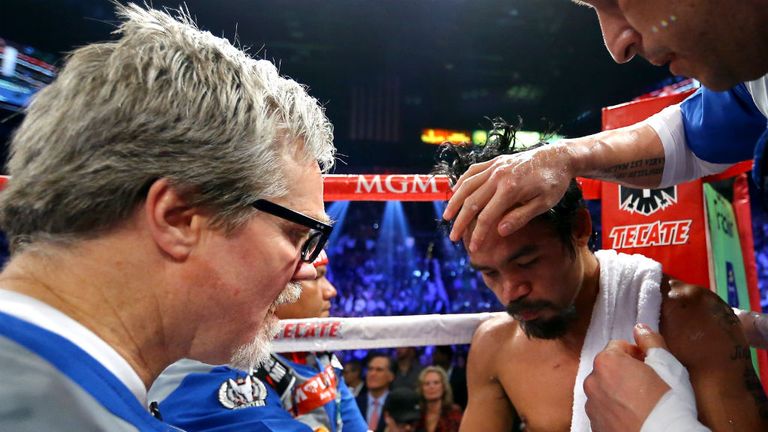 Floyd v Manny is a fight that should have happened before now but it didn't for many different reasons, including money and drugs testing.
In his first three fights with Marquez, Pacquiao got a draw and two wins but they were surrounded in controversy as ringside observers and fans alike were split on who had won.
Pacquiao had Marquez on the canvas four times in those three fights and even had him down again in their most recent fourth meeting on Saturday night.
The difference in the fourth fight was that Pacquiao hit the deck not once but twice himself and, unlike Marquez who got up all four times that he went down, Pacquiao was laid out cold from a right hand to the head that he didn't even see coming.
Pacquiao fell hard, face first onto the canvas in round number six, even though he had been winning up until that point. He was completely out with his hands down as he fell, and he lay there for a few minutes.
It was justification for Marquez who had the style to beat Pacquiao but could never seem to catch the eye of the judges to get his arm raised. This time he didn't need the judges, becoming the judge himself by letting his right hand be the one to give him the victory for the first time in four fights with his rival.
Pacquiao actually looked the lighter, smaller man in the fight, although Marquez surprisingly weighed in 4lbs lighter the day before. He also looked like the old Pacquiao throwing quick right jabs and lightening fast lefts in the first two rounds.
The upper body of Marquez was muscled since his last fight in April of this year and was remarkably bigger since fighting Pacquiao in November 2011. He was a lot slower but was more patient, not wasting a punch.
A big overhand right which came over Pacquiao's left put the Filipino down in the third. He got up and fought back. In the fifth, a left to the head of Marquez caused a knockdown and his glove touched the canvas but it had looked as though their feet got tangled just as the punch landed.
Going into the sixth round, Pacquiao had the lead, after gaining two points in the fifth to edge ahead. He was winning the sixth and almost got through the round before getting knocked out.
The official time of the stoppage was 2:59. The Filipino fans were totally silent when Pacquiao went down but the Mexican supporters were going crazy celebrating the big win.
What next?
What is going to happen now for both fighters? Marquez has already been defeated by Mayweather on a wide points margin back in September 2009. I'm sure Floyd v Manny can't happen right away because of Pacquiao's loss. Floyd might just have priced himself out of a fight that boxing may never see now, unless Pacquiao fights Marquez again and gets a KO victory.
Maybe the fight that makes most sense is Marquez v Pacquiao 5, but it should happen straight away instead of them taking any fights in between.
This fight is definitely a candidate for Fight of the Year. It was a sold out show and the right man got his hand raised.