Boxing will miss Jorge Arce as he gave everything he had in the ring, says Wayne McCullough
Wayne McCullough says boxing will miss Jorge Arce - a fighter who gave everything he had in the ring.
Last Updated: 22/12/12 11:19am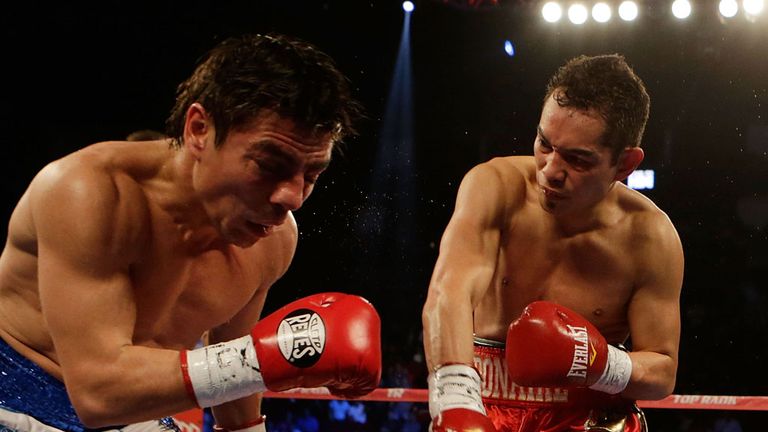 Both fighters have been world champions in several divisions and their styles matched well on paper.
The fight was a defence of Donaire's WBO super bantamweight belt. Although Donaire is rated in the top five pound-for-pound rankings he hasn't shown his high ranking in skill or excitement in his last few fights, even though he has won all of them. Sometimes he seems to switch off and doesn't show the fans why he is one of the best fighters in the world today.
With a total of 71 fights, Arce has fought regularly since his debut in January 1996 at 110lbs. He always comes to fight and give the world of boxing everything he has win or lose. But he was definitely the smaller man in this fight.
Patient
The surprising thing about the start of this fight was the fact that the usually aggressive Arce was moving backwards, making Donaire come forward and commit to him. Donaire did, and landed quick left jabs while looking for the overhand right.
Arce changed things in the second and stood his ground more but got caught with a right and grazing left to the head that hurt him and his gloves touched the canvas to give Donaire a knockdown.
Donaire stayed patient, not rushing anything, just picking Arce off but once he got closer in the third he started landing short punches of his own inside. Arce needed to be close or far enough away from Donaire to do damage. If he was in the middle he was in the danger zone of getting hit hard.
Then Donaire hurt him with a right to the head. Arce's legs buckled and he moved around on wobbly legs. Three left hooks right away had Arce down on his knees, with just over 20 seconds left in the round.
He got up and referee Lawrence Cole had a good look at him. About 10 seconds remained on the clock when they started fighting again and with about three seconds to go, a left hook to Arce's chin dropped him hard to the canvas and the referee quickly stopped the fight with one second to go in the round and the Mexican lying flat on his back.
Donaire got a huge knockout win over a multiple weight world champion and he finally showed in this fight why he is in the top five P4P rankings.
With Juan Manuel Marquez getting the KO win over Manny Pacquiao maybe Donaire will now get more recognition in the Philippines for his domination in the sport of boxing. This was probably his best performance since his KO win over Vic Darchinyan in July 2007.
At the post-fight press conference Arce said he is done in boxing. He will be missed but he can leave the sport knowing he gave everything he had while he was in the ring.