Wayne McCullough says Lucas Matthysse deserves full world championship chance
Wayne McCullough says the time has come for Lucas Matthysse to get a full world title shot.
Last Updated: 30/01/13 7:27pm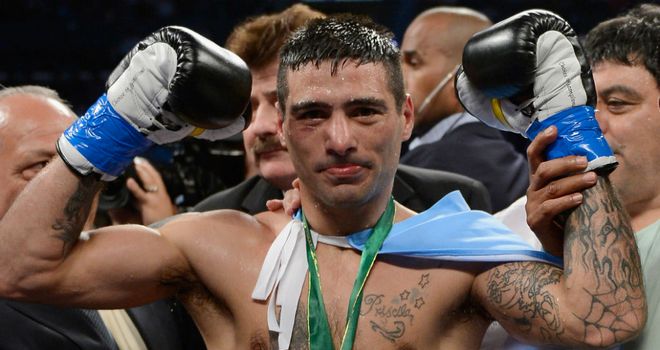 Matthysse defended his interim belt last weekend in Las Vegas, against Mike Dallas Jr, who isn't in the top 10 rankings, butwas a hot prospect up until January 2011 when he ran into world challenger Josesito Lopez and got stopped in the seventh round.
He came back five months later and lost a split decision to Mauricio Herrera. Now two wins later he got a shot at this interim world title.
You have to wonder why Matthysse isn't getting fights with the top guys. Is it because, like fellow countryman Sergio Martinez, they do not want to fight him?
Matthysse does have two losses on his record, but they could be disputed. Each loss was to a former champion, Zab Judah and Devon Alexander, by split decision. He should have been a full world champion long before now but couldn't get the big fights.
Dallas Jr didn't belong in the same ring as Matthysse but he has to get credit for taking the fight and Matthysse needed to stay busy.
Prior to the fight Virgil Hunter, the trainer for Dallas Jr, said he saw Matthysse drink something in the dressing room. Matthysse claimed it was vitamins but the athletic commission said he would be drug tested before and after the fight.
Known as the biggest puncher in the top 20 of his division, Matthysse did what he had to do and knocked Dallas Jr out cold in the first round. Dallas Jr started off using his long left jab to keep Matthysse at bay which worked for about two minutes. Matthysse was trying to time his punches perfectly waiting for his opponent to throw a jab.
With about 40 seconds to go, Dallas Jr jabbed and Matthysse caught him hard on the chin with a right hand knocking him flat on his face. Referee Robert Byrd started the count but immediately called it off as it was clear Dallas Jr was not getting up.
Matthysse sent out a statement to the big names in his division. I believe he is the man to beat and his chance will come to hold the full world championship.