British Face-Off #11 - Robin Reid v Henry Wharton
Robin Reid was the model and the new generation but Henry Wharton was still going strong...
Last Updated: 19/11/13 10:17am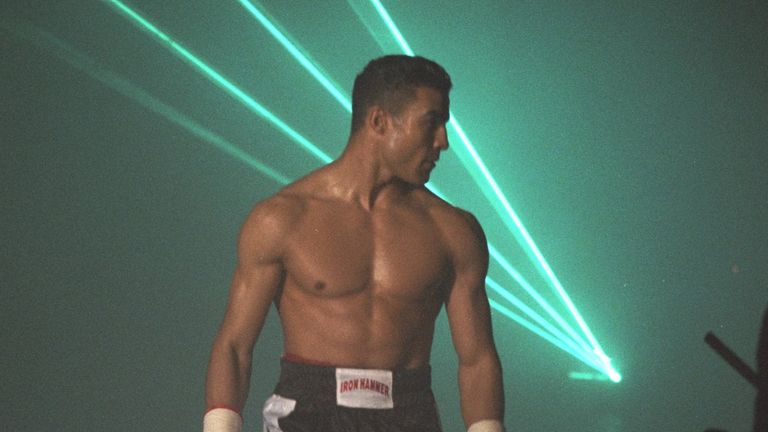 Who: Robin Reid 23-0-1 (Champion) v Henry Wharton 24-2-1 (Challenger)
What: WBC Super-Middleweight titles
When: May 3, 1997
Where: Nynex Arena, Manchester
Won: Robin Reid won MD 12
Who else was on?
A small piece of history happened when Sky put its first pay-per-view show on in Great Britain, the previous three in America, with heavyweights. The Brit Pack show had Naseem Hamed top of the bill, blowing Billy Hardy away inside a round to keep his two featherweight world titles. The wandering Winky Wright made his UK debut, defending his WBO Light-Middleweight title against Steve Foster with a sixth-round stoppage, while former WBO middleweight world champion and Steve Collins victim, Chris Pyatt bowed out, winning fight 51 in a fine farewell. At the other end of the scale, Anthony Farnell was making his debut while Danny Williams made it seven KO's out of seven as another British heavyweight hope had emerged.
What we recall
"That was a close fight, a very close fight! Robin had a few like this but because Henry was a friend of mine, this always stuck out. It was the fight before the big one, Naseem Hamed taking on Billy Hardy from my part of the world, so maybe this didn't get overshadowed. But Robin looked good, always worked hard. He was a male model but he didn't mind having a bit of a tear-up either and this was a tough fight if not spectacular." Glenn McCrory
"Robin Reid was good. He had a good amateur pedigree and he was always wanting to fight. The fact that he went out to Italy to win the world title - when just winning out there was enough - said it all. He was quick and could hit hard, too, but if I remember rightly, he looked to slow down in the second half of this one. Mind you Wharton was tough. As usual. This was his third attempt to become a world champion and this was probably the closest he came." Jim Watt
What the winner said
"I've been working hard and studied Henry because we knew he was going to be a tough, hard fight and people criticise him for being one dimensional - but this was a tough fight. It was the toughest fight so far. I just want to say thank you to the public and the Manchester people and Henry's people because it was a tough, hard fight. There were times when I didn't think I was falling apart, but I had to dig deep though." Robin Reid
What happened next?
Reid was back in action less than four months later, topping the bill in Widnes and struggling, but still seeing off Frenchman Hacine Cherifi - while bitter rival Joe Calzaghe was preparing to topple Chris Eubank. For Wharton it was his last throw of the world title dice and defeat left him out of the game for 10 months until he came back, twice more before calling it quits in September 1998.