Britain's former world champion recalls his hopes and fears while sharing the spotlight with Floyd Mayweather and Manny Pacquiao.
Ricky Hatton was just minutes away from a career-defining fight against Manny Pacquiao and his confidence was seeping away as he strode from the dressing room.
"There is nothing worse when you are walking to the ring to fight the best pound-for-pound fighter in the world like Manny Pacquiao, thinking: 'you know what, I think I've left it in the gym here.' It really is a frightening experience.
The Hitman had earned another shot at one of the finest fighters in the sport - the Filipino with the blurring hand speed - after repairing the wreckage of his first defeat against Floyd Mayweather.
Followed by another loyal mass of fans to Las Vegas, Hatton had been typically affable in the days beforehand, and there was growing expectation that the naturally bigger British man could trouble Pacquiao in May 2009.    
But he was ill prepared for the 'Pac-Man', who had defied boxing logic just five months beforehand, climbing up to welterweight to stop Oscar De La Hoya.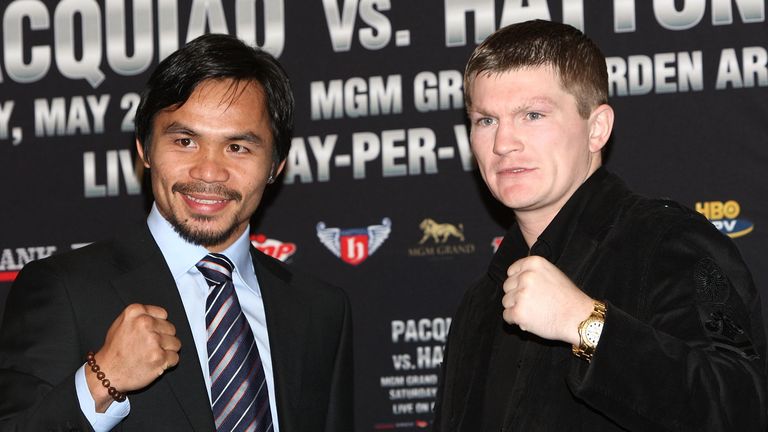 I was trying to keep positive. You're the stronger man, this is your weight division, you bullied Kostya Tszyu - you'll do the same.
A troubled training camp under new cornerman Floyd Mayweather Sr, the father of his conqueror, had filled Hatton with growing doubts as he edged closer to his meeting with Pacquiao, a multi-weight champion.
"I was trying to keep positive. You're the stronger man, this is your weight division, you bullied Kostya Tszyu - you'll do the same.
"If I just get him with one body shot, one in the ribs, it will all be over and that was the way I was thinking to be honest with you.
"Going in there, thinking that way, is always the totally wrong way to think. I've always been a little bit reckless, but I was more reckless than normal. You go in there reckless against Manny Pacquiao and that can always happen."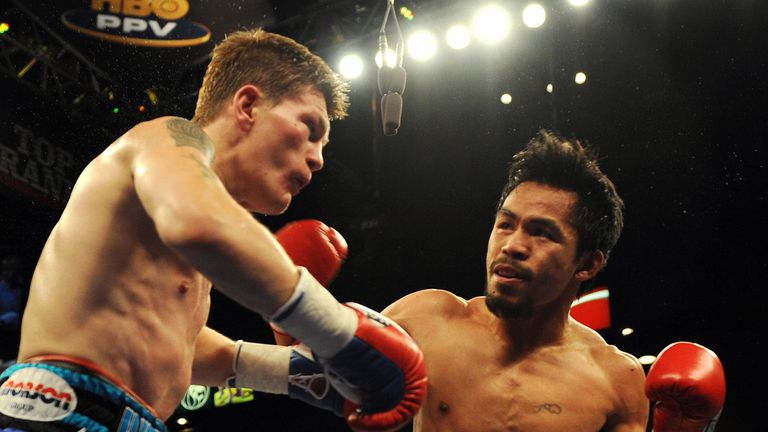 Hatton unwisely tried to overwhelm his foe with early aggression and paid a heavy price for his high risk approach. Charging into a torrent of punches, he was floored twice in the first round, and suffered a final, fearfully heavy knockdown in the second round after a huge left hook.
Hatton had twice fallen short as he strived to reach the sport's summit, with his first attempt coming against Mayweather in December 2007.
The Brit had called for a meeting with 'Money' after an impressive stoppage of Jose Luis Castillo and this request was granted by the American.  
Unlike Pacquiao, who offered only a few respectful words, Mayweather engaged Hatton in verbal warfare from the offset and the two contrasting characters clashed repeatedly during the build-up.
"Manny barely said two words to me in the build-up. He shook my hand, nodded good luck and god bless, very, very polite," said Hatton. "But Floyd was just constant at me and I must admit, I think I got under his skin a little bit.
"He was the total opposite to me in many ways. I was jack-the-lad, go for a game of darts, go to the football, have a pint. He was talking about bling and expensive suits, we were just so opposite and I think that is why the fight generated the excitement it did. We were like chalk and cheese."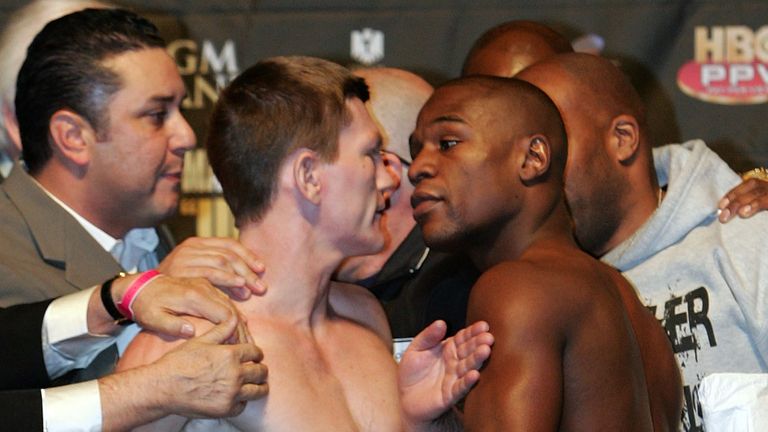 A huge legion of British fans added even more hysteria to the frenzied atmosphere in Las Vegas during fight week.
The growing tension between both men nearly boiled over as they came face-to-face again.
"I lost my cool at the weigh-in, I stuck my head on him," said Hatton. "When I arrived at the MGM Grand and saw the 30,000 fans, the British entourage that were behind me, I think it got me psyched up that little bit more and in the end I lost it. But I think he was taken aback as well at the following that I had.
"He was in his hometown of Las Vegas and we took it over. It doesn't matter how good you are, that must have been off putting and that must have been hard for him to keep it together."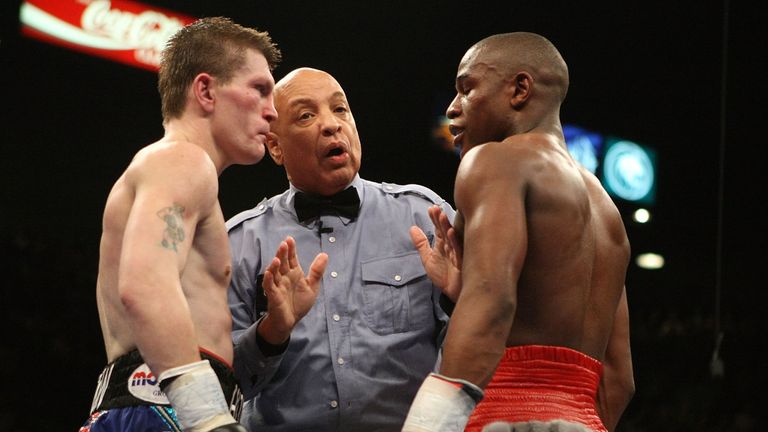 Mayweather had been pushed by De La Hoya in a recent split points win, with pundits suggesting that Hatton could follow the same blueprint as the Golden Boy, who had bullied the Michigan man in the early rounds.
The likes of Diego Corrales, Jose Luis Castillo and Zab Judah had already failed to dent Floyd's resume, but the rugged, relentless Englishman was confident he could prevail.  
"I believed I was going to win it. At that time I was unbeaten. I had won a world title at welterweight when really I was never big enough to be a welterweight," said Hatton.
"If you can beat guys who are naturally bigger than you and Kostya Tszyu, who was probably one of the best fighters pound-for-pound, then why should you fear Floyd Mayweather?"
Hatton's determined effort ultimately ended in a 10th round stoppage defeat and Mayweather would add eight more victories to his umblemished record on the path to Pacquiao. 
Book Mayweather v Pacquiao, Sky Sports Box Office, May 2, via your Sky remote, phone or online now. If you want to record the event, book via your Sky remote. skysports.com/maypac