Floyd Mayweather says his mindset of being undefeated will be a huge asset in Saturday's mouthwatering clash with Manny Pacquiao.
Mayweather boasts a perfect 47-0 record going into the fight at the MGM Grand in Las Vegas, where he made his 'Grand Arrival' on Tuesday without meeting up with his long-time foe.
While thousands of fight fans greeted 'Money', Pacquiao was holding his own event up the road at the Mandalay Bay after turning down the chance to be at the MGM.
Mind games have long been part of the MayPac rivalry, which has been going on for the best part of a decade but had never materialised into a fight until it was finally agreed earlier this year.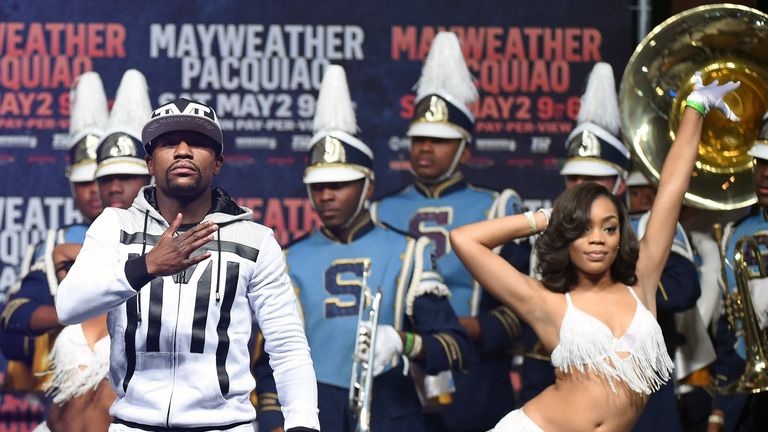 And that continued on Tuesday when Mayweather talked about his 48th, and possibly toughest, fight.
"I've never been defeated. I don't know what it means or feels like to lose. But once a boxer experiences that the doubt will always be in his mind," Mayweather said.
"Everything I do is calculated. Even keeping the world waiting for this fight, which would only have been worth about $60m if we'd done it five years ago.
"The way I fight my body hasn't taken too much hurt or damage.
"But Pacquiao is reckless. He's been in a lot of wars. I like to excite the fans, too, but if I'd been reckless I'd have been washed up by now. And when you risk getting knocked out as brutally as he was there will be repercussions later in life, after your career ends."
But Mayweather, despite the long-time rivalry and countless failed attempts to agree the fight, is still full of respect for Pacquiao.
"I don't regret being flash and brash when I was young. But now I'm getting very close to the big 4-0 [he is 38] I can be more mature," he added.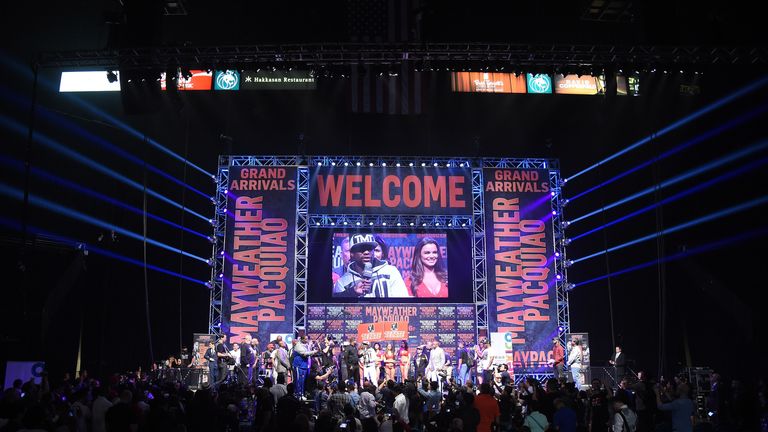 "For example, I've got nothing negative to say about Manny Pacquiao. He's a good fighter. I can't say if he will be the best I've faced until we fight on Saturday night. Members of our teams say things but not us. We will just fight, do our business."
But he couldn't resist a little poke at the Filipino fighter and his promotional team in particular, especially over his share of the purse and failure to attend the Grand Arrival.
Reports have Mayweather taking home $180m for Saturday's fight while Pacquiao will receive $120m.
Mayweather said: "I don't think Manny is being looked after properly by Top Rank for this fight. I think he should have been here with me.
"The two pay-per-view networks got together on this, other big companies and sponsors have weighed in to make it possible. It's been a big effort. It was the professional thing to support this."
Book Mayweather v Pacquiao, Sky Sports Box Office, May 2, via your Sky remote, phone or online now. If you want to record the event, book via your Sky remote. skysports.com/maypac