Freddie Roach says Manny Pacquiao has been more focused than ever in training for his fight against Floyd Mayweather in Las Vegas and has tipped the Filippino to win on points.
Pacquiao has defeated of some of the biggest names in boxing during an illustrious 21-year career but faces his biggest test against the unbeaten Mayweather on Saturday.
Roach has trained Pacquiao since 2001 and overseen his rise to boxing legend, yet he insists he has never been more impressed by the 36-year-old than over the past few weeks.
He said: "Manny took me into his room many times to dissect tape on Mayweather and how he fights against certain people. This is the first time he has ever asked me to watch film with him. I liked what he showed me on the tape and I think that we are perfect for this fight.
"From the first day this fight was announced, I have seen a different attitude in Manny. He has really taken his training to a new level. He is very motivated and I love what I see every day.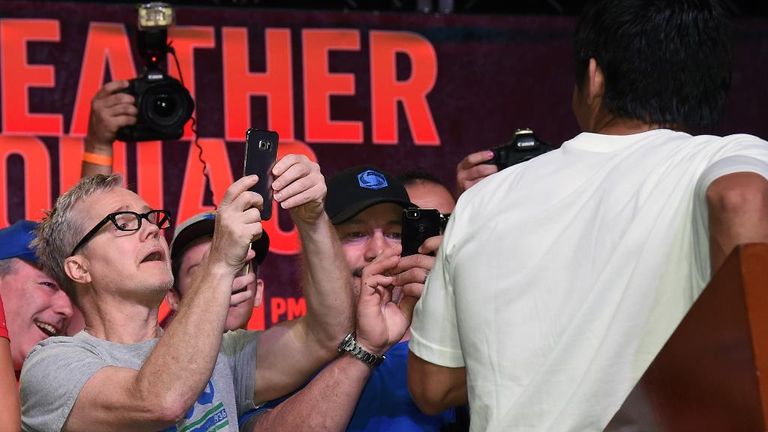 "I think we can win a decision. We can outpoint him, no problem."
Mayweather has one of the most impregnable defences in boxing history and is also a tactical master, but Pacquiao believes his superior hand speed will carry him to victory.
While Roach agrees, he also feels Mayweather is not the physical specimen he once was and is also predictable.
He added: "I believe we have better power than he has and we are using that. I don't think Floyd's legs are there anymore and he can't run for 12 rounds because we will catch him on the way. We're ready to go 12 hard rounds and that's what we train for.
"I learned a lot from Floyd's fight with Oscar De La Hoya. I thought he won the first six rounds and then lost track of the strategy. We learned a lot about how Floyd sets traps and Manny recognises how he sets traps. He won't fall into it ever and Manny knows exactly what to do in every situation."
Book Mayweather v Pacquiao, Sky Sports Box Office, May 2, via your Sky remote, phone or online now. If you want to record the event, book via your Sky remote. skysports.com/maypac