No matter what side of the fence you are on, the widespread opinion of the 'Fight of the Century' is that it will go the full 12 rounds.
That is understandable, given neither fighter has produced a knockout win in over nine years between them, and bookmakers go 4/11 on either Floyd Mayweather or Manny Pacquiao to win on points.
So, under the assumption that both men will hear the final bell, how will the outcome be decided? Here, Sky Bet sifts through the stats and odds to get a better idea of what's in store.
Punch percentages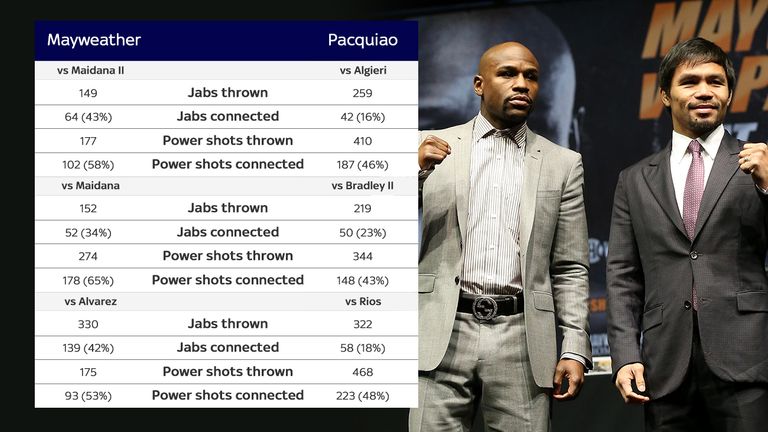 It's no secret that Pacquiao produces more punches than Mayweather, with statistics firm Compubox claiming the Filipino throws 66 per round on average compared to Mayweather's 39.
However, it's what lands that counts, and Mayweather's percentage of accurate punches is, at times, staggering.
During his dominant performance against Saul Alvarez in 2013, which was inexplicably scored a majority decision, Mayweather landed an impressive 53 per cent of his power punches, while his overall tally peaked at 61 per cent in the eighth round.
Granted, Alvarez is a much bigger target than Pacquiao will be, but in his first meeting with Marcos Maidana – who is similar to Pac-Man in height and reach – he managed to up his power punches to a 65 per cent success rate.
In the re-match, Mayweather more than doubled Maidana's accuracy for both jabs and power punches, despite the Argentine throwing considerably more. Thus, quality not quantity is the attitude taken by Mayweather – the exact opposite of his opponent this weekend.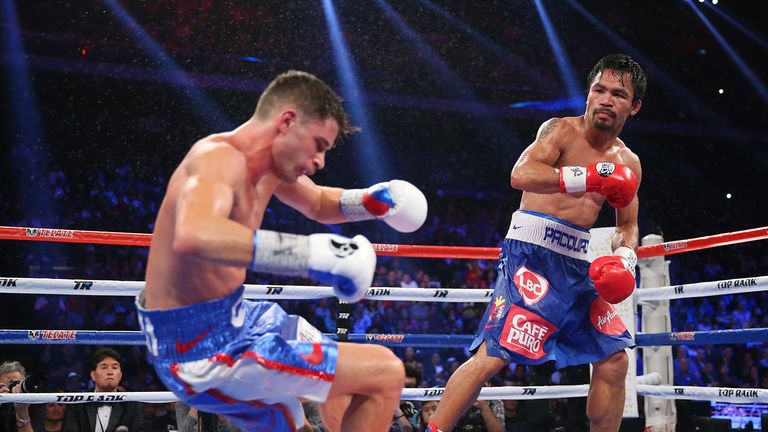 Pacquiao threw 669 punches in his last fight – a unanimous decision win over Chris Algieri – but his success rate of 34 per cent was much lower than the average we have come to expect of Mayweather (43 per cent).
The jab is a concern for Pacquiao – he landed just 16 per cent of the 259 he threw at Algieri – but, that said, Pacman doesn't often get the credit he deserves for the sheer accuracy of his power punches.
He landed 43 of 60 power shots (72 per cent) in round nine against Algieri and he traditionally throws more than double the amount of power punches than Mayweather does.
Mayweather odds: To land over 40 per cent of his punches – 5/6 with Sky Bet
Pacquiao odds: To land over 26.5 per cent of his punches – 5/6 with Sky Bet
The judges
For all the stats, it will probably boil down to what type of fighter the judges prefer – an aggressor or a boxer.
Dave Moretti makes up one third of the panel and the Las Vegas resident is often convinced by Mayweather's elusive style, having scored seven of his last nine fights.
On each occasion, he has made Mayweather a comfortable winner, notably against typical aggressors Miguel Cotto (117-111) and Maidana (116-111) second time around. That does not bode well for Pacquiao.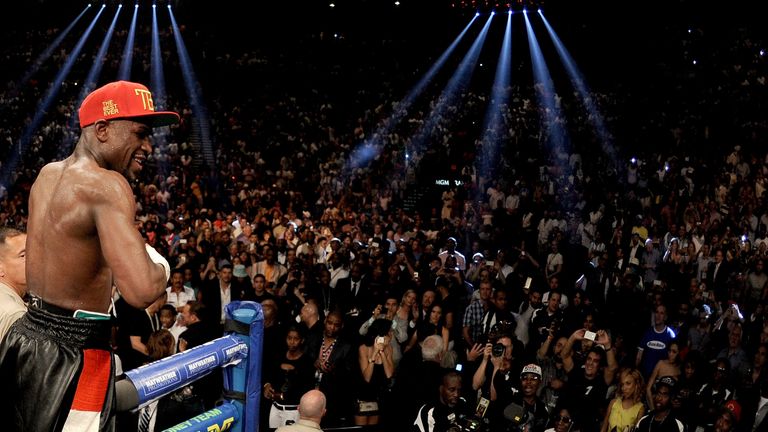 Burt A Clements is another judge on the panel and, although he has only scored three of Mayweather's 47 fights, he has heavily favoured him each time.
Even in Mayweather's first meeting with Maidana, when 'El Chino' landed more punches on 'Money' than any other fighter has ever managed, Clements still only gave the underdog three rounds (117-111).
He was also the only judge to give Mayweather every round in his comeback fight against Juan Manuel Marquez, while he had the 38-year-old 89-81 up when Ricky Hatton was stopped in round 10 in 2007.
To make matters worse for Pacquiao fans, Clements has only ever scored one fight involving the Filipino – his first meeting with Marquez – and, decisively for the result, he could only mark it a draw.
The third judge, Glenn Feldman, has been involved in just one fight involving either fighter, but his job was short-lived as Mayweather stopped Miguel Melo inside three rounds back in 1998.
What is notable, though, is that Feldman has been the source of many majority and split decisions, suggesting he's not afraid to buck the trend.
Mayweather odds: Judges' scores to accumulate over 348.5 points – 5/6
Pacquiao odds: Judges' scores to accumulate under 339.5 points – 5/6
What does all this suggest?
The odds are against either fighter earning a stoppage win (9/4), with a unanimous decision in Mayweather's favour being the most likely outcome on the cards (5/4 with Sky Bet).
Given his inferior punch accuracy and two potentially unfavourable judges on the panel, a unanimous decision for Pacquiao is pretty unlikely at 12/1.
However, there is reason to believe that either fighter could take a majority or split decision, while a draw is now as short as 16/1 – a considerably smaller price than the usual 25/1 or above.
If Pacquiao is to win on points, it's more likely to come via a majority or split decision (11/1), with Maweather much more likely to get the benefit of the doubt at 6/1.
Book Mayweather v Pacquiao, Sky Sports Box Office, May 2, via your Sky remote, phone or online now. If you want to record the event, book via your Sky remote. skysports.com/maypac