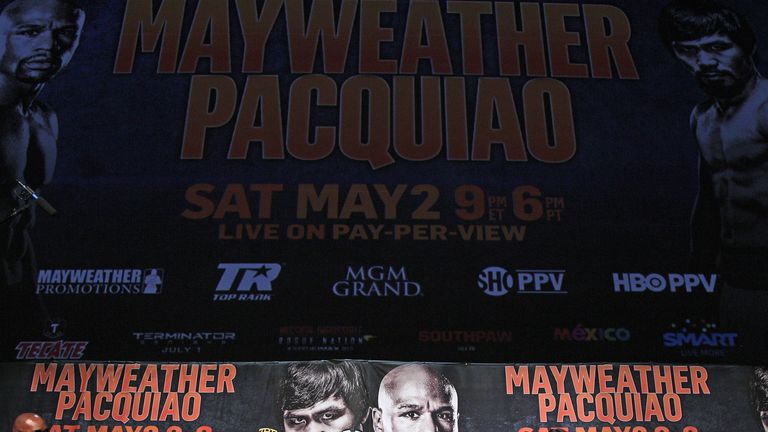 Carl Froch has outlined how Manny Pacquaio can upset the odds and hand Floyd Mayweather the first defeat of his professional career.
Froch is predicting a Mayweather victory but, speaking ahead of tonight's weigh-in, which will be screend live on Sky Sports News HQ, he explained that Pacquiao can prevail if he forces the unbeaten American out of his defensive shell.
"Mayweather's safe bet is to get behind his shoulder, get behind his sharp jab and use his movement," Froch said. 
"But that won't work if Pacquiao does what I think he can do and what Freddie Roach, his trainer, is going to tell him to do - and that's to back Mayweather up with angles, but importantly do the work, throw the punches, fast accurate punches.
"Whether or not you're hitting Mayweather in the head, go for his shoulder his arms his back. If he's slipping and turning and giving you that awkward defence he's got, ducking low, just punch down, take what's there.
"If Pacquiao can execute that game plan, round after round, after round, the fight will be slipping away from Floyd Mayweather."
Over 10,000 tickets have been sold for tonight's weigh-in, with $10 tickets now changing hands for over $200.
Froch, however, doubts there will be any pre-fight gamesmanship.
Froch added: "They are both going to be very serious and stern, they will be smiling but they will be thinking about just getting through the weigh-in with no aggravation.
"I can't see anyone pushing or shoving anyone, I can't see anybody trying to win any points at the weigh-in which can happen."
Book Mayweather v Pacquiao, Sky Sports Box Office, May 2, via your Sky remote, phone or online now. If you want to record the event, book via your Sky remote. skysports.com/maypac