He has never lost and many of you think Floyd Mayweather will remain undefeated come May 3.
Manny Pacquiao and his supporters are convinced things are going to change and while every fight fan will have a gameplan in their head, how on earth do you beat the pound-for-pound's best?
Well, one or two of his victims came close, so we have come up with a few pointers on how we think you can do the unthinkable... defeat Floyd Mayweather.
Avoid the mind games
Fights can be won and lost long before you reach the ring. Some have been decided at the first press conference, others at the weigh-in - and that has always been one of Mayweather's biggest and most blatant skills. The trash-talking loudmouth might have quietened down in the past couple of years with the word legacy now leading his mantra, but don't think you can steal a lead.
The last person to get into a verbal battle was Robert Guerrero. He couldn't wind Mayweather up, though, and was well beaten.
Ricky Hatton - with 30,000 fans and half of Manchester behind him - could not get into Maywether's mind, either. Hatton is adamant that the Mayweather he met in the ring was the same Mayweather that flew over to England to kick it all off.
If Hatton couldn't do it, who can? Forget the psychologial warfare. Ignore the mind games. Mayweather is Mayweather, simple as that. He won't change and you can't change him. You will hear his mantra at some stage... 
"I take my time. I keep my composure. Go out and stick to the gameplan. Be smart. Be Floyd Mayweather."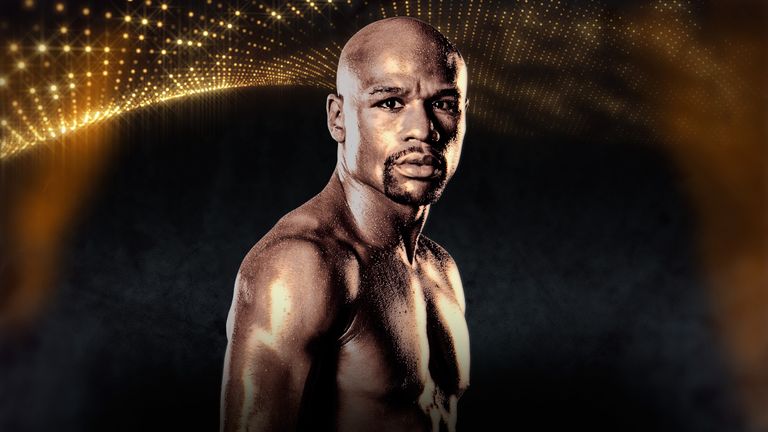 I take my time. I keep my composure. Go out and stick to the gameplan. Be smart. Be Floyd Mayweather.
Pac-Man plus: Pacquiao is one man who does not get involved in anything like that. Have you heard him bad-mouth anyone before? He just gets on with the job. "Manny barely said two words to me in the build-up. He shook my hand, nodded good luck and god bless, very, very polite," said Hatton. "But Floyd was just constantly at me."
Go the distance
The one thing you need against Mayweather is plenty of gas. Every boxer in the world should be able to go the distance but you need it more than ever if you are to get the better of Mayweather. He has been through 28 world title fights and done all 12 rounds no fewer than 17 times.
He is the master of earning the decision, but everyone knows that Oscar De La Hoya was ahead on the cards at the halfway stage of his 2007 fight against Mayweather only to fade badly. He had not only retired a year earlier, but was down at his lightest weight for five years and was drained.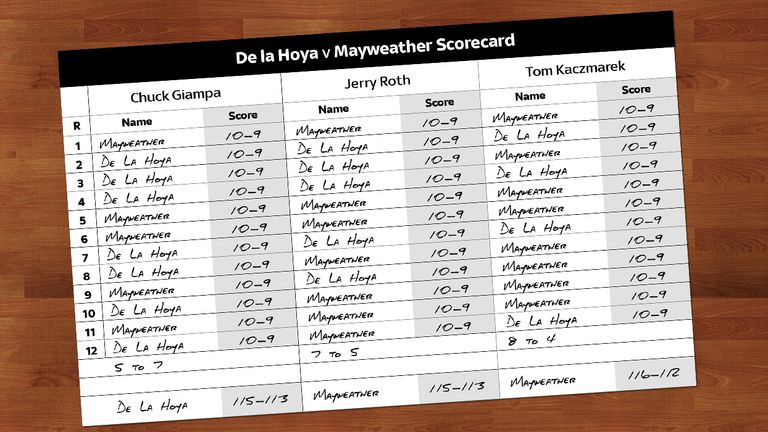 You cannot afford to do that. In his five previous fights De La Hoya had only gone the distance in two of them - against Shane Mosley (lost) and Felix Sturm (won). He might have felt he still deserved to be given the decision, but the scorecards showed how he faded. After seven rounds, De La Hoya was up by three rounds on two of the scorecards and even the judge who went against the grain only had him down by one. He ended up losing 115-113 112-116 113-115, which shows how he tired and how the second half of title fights is Mayweather's domain.
Pac-Man plus: Pacquiao has become a master of the full 12 rounds. He has gone the distance in nine of his last 10 fights, including against the likes of Antonio Margarito, Shane Mosley and Juan Manual Marquez - and stopped Miguel Cotto in the final round. He did lose to Timothy Bradley over the distance but, if Pacquiao reaches the second half of the fight, his chances to win increase!
Left leads the way
It is no secret that lefties have caused Mayweather problems... big problems. Only eight of his 45 opponents (18 per cent) have been southpaws which suggests he hasn't had too much experience against them. And if there is one southpaw on Mayweather's record that stands out, it's Shane Mosley, the man who almost put him on the floor.
In the second round of their May 2010 scrap, Sugar landed several straight rights, one of which saw Mayweather's knees buckle badly, leaving him inches away from a knockdown. It was a moment which could have changed their careers - and at least it gave us hope! 
Look back a further four years and Zab Judah had done exactly the same. Second round, cracking right, knees buckled... only this time Mayweather's right glove actually touched down yet the knockdown was ignored.
Add DeMarcus Corley to the list then you have a trio of southpaws who - maybe not by his own admission - have given Mayweather problems. "You could be the best fighter on the planet but if you can't handle southpaws, you just can't," said Paul Smith.
The fact that both Corley and Judah have been used as sparring partners for May 2, says it all.
Pac-Man plus: Pacquiao is a southpaw. End of. But just to add to it, Miguel Cotto boxes orthodox but he is left-handed and he not only gave Mayweather some trouble on power alone, he struggled against Pacquiao!
Aggression needed
It might go without saying but aggression is the best bet against Floyd. Whenever he has been blamed for 'stinking the place out', Mayweather has not only won, but beaten fighters who have spent most of the fight on the back foot. There have been too many comfortable wins to list, but if there is one man who showed the way to - possibly - beat him, it was Jose Luis Castillo in their first fight.
"Mayweather knows he's not invincible," says Carl Froch. "He knows he should've lost that first fight with Castillo but he got the decision. His constant aggression is the one thing he couldn't deal with. He spent a lot of time on his back foot."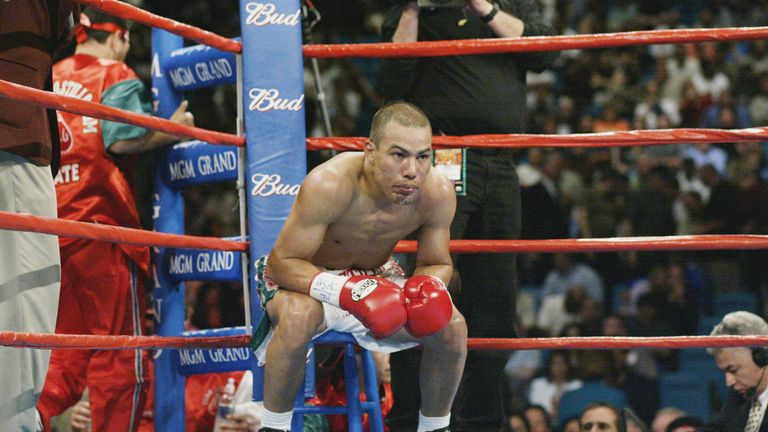 The punch stats had him landing 506 shots and while De La Hoya and Marcos Maidana also came close, Castillo is arguably the only one that did it for 12 rounds. He was docked a point for hitting after a break and was warned for shoving Mayweather back, but aggression was what Castillo did best. If only we could ask him. Diego Corrales - who suffered more than anyone against Money - would surely agree.
Break it down even further and an impressive 40 per cent of Castillo's shots landed, higher than any other Mayweather opponent, and an even better 46 per cent of his power shots hit home.
A power punch releases the aggression, the control means the fighter will not walk into a counter and constant pressure stops Mayweather settling into any sort of rhythm. Castillo did just that and although the fight was over 13 years ago and Mayweather won a unanimous decision, the crowd at the MGM Grand booed when the verdict was announced. That says - and said - it all.
Pac-Man plus: Pacquiao is non-stop aggression. There is no easing off and there is no round of rest. When he lost to Timothy Bradley he still threw an incredible 751 shots, 496 of them power shots. That is one-and-a-half times more than Castillo came up with against Mayweather.
One chance and one chance only...
Rematch has become one of the boxing buzzwords in the last few years and while Muhammad Ali, Sugar Ray Leonard, Tommy Hearns, Mike Tyson, Lennox Lewis and Evander Holyfield are just a few of the big-guns who will gladly go for a return, Mayweather has done it just twice. And on both occasions he did it to prove a point.
Marcos Maidana was arguably the last man to give him trouble so Mayweather went in with him again, straight away. Castillo is probably the one man who came closest of all to beating him and he got an instant return too.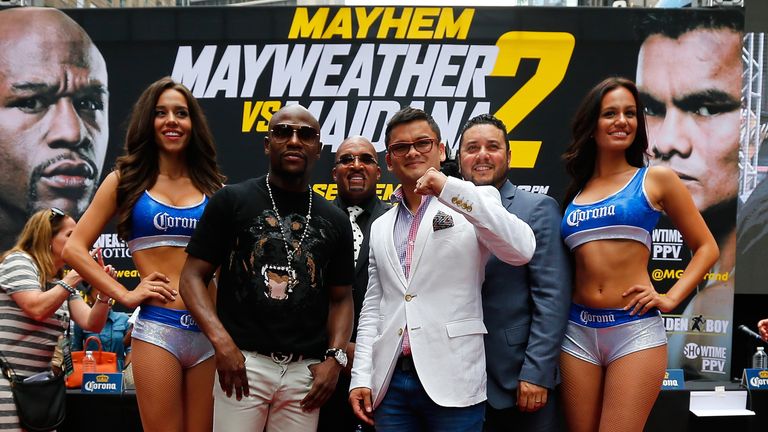 But the outcomes? Maidana lost to a split decision back in May last year but four months on he was out-classed in a one-sided affair that ended in a unanimous decision. As for Castillo 12 years ago, Mayweather took eight months out to reassess and then won the rematch comfortably.
Be it a close decision or a controversial outcome, rematches more often than not follow the same suit, but have seen Mayweather stamp his authority all over them. There is talk of one clause and one clause only: if Mayweather loses he gets another crack.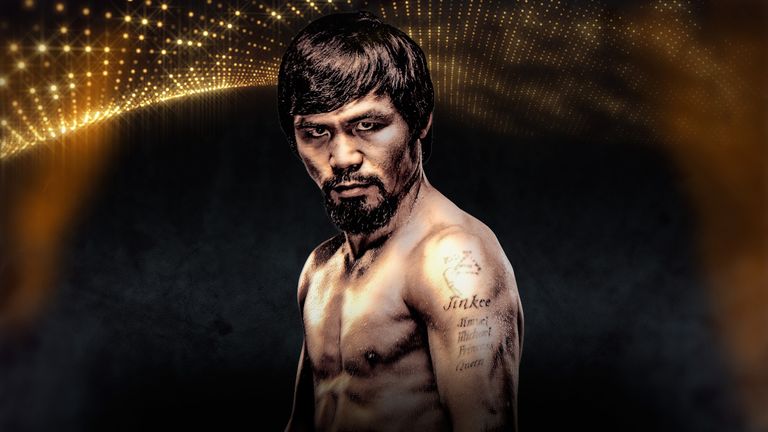 If I'd have got that first one against Marquez, there would have only been one fight
Pac-Man plus: "If I'd have got that first one against Marquez, there would have only been one fight," Pacquiao told us when he was over here. And the vicious knockout he suffered at the hands of Marquez proved rematches are a dangerous game. Pacquiao is 2-1-1 against Marquez. Erik Morales and Bradley beat Pacquiao but lost - and lost convincingly - in their respective return fights.
The luck...
Luck is the one thing you turn to when you've nothing else left. And if you want to beat Mayweather, you are going to need plenty of it. Floyd had luck on his side twice - when he got the decision against Castillo and on a lesser level, when his glove hit the floor against Zab Judah, when there was no knockdown - but is he a lucky man?
No, he hasn't needed to be. Although the Castillo decision reminds us that good fortune decides fights, Mayweather didn't need any luck in the rematch.
But does Mayweather, as many people think, deserves a bit of bad luck? He is that fit, that healthy, that injuries have never been a problem, but they can always enter the equation. If any elite fighter picks up an injury during a fight, it might be the end.
Sergio Martinez's knees caved in against Miguel Cotto, Timothy Bradley's ankle went against Pacquiao. Neither man was in real trouble until then.
A cut? It has ended plenty of pick-em fights. If it happens inside four rounds, Mayweather is likely to be behind on the scorecards. Maybe that is where luck could play a part.
Name a fighter who hasn't picked up an injury in the ring, from Evander Holyfield's ear to Danny Williams' dislocated shoulder. Injury is the one thing we have never seen Mayweather have to deal with.
Pac-Man plus: After five years of bickering, calling-out and conjecture, Pacquiao has finally got his wish, his chance, to take on the best in the world. For him to finally be fighting Floyd Mayweather, luck could well be on his side...
Book Mayweather v Pacquiao, Sky Sports Box Office, May 2, via your Sky remote, phone or online now. If you want to record the event, book via your Sky remote. skysports.com/maypac