World Cup Classics: Adam Gilchrist blazes 149 to power Australia to 2007 final victory over Sri Lanka
Destructive opener propels Aussies to third successive crown...
Last Updated: 20/01/15 8:29am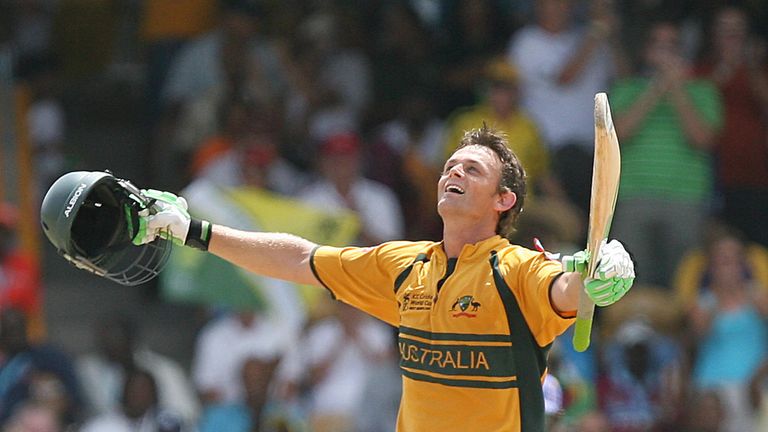 Australia romped to their third straight title in 2007 in a blaze of glory from Adam Gilchrist's bat that even a farcical finish in darkness couldn't diminish.
Gilchrist was at his destructive best at the top of the order against Sri Lanka as he blitzed the highest-ever score ever made in a World Cup final, putting on 172 for the first wicket with Matthew Hayden, who had the best view in the house from the non-striker's end.
The left-hander's 149 off 104 balls featured eight sixes and 13 fours and owed much to his decision to bat with a squash ball in his left glove, a training technique designed to give him more top-hand control with his right.
His patchy form in the build-up to the final vanished, as did Sri Lanka's bowlers - all around the park - the experience particularly painful for Dilhara Fernando, who couldn't grasp a tough return chance offered by Gilchrist when he had just 31. Even Muttiah Muralitharan could only gain a measure of control as Ricky Ponting (37) and Andrew Symonds (23no) built on Gilchrist's magnificent platform.
Australia's 281-4 off 38 overs was revised to a target of 269 off 36 overs in the rain-affected contest and while Sanath Jayasuriya (63) and Kumar Sangakkara (54) were at the crease, Sri Lanka had a chance but it faded as quickly as the light once they were separated.
With 63 needed off 18 balls, Sri Lanka accepted an offer to go off for bad light and Australia began their celebrations, convinced that was game over, only for the umpires to return and inform them the game must be finished.
So it was that the final deliveries were played out - to the utter amazement of most - in almost impenetrable darkness. Amid the gloom Gilchrist stumped Lasith Malinga, the decision referred to the third umpire just to make sure, before finally Australia were declared the victors by 53 runs.
Watch the best of the action on Sky Sports for iPad, Sky Go or by signing in to watch the video above. Then don't miss our extended World Cup Classics series on Sky Sports once the 2015 ICC World Cup begins on February 13.