Clive Lloyd left an indelible mark on World Cup history by leading his powerful West Indies to victory in the first two tournaments.
Ahead of this year's competition, the legendary skipper shared some of his memories of the 1975 and 1979 World Cups with Sky Sports, as well as the 1983 edition as his team went for a hat-trick of titles.
The first World Cup was a 60-over-a-side event held in England, four years after Australia and England contested the inaugural ODI at the MCG…
SIR CLIVE: "Australia were favourites to win the World Cup but we knew that we had enough players who could do things – good all-rounders and batsmen like Gordon Greenidge and Roy Fredericks who scored rather quickly. One-day cricket was relatively new for some of the players but most of us had played county cricket and had played in the Sunday league and the Gillette Cup, so we had some experience. I'm not sure other countries had as much.
"We played a pretty close group game at the Oval against Australia where Alvin Kallicharran got quite a few runs, hitting Jeff Thomson and Dennis Lillee around the park, and another against Pakistan, which was very, very close. When we won that one we knew that we were going to win the competition. We had one or two terrible decisions in that game and needed 66 to win off 14 overs with the last pair batting. At one stage Deryck Murray was stranded going for a single with Andy Roberts but the fielder fumbled the ball and he got in.
"My accountant Gordon Andrews came in during the partnership and he brought in a crate of pale ale, saying that we would win. I thought he was mad but I kept drinking one every over. I wasn't seeing people too well but it was a great day for us. We'd played well during the competition and once we'd won that game we thought we must win this trophy."
West Indies beat New Zealand in the semi-final before taking on Australia in the final at Lord's, where Lloyd scored 102 off 85 balls…
SIR CLIVE: "I was dropped early on in my innings by Ross Edwards but then everything just clicked; from then on you realise this is your day. You couldn't make a hundred in a better scene than that. It was a full house, a beautiful day and the cricket was pretty exciting. It was a final that you would want to be involved in."
West Indies swept all before them in the 1979 World Cup, held in England once more, beating Pakistan in the semi-final before Viv Richards struck 138 against the hosts at Lord's…
SIR CLIVE: "We knew that we were the best side in the world at that time – we were beating everyone more or less. Going into the final against England we knew, for sure, that this was a trophy we could regain. Viv Richards was outstanding. He hit the ball so well; he hit everything so crisply and he pierced the field with ease. Collis King came in and outscored Viv; he was a good timer of the ball and played a magnificent innings (86 off 66 balls).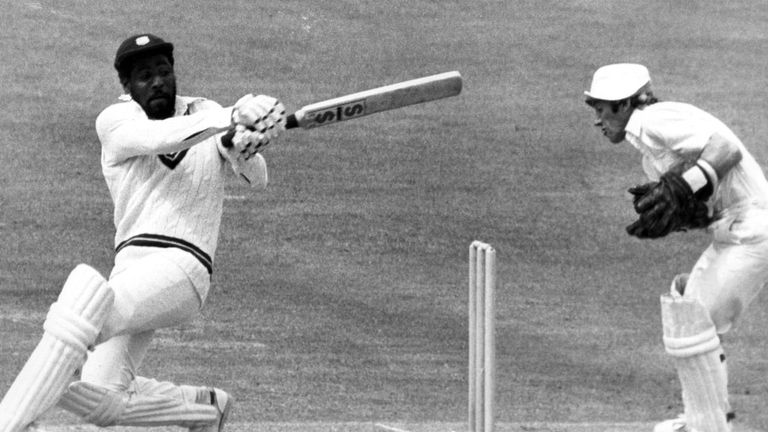 Set 287 to win from 60 overs, England took keeping wickets in hand to the extreme as Geoff Boycott (57 off 105) and Mike Brearley (64 off 130) fended off the Windies' pace attack led by Joel Garner (5-38)…
SIR CLIVE: "I think Geoffrey was just trying to show that he could play the West Indies pace but he probably didn't realise it wasn't a Test match! I remember dropping him at midwicket and my excuse was that it was a ploy to keep him in.
"Joel's yorker was so difficult to play because it was very quick through the air. You'd be looking for the ball and before you knew it, it was down by your legs. Joel was good – he was one of the finest end-of-innings bowlers you could wish for. You couldn't hit him anywhere, he was bowling yorkers at will. You couldn't score off any of those guys at will because they were quick and accurate. We knew that once England had to score at 10 or 11 an over it had got to quite a ridiculous stage.
"Joel not only bowled yorkers – he bowled some balls that would rise disconcertingly because he was six foot eight. It was very difficult to work out what he was going to bowl."
Four years after their 92-run triumph, West Indies were back at Lord's aiming for a hat-trick of titles – but after bowling India out for 183 they were skittled for 140…
SIR CLIVE: "People say that if we'd been chasing 283, we would have played differently. I felt that we threw it away because we had batting right down to number 10. Everybody could make runs but after we got them out for 183 we batted unintelligently. We'd had those situations where someone had come in and won the game; in the three World Cups we'd only lost two games and one of those was this final.
"Soon after India's victory we went to India and played them in eight one-dayers and it finished 8-0 to us! It was one of those days, I suppose…"
Watch each and every game of the ICC Cricket World Cup on our dedicated channel, Sky Sports World Cup, starting with New Zealand against Sri Lanka from 10pm on Friday 13 February.
Before then don't miss our World Cup Preview Show, with Nasser Hussain and Michael Vaughan, from 8pm on Friday on the same channel.