Wahab Riaz and Martin Guptill feature in World Cup highlights reel
Plus Chris Gayle, Kumar Sangakkara and JP Duminy...
By David Currie
Last Updated: 30/03/15 6:09am
In a World Cup full of highlights, we've picked our top five moments. Do you agree with our picks?
Martin Guptill's record score
Martin Guptill hit the highest-ever World Cup score, striking an unbeaten 237 from 163 balls with 24 fours and 11 sixes against the West Indies, surpassing Chris Gayle's record 217 set earlier in the tournament. It's incredible to think that Guptill's place in the side had been questioned in the build-up to the tournament - without an ODI hundred since January 2014 - but his opening partner and captain, Brendon McCullum, stuck with him and his faith was rewarded with Guptill's knock following soon after a century against Bangladesh in their final group game. He scored only 15 in the final but that was still good enough to see him top the World Cup run-scoring charts with 547 from his nine innings.
Wahab Riaz's spell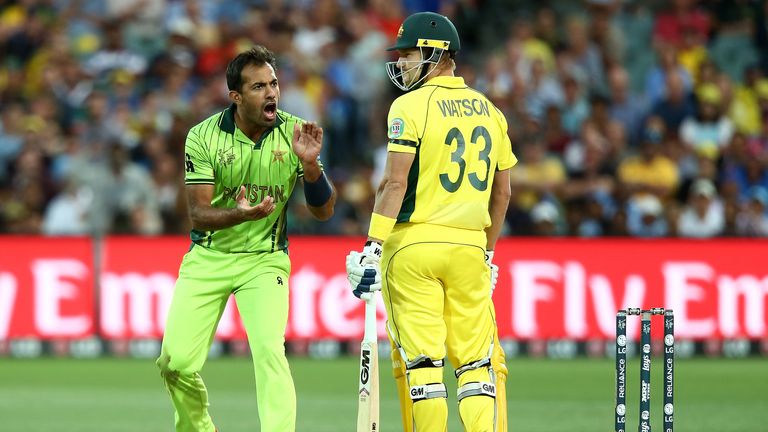 Conjuring up memories of batsmen and bowler duels of days past, such as Allan Donald steaming in at Michael Atherton and steaming out of his ears at Trent Bridge in 1998, this spell from Riaz was fast-bowling at its ferocious best. Riaz took 2-54 and fell on the wrong side of the result, with defeat to Australia in their quarter-final, but it tells only half the story. With Australia on the ropes at 83-3, taking blow after blow from Riaz, Shane Watson was dropped by Rahat Ali at fine leg on four. He went on to score 64 to take Australia through but not after exchanging a few pleasantries with Riaz along the way in an enthralling contest.
Chris Gayle's double ton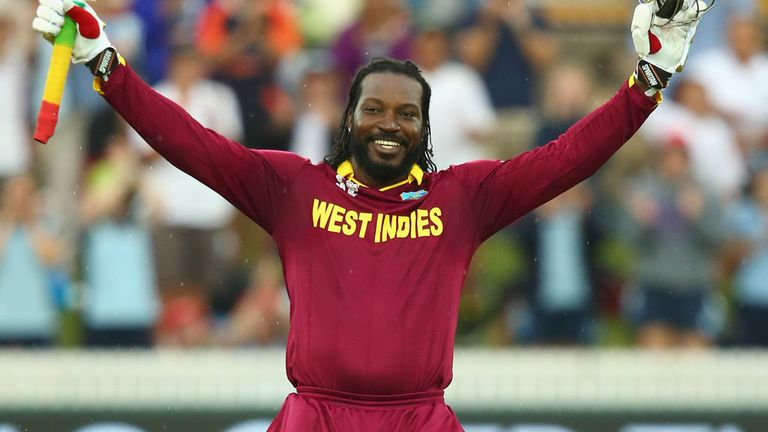 It's a long time since Chris Gayle lit up the World Cup with his sensational effort against Zimbabwe. AB de Villiers' 150 and Guptill's double-hundred against the West Indies since, have pushed it from its pedestal. Also, there was South Africa passing 400 twice and Australia's 417 - the record World Cup score against Afghanistan - in a tournament utterly dominated by the bat. But Gayle - ever the trend-setter - was the one to get the ball rolling (or flying, over the boundary) with this monstrous knock of 215 that contained 16 sixes, the most ever in a World Cup.
Kumar Sangakkara's four hundreds
He simply can't retire, can he? There seems to be no changing Kumar Sangakkara's mind at the moment as he prepares for a season in county cricket with Surrey, sticking by his decision to give up ODIs. At 37-years-old, perhaps an understandable and sensible decision but with four consecutive World Cup hundreds to his name - the first ever to do so - the timing stinks. Sangakkara scored a sensational 541 runs across seven innings at the tournament at an average of 108.20. Come back Kumar, I didn't mean it!
JP Duminy's hat-trick
An unlikely hero for South Africa in their quarter-final win over Sri Lanka, JP Duminy took the wickets of Angelo Mathews, Nuwan Kulasekara and Tharindu Kaushal in consecutive balls as Sri Lanka crumbled from 114-4 to 133 all out. South Africa did most of their talking with the bat during the tournament and their fifth bowling option was a constant source of concern, with Duminy and De Villiers required to share the workload in order to accommodate an extra batsman in their line-up. But Duminy managed to silence the doubters with this destructive spell.