Cricket World Cup: Stand-in Australia skipper George Bailey expects to be dropped after first game
Last Updated: 13/02/15 2:53pm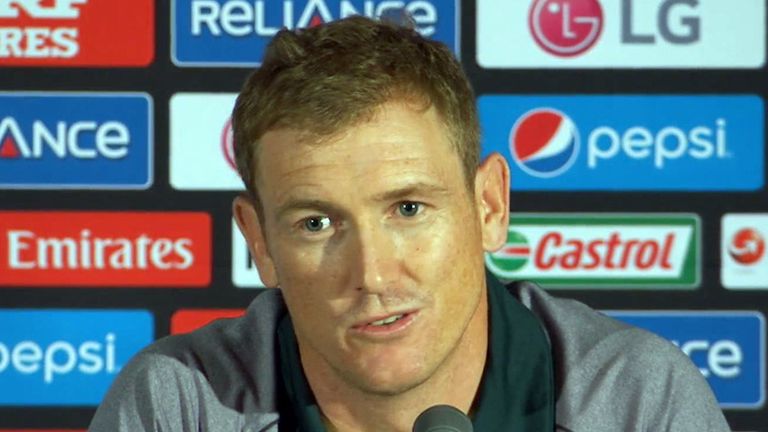 George Bailey will captain Australia in their World Cup opener against England in front of 90,000 fans at the MCG on Saturday - and then expects to be dropped.
Bailey accepts he will more than likely have to make way for full-time skipper Michael Clarke when he returns from a period out after hamstring surgery.
Clarke has been missing for two months and coach Darren Lehmann has already confirmed he will play in the second group game, against Bangladesh.
Bailey has led the one-day team well in Clarke's absence but his lack of run-scoring form is likely to see him replaced by Australia's permanent captain.
"It's a pretty basic equation," said Bailey. "What will be, will be."
Asked what he thought he might be able to do to save his spot, he added: "I don't think I probably will (keep his place), but that's fine.
"I think it's great that he (Clarke) is on track, certainly from the initial time of his injury I think he's done a remarkable job to get back in time – even to have murmurs of him playing in this game.
"To have him back for the next game, as was always the plan, I think he's done a great job."
Bailey does not think his potential demotion will be affect his focus in the opening game against England, and in fact feels Australia's bid for a fifth World Cup will depend on having depth beyond their best starting team.
"We've talked about a squad mentality - if you're relying on 11 blokes to win the tournament I think you'll fall well short," he said.
"We're very comfortable with the group we've got and where we're at and the roles everyone plays within the team.
"That's an important thing to have that clarity around what your role is."
Bailey has struggled for form with the bat but registered scores in the forties in Australia's warm-up matches for the World Cup, against India and the UAE.
It has been suggested that his one-day career could come to an end after the tournament, 12 months after he lost his place in the Test side despite playing in every match of the 5-0 Ashes whitewash.
He accepts he needs to make some big scores at the World Cup if he is to avoid such a fate but believes those who suggest his effectiveness has diminished are off the mark.
"I actually feel like I'm hitting the ball really well," he said.
"I feel like my role has changed within the team in terms of the way we play. Certainly I'd like more runs, there's no doubt about that, but our record as a team in the games I've played is pretty good I reckon and I'll stand behind that."
Watch Australia v England on Sky Sports' dedicated World Cup channel (SS3) from 3am on Saturday