David Lloyd picks his Cricket World Cup XI
Last Updated: 31/03/15 4:56pm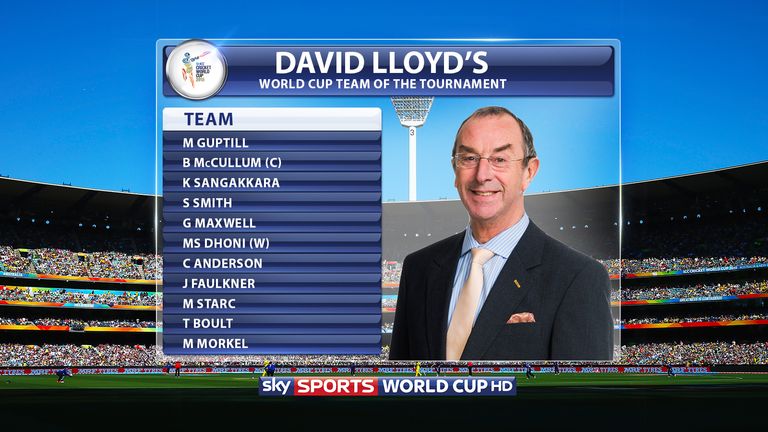 Australia beat New Zealand in Sunday's World Cup Final – but which of their players won the accolade of being selected for David Lloyd's World Cup XI?
Sky Sports commentator Bumble has run the rule over the tournament's best performers and pinned his team to the dressing room board.
Check out his XI and then let us know what changes you would make by tweeting @SkyCricket and @BumbleCricket…
BUMBLE's WORLD CUP XI
Martin Guptill (NZ)
547 runs in nine inns (one no); Ave 76; HS 237no; SR 104.58; 100s x 2, 50s x 1
My opening pair know each other's games and styles very well – and every bowler knows that they are going to come at you very, very hard. Guptill is a little bit more calculated than McCullum – he looks to play himself in, giving his partner licence in the process. That highest World Cup score was something else.
Brendon McCullum (NZ, captain)
328 runs in nine inns; Ave 36.44; HS 71; SR 188.50; 50s x 4
McCullum is a pocket-battleship – he doesn't care who is bowling, they are going to disappear, as we've seen on numerous occasions in this World Cup. His attitude is 'I don't care who you are – you can bring your Auntie as well – but you're going to go!' As a pairing, he and Guptill come off more often than not.
Kumar Sangakkara
541 runs in seven inns; Ave 108.20; HS 124; SR 105.87; 100s x 4
Sangakkara is right up there in the leading run-scorers again proving what we all know – he's an accomplished player who can bat in any style, depending on the match situation. His vast experience makes him a real asset and means he's very adaptable. This is a guy who can still perform at the highest level.
Steve Smith
402 runs in seven inns; Ave 67.00; HS 105; SR 91.57; 100s x 1; 50s x 4
He is becoming an absolutely brilliant player – he's full of confidence every time he comes to the wicket and he's going to be around a long, long time. There's plenty more to come from him. I could have picked a number of other players in this position but I've put him in because he's scored a hundred in a high-pressure game - a home semi-final at the SCG.
Glenn Maxwell
324 runs in six inns; Ave 64.80; HS 102; SR 182.02; 100s x 1; 50s x 2
Six wickets at 36.33 apiece; Best 2-43; SR 38.0; Econ 5.73
Don't be fooled by his nickname 'the Big Show'; this lad is quite modest and he knows his role in the team. He's very unselfish but he's also 'rock and roll' – he's the modern one-day player. Maxwell is absolutely fearless with the bat but I've picked him for all sorts of reasons, not least that he's a fabulous fielder and is someone who's going to bowl me some overs.
MS Dhoni (wk)
237 runs in eight inns (two no); HS 85no; Ave 59.25; SR 102.15; 50s x 2
Catches: 15
Dhoni gives me the insurance I want in my line-up in case things go a bit wrong; he's done it time and time again when his team have needed him. He rises to the big occasion. Any opposition team that sees him come in at six will know they've got a problem to deal with.
Corey Anderson (NZ)
231 runs in seven inns (one no); HS 75; Ave 38.50; SR 109.47; 50s x 2
14 wickets at 16.71 apiece; Best 3-18; SR 15.5; Econ 6.47
Anderson is right there in the engine room making things happen – he's very destructive with the bat and has got plenty of wickets with the ball. His stats are right up there. I listened carefully to what he said after the semi-final win over South Africa and he was absolutely clear on what his role is in the team.
James Faulkner
10 wickets at 19.7 apiece; Best 3-36; SR 25.1; Econ 4.70
Faulkner is an unorthodox, clever bowler; he may not be lightning fast but I think he's the best at bowling the slower deliveries. He also has that left-arm angle, which I really like to see in a one-day team. This guy is a really tough competitor and he likes nothing better than a backs-to-the-wall situation with the bat.
Mitchell Starc
22 wickets at 10.18 apiece; Best 6-28; SR 17.4; Econ 3.50; 4wkts x 1, 5wkts x 1
The way that he has developed is absolutely fantastic and he is the yorker bowler. I've got to stress that this bloke is about six foot five, which is great because I like very tall fast bowlers. He bowls over the wicket, around the wicket and is still bang on target.
Trent Boult
22 wickets at 16.86 apiece; Best 5-27; SR 23.1; Econ 4.36; 4wkts x 1, 5wkts x 1
I can't leave the leading wicket-taker out! Get him in there! He's got that left-arm commodity that is proving so potent – the angle is so different and he's quick enough. He gets it to swing too, all of which makes him a real handful to play. Batsmen's reputations don't mean anything to him.
Morne Morkel
17 wickets at 17.58 apiece; Best 3-34; SR 24.0; Econ 4.38
I think that Morkel has had a terrific World Cup. He's another big fast bowler – all be it a right-armer – who isn't prepared to back down, as he showed when New Zealand threatened to run riot in the semi-finals. I like his attitude and you could see how much this World Cup meant to him when South Africa went out.
Bumble's thoughts on those players that just missed out…
"I thought about including Imran Tahir – he was right up there – and I know I haven't got AB de Villiers in. Why not? He didn't do it in the semi-final, that's why.
"I could have included Virat Kohli, who is a fantastic cricketer but when it came down to it I wasn't prepared to leave Kumar Sangakkara out. Rohit Sharma almost forced his way in, too.
"Very controversially, I nearly picked Jos Buttler as my wicketkeeper because I think he would be outstanding in a better team. I could have picked Luke Ronchi or Brad Haddin, but in a better team I think Buttler would have been fantastic."