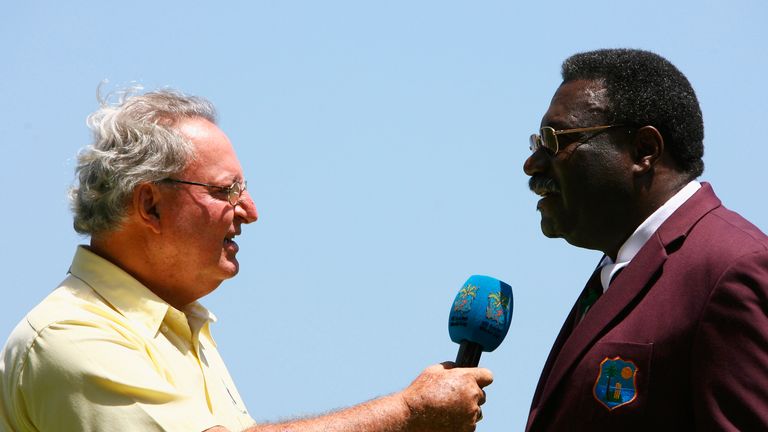 Legendary West Indian commentator Tony Cozier has died at the age of 75 following a long illness.
The Barbadian's career spanned 58 years with extensive work across TV, radio and the written media, which included commentating on Sky Sports on many of the England tours of the West Indies.
A statement on the West Indies Cricket Board's Twitter feed read: "Tony Cozier the legendary West Indies Cricket writer and commentary died this morning in Barbados. May he RIP."
After being inspired by his journalist father, Cozier studied journalism at Carleton University in Ottawa, Canada and started commentating and writing on West Indian cricket in 1958.
He was also an adept sportsman, playing hockey as a goalkeeper for Barbados and cricket as an opening batsman and wicketkeeper for two Barbados clubs, Wanderers and Carlton.
Darren Sammy, commentating on the IPL on Sky Sports, said: "From the time I started following West Indies cricket his voice was the one in my ear. He was one of the greatest and I don't think his voice will ever be forgotten."
An MCC life member, Cozier also had the honour of having the media centre at Bridgetown's Kensington Oval - his home ground - named after him.
Damien O'Donohoe, chief executive of the Caribbean Premier League, said: "It was with great sadness that we learned of Tony's sad passing.
"To many fans across the Caribbean and beyond he was quite simply the voice of West Indies cricket. His love of cricket was a positive influence in telling the story across a golden era for West Indies cricket and he was hugely respected and loved in equal measure by fans of the game.
"For more than 50 years Tony's voice has resonated through television, radio or the written word in homes across the cricketing world and he was admired internationally for his passion, insight and enthusiasm.
"On behalf of the CPL I would like to extend my sincere condolences to his wife Jillian, children Craig and Natalie and his family and friends at this difficult time. May he rest in peace."
Tributes to Cozier, and condolences to his family, poured in from around the cricket world.
Among them, West Indies' ICC World Twenty20 winner Carlos Brathwaite posted simply: "RIP Tony Cozier".
The International Cricket Council added on Twitter: "Deeply saddened to hear of the passing of Tony Cozier today.
"One of the truly great voices of cricket. A huge loss for the cricket community."