Ashes: A review of the Australia squad after they suffered a 3-0 series defeat to England
They may have lost the series, but how did Australia's players shape up during the 2013 Ashes?
By Rob Lancaster
Last Updated: 26/08/13 3:29pm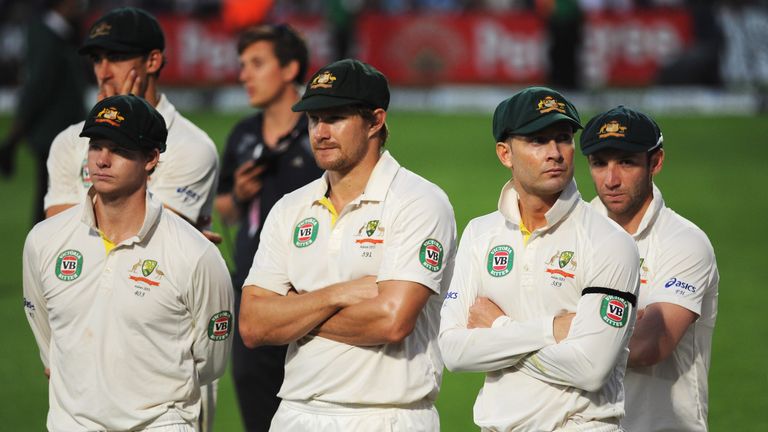 Here Sky Sports breaks down the performances of all the visiting players who featured during the summer, marking each with a final grade. Do you agree? Have your say via the comments section...
CHRIS ROGERS (367 runs @ 40.77)
Something of a horses-for-courses selection to start with, his only previous Test appearance coming over five years ago against India in Perth. However, he was experienced in English conditions and had scored plenty of runs for Middlesex prior to the tour getting underway. For most of the series he was dogged and determined, except for the first innings at Old Trafford when he played in an uncharacteristically aggressive fashion to make 84. If he was disappointed to miss out on a maiden ton in the third Test he didn't have too long to wait to make amends, reaching three figures at Durham (where he scored 159 runs in the match). Dealt well with England's seamers but struggled against the spin of Graeme Swann, though he's not the first left-hander to do so. Still, has shown himself a solid performer at the highest level and while he may not be the long-term option at the top of the order (considering he will be 36 by the time of the first Test in Brisbane this winter) Australia will be pleased to have him around for now.
GRADE: B
SHANE WATSON (418 runs @ 41.18, 2 wickets @ 89.5)
Probably wasn't too disappointed to see Mickey Arthur gone before the Tests got underway (does he still now have to do his homework?), and was quickly informed he would be going in at the top of the order by Darren Lehmann. In the first three matches he didn't score less than 13 but any more than 46, showing a worrying propensity to get out lbw playing around his front pad to balls angled back in (even if he did try his best to overturn the decisions by using up reviews). At Durham he was shifted down to number six in the order and finally reached 50 in the first innings. It was enough to get him promoted back up, this time to number three, at the Oval, and he duly recorded just his third Test century. His knock of 176 - which saw him be particularly harsh on debutant Simon Kerrigan - will mean he'll start at first drop in the next series....probably. Something of a reluctant bowler, he still sent down 80 overs and nearly half of them were maidens. While he only picked up two wickets, he did a reliable job for his captain.
GRADE: B
ED COWAN (14 runs @ 7)
Just the one appearance in the series for the left-hander. Having been a regular opener in the Test team he was moved down to three for Trent Bridge (a position he had only batted once before in his international career). He was left feeling sick when he got a first-baller on the opening day in Nottingham, a rather rash drive at Steve Finn seeing him caught in the slips. He had, though, been feeling sick all day, but was shown little sympathy. After making 14 scratchy runs second time around he was jettisoned for Lord's and left to carry the drinks for the rest of the series. At 31, he will have to hope there's still enough time for another shot in the top six. May be more seen in county cricket in the future.
GRADE: E
USMAN KHAWAJA (114 runs @ 19)
Replaced the rather unfortunate Cowan for the second Test, having not appeared in the longest form of the game since January 2011, with his cause perhaps helped by Lehmann's appointment as head coach. Carelessly dismissed first time around at Lord's, but then showed more stick-to-itiveness in the second dig to make just his second Test half-century. His cause at Manchester was not helped by being on the wrong end of one of many poor umpiring decisions (even with the apparent aid of DRS) but two failures at Chester-le-Street saw him dropped for the finale at the Oval. Perhaps not yet the answer to Australia's problematic number three position, but still has the time and talent to come again.
GRADE: D-
MICHAEL CLARKE (381 runs @ 47.62)
A tough tour for Australia's captain, although he still finished with a healthy average. His run tally was helped considerably by his superb knock of 187 in the third Test at Old Trafford, as he only passed 50 on one other occasion. He came into the series with a bad back that had troubled him during the preceding ICC Champions Trophy, but his side - particularly his fellow batsmen - left him suffering several headaches as well. England attacked him with plenty of short stuff and he didn't always look comfortable against it, though he was also dismissed by two absolute beauties, firstly from James Anderson at Trent Bridge and then by Stuart Broad up in Durham, that moved away late and clipped the top of off stick. Still the one truly world-class player in Australia's top order, and was rightly bumped up a spot to number four. In terms of the captaincy contest, he and Cook were chalk and cheese. Clarke was always imaginative - both with his field placings and his bowling changes - and willing to gamble for a wicket. Also stayed amazingly upbeat throughout, even raising a laugh at Lord's when he insisted his side could still win the series after being crushed by an innings inside three days to fall 2-0 behind.
GRADE: C (for batting)/B (for captaincy)
STEVE SMITH (345 runs @ 38.33, 4 wickets @ 26.5)
One of the highlights for Australia on the trip was the emergence of Smith, a batsman who came of age and now looks likely to be a regular in the middle order. He had been recalled after an absence of over two years on the tour of India, making 92 in Mohali, and hit a half-century in taxing conditions in the opening Test against England. At Lord's he scored as many runs as he took wickets (three), then in Manchester a maiden Test ton was thrown away when he had a rush of blood facing up to Graeme Swann and was caught for 89. He didn't make the same mistake again at the Oval, however, slapping Jonathan Trott for six to reach three figures for the first time. Still a player opposition teams will fancy getting out early, but his attacking instincts are tailor-made for five or six. His leg-spin has taken a back seat in recent times but he showed at Lord's he can be something of a golden arm, captain Clarke could do with utilising him a little more in the future.
GRADE: B+
PHIL HUGHES (83 runs @ 27.66)
In, out. In, out. Shake him all about. It seems a cricketing eternity since Hughes burst onto the international scene with two centuries in Durban against South Africa. Since then he has scored only one more, finding himself constantly on the edge and being bumped around more than a dodgem car. In the opening Test he suggested he was here to stay with 81 not out at number six. After that he managed two runs in his next three innings, with both at Lord's being at four in the order, and was promptly dropped to make way for the returning David Warner. His technique cannot be deemed as classical but he has proved capable of scoring runs at Test level with it. Australia must find him a position, give him a prolonged chance and then hope he settles in. Of course, whether they offer up another leftie for Swann to target this winter is something the selectors will have to debate.
GRADE: D
DAVID WARNER (138 runs @ 23)
The pantomime villain after aiming a blow at Joe Root in a Birmingham bar, the left-hander was banned for the warm-up fixtures before the Ashes got underway, sent to Africa (which in truth is better than being sent to Coventry) to find some form and then recalled for the final three Tests. In Manchester he was put in at number six and gave the home crowd much delight by referring the most blatant of outside edges off Swann's bowling. In the second innings he was back opening, then delighted the England fans again by launching another hook at Root. Australia stuck with him as Rogers' new partner, and in the second innings at Durham the pair combined in a century stand that seemed to be putting the tourists on course for victory...until the obligatory batting collapse followed. Dealt well with the taunts from the crowd and is a whirling dervish in the field - is there anyone quicker in world cricket over the turf? His fighting spirit (on the field) could be key in the return series.
GRADE: D
BRAD HADDIN (206 runs @ 22.88)
Brought in from the cold by the selectors and named Clarke's deputy, Haddin almost became a national hero at Trent Bridge when he, along with some help from the tail, dragged the tourists within touching distance of victory in the opening Test. His batting has, since then, been up and down, with a 65 whilst pushing for a declaration in Manchester being surrounded by a plethora of low scores. That is his style, though, and at 35 he shouldn't be looking to change his natural attacking instincts. His wicketkeeping was very tidy and he was always busy behind the stumps, finishing with 29 catches, a new record for a Test series. The New South Welshman also offered plenty of help for his skipper and seemed to revel in the chance to be back in the heat of an Ashes battle. Like Rogers, Haddin is not the long-term answer, but there's no need for him to be discarded simply because of his advancing years.
GRADE: B
JAMES PATTINSON (72 runs @ 36, 7 wickets @ 43.85)
Claimed the first wicket of the series when dismissing Alastair Cook as he took three-for on an excellent opening day for the Australians. He wasn't so potent in the second innings of the first Test, though throughout looked quick and capable of getting late movement in the air. His most telling contribution nearly came with the bat, as following his demotion down to No 11 he kept Haddin company on that thrilling final morning. At Lord's he struggled badly to come to terms with the intricacies of cricket HQ and although he again made runs, soreness after the match was diagnosed as a stress fracture of the lower back. His series over, he returned home and will hope to be fit to feature on pitches offering a little more help to seam bowlers this winter.
GRADE: D
PETER SIDDLE (84 runs @ 10.5, 17 wickets @ 31.58)
Just as he had done in the previous Ashes series Down Under, Siddle started with a bang by claiming a five-wicket haul on the opening day. He picked up a total of eight scalps in the first Test but a heavy workload saw him fade as the tour wore on - the seamer claimed just one wicket combined in the final two matches, meaning his final average climbed above 30. Throughout he was a willing workhorse for his captain and showed he is a thinker with his clever use of the crease, the change of angle causing problems for several of England's batsmen. There were some useful runs down the order and Siddle - a vegetarian - should be back on Australia's menu for the next series. Unlike many of his colleagues, managed to stay relatively injury free throughout the trip.
GRADE: B
MITCHELL STARC (104 runs @ 26, 11 wickets @ 32.45)
Starc's Test career is following a rather unfortunate pattern - he seems to play one, then sit out the next. In the appearances he did make there were times when the left-armer was a real handful. He can send it down at a serious pace and, as he showed with the dismissal of Jonathan Trott for a first-ball duck at Nottingham, can bring the ball back into the right-handers. The problem is, the wicket-taking deliveries were supplemented with too much non-threatening stuff. Starc bowled too wide at times and sometimes the radar seemed to be completely broken. His batting, however, marks him out as a player of real promise. Uncomplicated in his technique, the left-hander can give it a belt, as he proved in his unbeaten 66 in Australia's first innings in Manchester.
GRADE: C
RYAN HARRIS (99 runs @ 19.8, 24 wickets @ 19.58)
The fact he picked up 24 wickets so cheaply should not come as a surprise for a man of his talents. The fact he played four successive Tests should, however, considering his fitness issues over the past few years. 'Rhino' was a constant menace to England, starting with a five-wicket haul to get himself on the honours board at Lord's. He claimed Test-best figures of 7-117 at Durham, combining good pace with accuracy and late movement to lead a constantly-changing Australian attack. Comfortably the tourists' man of the series, although he did finish it nursing a leg injury on the balcony at the Oval. However, his wicket of the in-form Kevin Pietersen in fading light may have spared his country from suffering a 4-0 defeat. Australia will wrap him up in cotton wool and hope he has no mishaps before arriving at Brisbane in November.
GRADE: A*
ASHTON AGAR (130 runs @ 32.5, 2 wickets @124)
Initially kept with the squad as an intern, teenager Agar was handed a shock debut for the opening Test due to Australia's desire to have someone turning the ball away from England's right-hand dominant top six. It was his batting, though, that put him in the spotlight, the left-hander falling two runs short of becoming the first No.11 to hit a Test hundred. His family were there to witness it all having been given the nod before the match that their boy was going to be picked. Agar's spin bowling, meanwhile, was neat and tidy but on a dry surface he didn't have the nous to work his way through England's line-up. At Lord's he went wicketless, his cause not helped by a blister on his spinning finger, and then made way for the more experienced Lyon in Manchester. One for the future - but this winter may come too soon.
GRADE: C
NATHAN LYON (12 runs @ 6, 9 wickets @ 33.66)
Overlooked for Trent Bridge and Lord's in favour of bright young thing Agar, Lyon had to bide his time to play having seemingly been Australia's first-choice spinner when they arrived on English soil. Once he was selected he showed why that had been the case, though he was denied the chance to go to work on a worn pitch at Old Trafford due to the Manchester rain on the last day. Took out England's middle order on the opening day at Chester-le-Street, winning his personal duel with Pietersen by coming around the wicket to change the angle. Steady but unspectacular, he always seems on a bit of a hiding to nothing when compared to rival offie Swann. What he does provide is a modicum of control and a calm temperament - will that be enough for the Australian selectors to show a bit of faith, though?
GRADE: C
JACKSON BIRD (1 run, 2 wickets @ 62.5)
The brilliantly named Bird - a headline writer's dream of a player - finally got his chance to experience the Ashes when named in the tourists' XI at Emirates Durham ICG. Very much considered a man for the occasion on what was expected to be a surface offering some help, the tall seamer was handed the new ball and picked up 2-63, including trapping Cook lbw with a superb late inswinger. He was unable to add to his tally in the second innings and while accurate and able to find swing, lacked a little penetration. Not selected for the Oval, Bird flew home for the second successive tour with back problems.
GRADE: D
JAMES FAULKNER (45 runs @ 22.5, 6 wickets @ 16.33)
The 17th different player used by the tourists over the five Tests when he was handed his debut at the Kia Oval. Seen as a one-day specialist for so long but pushed particularly by Sky Sports' Shane Warne as a Test candidate, Faulkner did little wrong in his first appearance. While his bowling lacks a yard of pace he is accurate and his talents in the shorter formats of the game actually worked in Australia's favour during England's final-session run chase. Whacked a few runs in both knocks - but does he excel enough in either facet of the game to be a long-term option in the five-day arena?
GRADE: C