Pick of the day
We review the opening day of the second Ashes Test in Adelaide
Last Updated: 05/12/13 1:06pm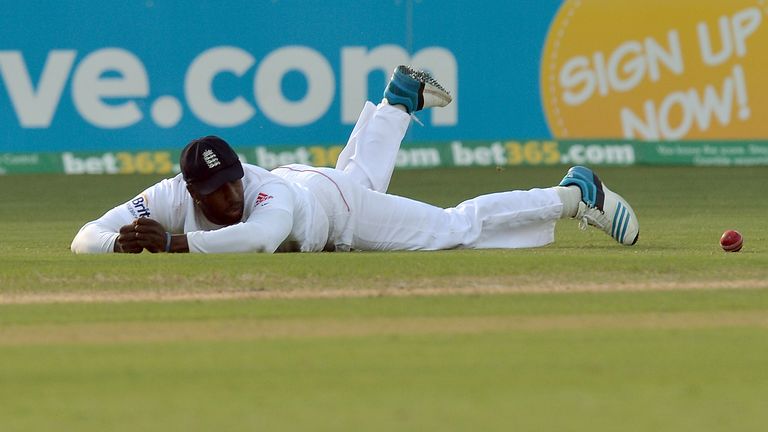 All the pre-match talk had been of a batsman-friendly track that would yield runs galore and so, having seen Australia win the toss and unsurprisingly make first use, England would have been happy enough to have the hosts five down (273-5) by stumps.
The wickets were spread around with Stuart Broad (two), James Anderson, Graeme Swann and Monty Panesar all chipping in, while for Australia, Chris Rogers (72), Shane Watson (51) and George Bailey (53) all made half-centuries.
The hosts may well be frustrated that nobody was able to push on and go big, but then England can point to frustration of their own as three catches (of varying difficulty) went down.
We take a look back on the action with a range of opinion, analysis and video.
Mixed messages
Adelaide is renowned as a batsman's paradise, indeed, in the last 11 Tests at the ground there have been 12 totals of more than 500. With Australia poised at 155-1 another certainly looked in the offing, but three quick wickets for England in the afternoon session changed the landscape rather. Australia's top-scorer Chris Rogers was one of those to fall, but the left-hander insists that this week's drop-in pitch is by no means a featherbed. The 36-year-old claimed it threw up "a few tricks" and added that it was playing much more like a day three track than day one. Interestingly, Rogers had no doubt there would be a result one way or the other come day five... the true nature of the pitch will become much clearer once England's batsmen have tried their luck on the surface.
Swann dive
While Rogers may have seen the odd demon in the pitch, Graeme Swann - the man who dismissed him - was of the opinion it remained very docile and declared England as "fairly pleased" with their five-wicket haul on day one. Whilst acknowledging there was turn to aid both him and spin partner Monty Panesar, as well as a hint of reverse swing, Swann still felt the pitch was a "typical" Adelaide track. But, perhaps unsurprisingly, the 34-year-old was particularly keen to talk about his efforts in field having pulled off a remarkable diving catch at square leg to dismiss Bailey, joking that a man of his age and mobility had no right to pull off such an athletic effort!
Missed opportunities
The old adage is that 'catches win matches' and England will know that they could and really should be in a stronger position. Panesar put down a sharp chance from Bailey off his own bowling, whilst it would have been filed under exceptional if Joe Root had managed to cling on to the opportunity at mid-wicket offered up by Clarke. But there was no excuse for Michael Carberry as he spilt a dolly from Brad Haddin just before the close that would have ensured England left the field with a real spring in their step. It remains to be seen just how costly that drop could be.
Another idiot abroad
Whilst England opted to prepare for the second Test with a two-day game in Alice Springs, a couple of the members of the Sky Sports commentary team signed up for a rather less conventional outing. Nasser Hussain and David Lloyd donned their wetsuits (although the latter needed some help!) and headed out to sea to go diving with sharks! Despite some initial reservations both seemed to have a whale of time (excuse the pun), although Bumble did produce a very passable impression of Karl Pilkington for most of the day!