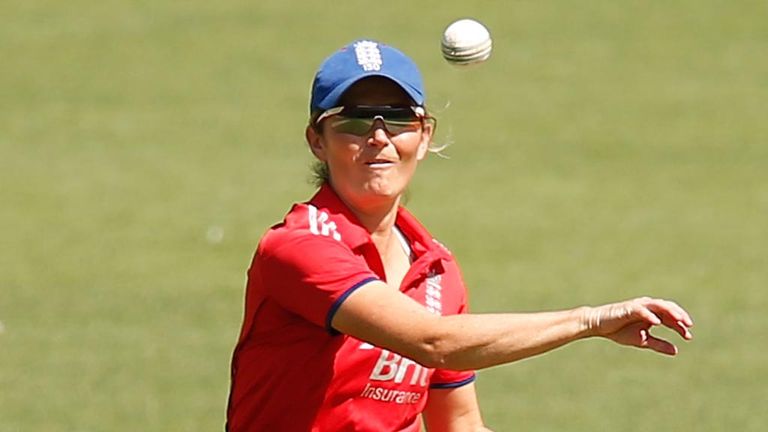 England Women have earned their first standalone sponsorship deal.
The Ashes-winning team have agreed a two-year deal with Kia cars and captain Charlotte Edwards says the historic contract reflects the success they have had on the pitch.
"My first match was in 1996. I paid for my own blazer, paid for the trip, paid for my own hotel. Now to be paid to play cricket, 18 years on…it's something I didn't think I would see in my time," she said.
"The last year has been unbelievable in terms of where the game has gone. To win those back-to-back Ashes and be in the World Cup final and all the individual accolades as well…it's really enhanced the game.
It's quite mind-blowing what has happened in the last three months and today is a day I'm quite proud of.
Charlotte Edwards
"It's quite mind-blowing what has happened in the last three months and today is a day I'm quite proud of."
Kia will become the sole title sponsor of England women's home Test matches during the next two years – first against India at Wormsley Cricket Ground this August, followed by the Women's Ashes Test against Australia next summer. 
ECB Chief Executive, David Collier, said: "We are delighted to welcome Kia as a new official partner of England women's cricket. 
"This agreement is a ground-breaking first for the England women's team and reflects the huge success the side has enjoyed over the last 12 months, along with the players' wider role as superb ambassadors for the sport.
"It also illustrates how important media exposure is for the promotion of women's cricket and we are indebted to our principal live broadcast partners, Sky Sports and BBC Radio, whose excellent coverage plays such a vital role in making the sport attractive to potential business partners."
Clare Connor, ECB's Head of Women's Cricket, added: "This is a historic step for England women's cricket and I am thrilled to be embarking on this new partnership with Kia. 
"Major global brands want to be associated with winners, and it is fantastic that the team's outstanding performances on the field and growing media profile have enabled the England women's cricket to earn their first-ever standalone commercial deal. 
"This is a significant breakthrough for both women's cricket and women's sport as a whole, and I'm sure our commercial team will be working closely with Kia to help them achieve maximum exposure for their brand."