Cricket Expert & Columnist
Bob Willis' England player ratings: Stuart Broad almost back to his brilliant best
Last Updated: 04/06/18 3:36pm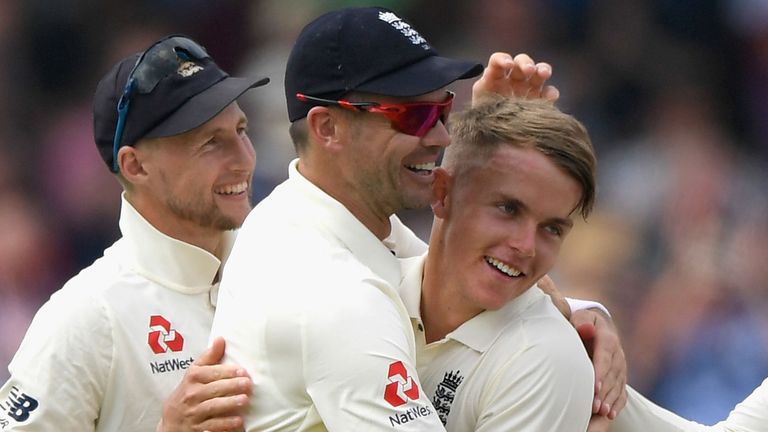 Bob Willis is back to rate England's players after their topsy-turvy drawn series with Pakistan.
The omens weren't good for Joe Root's side after a heavy defeat at Lord's but a quick-fire triumph at Headingley has saved several from a poor report card.
Check out Bob's numbers below - then let us know if you agree with his ratings by tweeting @SkyCricket
Alastair Cook - 7/10
117 runs @ 39
Cook is still the backbone of the England batting line-up. Getting the innings off to a good start on a pitch that's helping the bowlers throughout is mightily important and he has the tools to do it - as a record of 154 consecutive Test matches proves.
Keaton Jennings - 7/10
29 runs @ 29
This has been a much more encouraging return after he was 'Philandered' by South Africa. He's much happier getting forward onto the front foot, and even got warned by the umpires for getting too far forward! He looked much more like an England opening batsman.
Joe Root - 6/10
117 runs @ 39
The captain was certainly not at his best and his dismissal after dismissal against left-arm over the wicket bowlers is now becoming a bit of a concern. But he is clearly an outstanding player and obviously had a better match as captain than at Lord's.
Dom Bess - 6/10
111 runs @ 37; 3 wkts @ 40.33
Elevated to nightwatchman after showing at Lord's that he's really a force to be reckoned with the bat. But you have to remember his principal job is as an off-spin bowler and although he picked up three wickets and I enjoyed his variation of flight, there were still too many full tosses. He has got to improve a lot to make the spinner's place in the side his own.
Dawid Malan - 4/10
46 runs @ 15.33
A quiet series for Malan and I suppose now the spotlight will go from Mark Stoneman onto him and his future in the side in the middle order. He'll have to get significant runs in red ball cricket for Middlesex to be assured of his place for the first Test match against India in August.
Jonny Bairstow - 5/10
48 runs @ 16
He was pretty good behind the stumps with the gloves with just one misunderstanding with first slip Alastair Cook. He got some good deliveries in the series with the bat but we've seen him play better than that. I think he too needs to try and get some red ball cricket in among all the one-day games and presumably he will open the batting in white ball cricket.
Jos Buttler - 8/10
161 runs @ 80.50
It's great to see Jos Buttler back in the side. Ed Smith certainly got that one right. Given the amount of talent he has, there surely has to be a Test match player in there somewhere and I think in this short series he went a long way to prove that. It's a pity Broad got out cheaply on day three as it could've been very entertaining if Broad had played for Buttler, who was left stranded.
Chris Woakes - 5/10
4 wkts @ 18.25; 17 runs @ 17
He was injured again by the end of the game, which is a worry. He's clearly a fine bowler in English conditions but I still believe on flat pitches, whether in England or abroad, that he is not going to get wickets on a regular basis. He's handy with the bat but it wasn't a great comeback after displacing Mark Wood.
Sam Curran - 5/10
2 wkts @ 21.50; 20 runs @ 20
He looked out of his depth to me. That said he bowled better in the second innings, understandably so after being a bit nervous first up; it was perhaps summed up by his first Test wicket being caught at deep midwicket. He clearly has got some talent with the bat but was maybe selected too early. I really don't see how he has leapfrogged Mark Wood in the pecking order.
Stuart Broad - 8/10
7 wkts @ 20; 2 runs @ 0.66
Broad was almost back to his brilliant best in this series after a dreadful time in Australia (he improved a tad in New Zealand). He would have actually been my man of the match in the Headingley Test for his six wickets because he set the ball rolling and undermined the Pakistan innings.
James Anderson - 7/10
9 wkts @ 19.11; 5 runs @ 5
After a poor new-ball spell in the first innings he showed that he is still a magician with the ball. He got the early wickets in the second innings at Headingley to really take the heart out of the Pakistan innings.
Ben Stokes - 5/10
47 runs @ 23.50; 3 wkts @ 24.33
His injury is a concern. England have got a bit of dilemma as to whether he plays in that first India Test match as he's going to miss the second one. So they will want to see Stokes get plenty of runs in the white ball matches and then make a decision whether he plays in that first Test.
Mark Stoneman - 3/10
13 runs @ 6.50
I think we've seen the last of Stoneman in Test match colours. Age is against him. He looked very tentative and hasn't got any runs for Surrey this season. He looked a dead man walking at Lord's and so it proved. It's not often a batsman is dropped after one match of a series but clearly the selectors felt he wasn't going to get any runs at Leeds either.
Mark Wood - 5/10
2 wkts @ 40.50; 11 runs @ 5.50
He was pretty unlucky, I thought, to go from third choice bowler to fifth choice bowler at Lord's. He did OK at Lord's without perhaps bowling as fast as some of us hope he could've done. England have a dilemma about what to do about him. They were hoping he would be their 'nasty-fasty' but Stokes actually looked more threatening on the Lord's pitch.
Comment below to get involved in the debate, but please adhere to our House Rules. If you wish to report any comment, simply click on the down arrow next to the offending comment and click 'Report'.