England Women's Georgia Elwiss on a cruical ODI series win, Love Island and World Cup sweepstakes
Last Updated: 20/06/18 10:13am
England Women will play South Africa and New Zealand in a T20 Tri-series beginning on Wednesday 20 June in Taunton, live on Sky Sports, ahead of the World T20 in the Caribbean in November.
Following England Women's ODI series victory over South Africa, all-rounder Georgia Elwiss talks about fighting her into the side, plus a potentially rigged World Cup sweepstake and the team's favourite Love Island contestant...
You are always disappointed when you are not picked or not playing but the standard of competition we have got between the girls since going professional, where everybody can dedicate their time to their training, is driving our standards up and making each of the 20 girls ever better.
There is healthy competition around and I think we are unique as a squad, where each of us has been dropped at some point and come through some sort of adversity. Everyone is understanding of each other's positions and that helps us not take anything for granted.
Because I have had a career where I have been in and out of the team quite a lot, it almost makes it easier now for me to come in and perform as I've been through that process so many times that it helps.
Naturally there were some nerves coming into the side for the second ODI but I knew I had playing and bowling well. My first match was at Hove, which is familiar city and ground for me because it's my home ground.
I have played there so many times, I knew what to expect with the ground and the hill so it was just a case of doing what I have been in training and matches leading up to the game and taking it out on to the park.
Overcoming South Africa significant
When (Chloe) Tryon struck me for a couple of sixes I was thinking 'crikey she's lucky because she mishit a few of them' but we knew she was a dangerous player and had talked about our plans to her and I just needed to execute them.
We focus a lot as a team on one ball mentality and focusing on the next ball, so I did not dwell on the sixes too much. We knew South Africa had a lot of dangerous players who like to get their arms through the ball so it was a case of executing plans.
It was nice to put in a performance like we did in the final match at Canterbury because South Africa had played such good cricket over the three ODI games.
We knew we had to be at our best to beat them and luckily we were. All the girls played really well and it was a really good feeling, having got the job done.
It's been nice to come out and play some good cricket in front of our home crowds, especially after last summer with the World Cup and how special it was.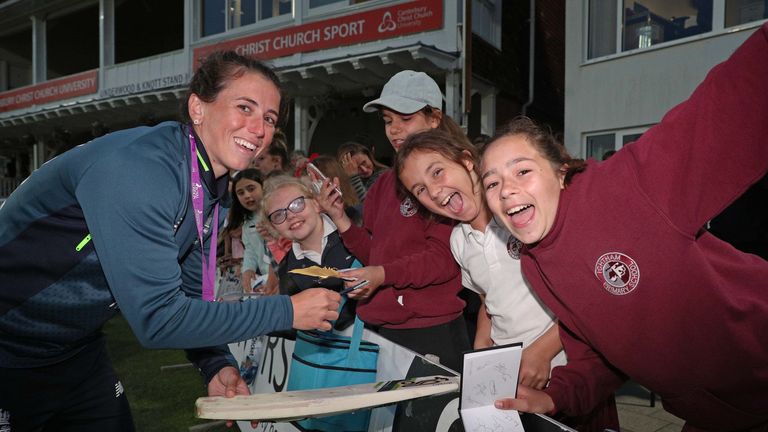 Being able to back it up and get a series win so early in the summer and see so many faces in the crowds and young girls coming to watch us was great.
When a national team is successful it is what pulls people in to watch you and our focus is playing our way and being successful at it. Hopefully the success will get more people coming to watch us over the rest of the summer.
A rigged World Cup sweepstake
World Cup fever has taken over within the team, the sticker books are still in force and we have had a little sweepstake amongst the group.
Unfortunately I picked out Japan, so I do not think I will be winning this one, and Robbo (head coach Mark Robinson) got England somehow…I'm sure it was fixed! A lot of the coaches have the best teams but we are planning a team social to watch England on Monday evening, which we are all looking forward to.
Love Island is also a firm favourite with the group and we have even got Robbo watching it so he knows what is going on at the breakfast table chats.
Heather Knight and Jenny Gunn are the only two in the whole group who do not watch it but everyone else is hooked.
Jack and Danny are my favourite couple at the moment, they are funny but the whole team love Alex. We love the drama, that's the best bit.
It was also Amy Jones' birthday last week, so we went out punting in Canterbury. We went on a little canal tour on a boat and got a historic tour of the town, which was good fun. It was something a little bit different, that I did not expect, but it was nice.
Focus on World T20
As a group we love playing T20 cricket, it's really important for us to be looking ahead to the World T20 and to use these matches as laying a marker down against two big nations. Showing what we are about, how we are going to play our cricket and expressing ourselves.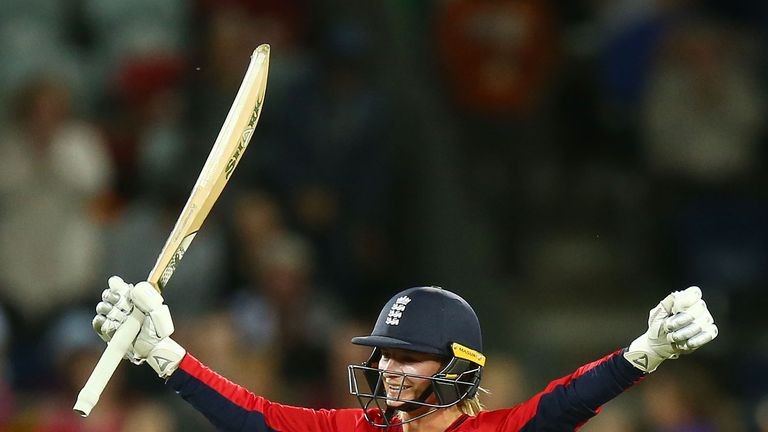 I've known Danni (Wyatt) since we were nine years-old and I have seen the talent she has got over the years.
I always thought if she could channel all of that talent into one innings or a few more balls per innings she would be able to do something special so it was not a surprise to me when she scored centuries, not once but twice.
There will be plenty more to come from her now that she's got that belief in herself and she knows that she can do it and I'm so proud of her.
Sport has opened so many doors and for all of us girls in this team it has given us life experiences that are really unique.
It's important that girls and women all over the country are getting involved in sport and it does not have to be cricket it could be anything.
The main thing is getting out there and being active. You learn so many different things from playing sport, you meet so many new people and it's probably something you don't realise until you try it.
Campaigns like #ShowUp are important to spread good messages around sport and getting people to the grounds, watching is a first step to doing that.
To show your support for #ShowUp Saturday at Taunton by buying tickets, simply click here to visit Somerset CCC's official website.