Cricket Expert & Columnist
Virat Kohli battles to terrific ton on fascinating second day
'Built up as the big battle, while Kohli may have got the upper hand, you couldn't say Anderson bowled anything other than superbly'
Last Updated: 03/08/18 10:26am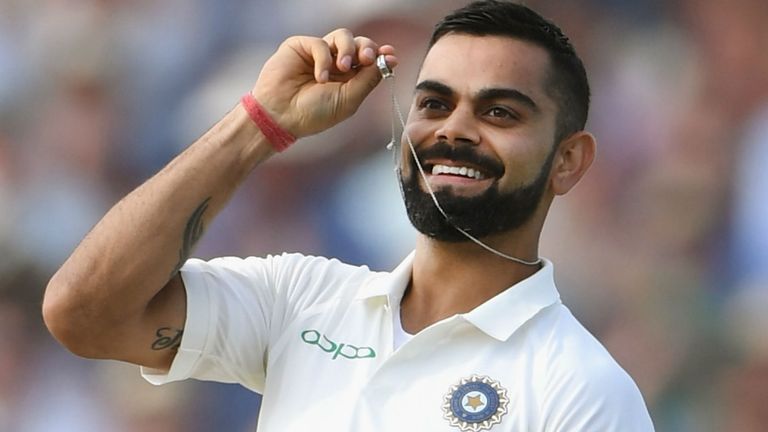 Michael Atherton reflects on an enthralling second day's play to the first Test at Edgbaston, as India captain Virat Kohli battled through to a first Test century in England, but the hosts eked out a slender 22-run lead by stumps...
It has been a truly fascinating day's cricket.
Particularly the hour either side of lunch when you had Sam Curran announcing himself with three quick wickets, James Anderson in the middle of a great spell of bowling - at Virat Kohli - and all kinds of things happening.
Those three Curran wickets fell in the space of 13 balls, you had a couple of catches put down by England, reviews overturned and, at the heart of it all, Kohli battling through to a fine century.
That's the key word, Kohli really had to battle through to that score. Up against some brilliant bowling, in difficult conditions, with the ball swinging, he fought it out and played a great innings for his team, keeping them in this game.
Had Dawid Malan pouched the easier of the two chances that came to him at second slip, when Kohli was on just 21, it could all be very different and India, you'd imagine, would be out of it. But this game is delicately poised now and it looks to be a great opening to a thrilling series.
It was a very straight-forward chance to Malan at slip, off the last ball of what was essentially a 15-over spell from Anderson - a monumental effort - with lunch in between and just one over from Adil Rashid.
It was built up as the big battle pre-series, Anderson v Kohli, and while the latter may have got the upper hand after that moment of fortune, you couldn't say Anderson has bowled anything other than superbly, justly rewarded with a couple of lower-order wickets later in the day.
But Kohli battled through, as great players do, and now has a very cherished first Test ton in England. It gets that monkey off his back, that question over whether he can perform in England - a top score of 39 before today - and what a time to do it!
England's slip catching though does concern me. It hasn't been very good for a long time, nor has India's in fairness. They've got to get a settled cordon together - it seems to be constantly changing - and I'd like to see Joe Root in there at second slip, next to Alastair Cook. It's a vital part of the game.
Finally, a word on a remarkable performance from Curran, at only 20 years of age, finishing with four wickets.
Given the pace he bowls at, and his height, he needs the ball to swing to be threatening but, with a good breeze assisting him, he bowled the perfect full length, encouraged the ball to swing and looked dangerous.
India were coasting along at 50-0 when he took England's first wicket and it cued the day's drama that was to follow.
Watch day three of the first Test between England and India from 10.30am, Friday on Sky Sports Cricket and Main Event.