India v England: Gareth Batty and Haseeb Hameed's generation gap
Last Updated: 25/11/16 12:18pm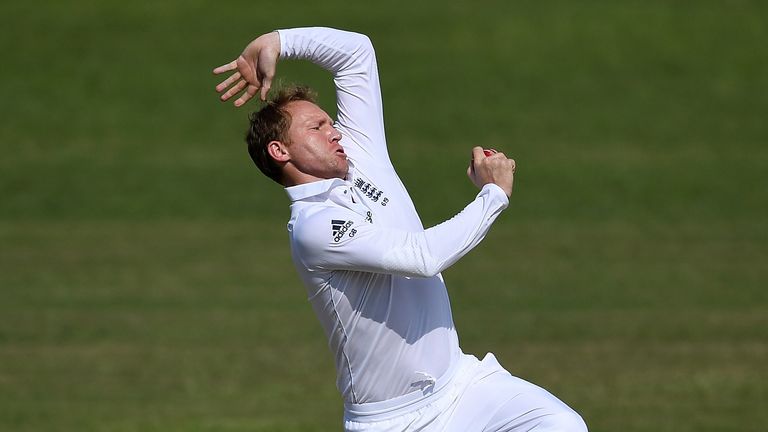 It was on April 16, 1997 that a nineteen-year-old from Bradford made his first-class debut at Headingley. It did not quite go as well as he would have liked, being dismissed without scoring leg-before by Lancashire spinner Gary Yates.
Just 50 miles westward across the Pennines, a three-month old baby was beginning life within a cricket-mad Asian family in Bolton - that very same family probably watching the scores from the early season 'Roses match' while their young lad slept.
On Saturday morning, at Mohali in the northern part of India, 39-year-old Gareth Batty and 19-year-old Haseeb Hameed could be named in the same England team for the first time.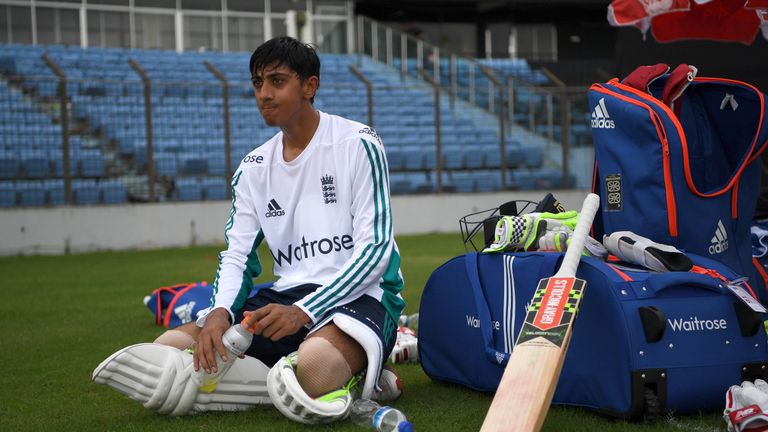 The promising Lancastrian has already made some impressive strides in the first two matches in India while Batty re-appeared in Bangladesh and became the oldest England Test player since his club's director of cricket last played at The Oval in 2003.
Their appearance at Mohali could see two players in the same England Test side separated by a full 7,036 days - or 19 years and 3 months - with Batty likely to replace his young fellow Surrey spinner Zafar Ansari.
You have to go back to Alec Stewart's farewell appearance in 2003 to find a larger age separation in the same XI for England as the 40-year-old keeper stood back to 21-year-old James Anderson across the whole summer programme of Tests against Zimbabwe and South Africa.
That gap was a fraction more than the Hameed and Batty split, but still just over 19 years and 3 months apart.
It is by no way the largest of all for England in Tests.
Sir George Allen, known almost exclusively as 'Gubby', holds the England post-war record when he, at 45 years of age, played with Yorkshire's 21-year-old left-handed batsman Gerald Smithson in both of the latter's two Tests against West Indies in 1948. Some 24 years and 93 days cut the pair of them.
However, the all-time England record incredibly features the same player - once at the start of his career and then at the end of it.
Once again, on a tour of the West Indies but this time in 1930, a 52-year-old Wilfred Rhodes finally closed his mammoth first-class career containing 1,110 matches, 39,969 runs and 4,204 wickets at Kingston, Jamaica in April of that year in the 'timeless Test'.
Playing alongside him was the Nottinghamshire left-arm seamer Bill Voce, who became famous, or maybe infamous, for his part in the Bodyline Series that came some three years later. Voce was just 20 when he made his debut in that series.
A total of 31 years and nine months split the pair of them - or 11,605 days in total, or 10 British prime ministers or nine American presidents!
That surpassed the previous record of 29 years and 103 days (or 10,695 days) which had stood since 1899 when a 50-year-old W.G. Grace appeared alongside the 21-year-old England debutant Rhodes against Australia at Trent Bridge.

Of course, this was a bygone era of cricket but you can be sure that Batty believes his career could match Rhodes' and Grace's by believing age is just a number.
Watch the third Test between India and England on Saturday. Coverage begins on Sky Sports 2 HD and across digital platforms at 3.30am.  Or watch the full Test for £10.99 with a Week Pass from NOW TV - no contract required.