Coaching Clinic: Rob Key and guests offer tips to improve your game
Last Updated: 10/09/17 11:53am
Rob Key and guests provided hints and tips to improve your game throughout the summer in our Sunday Coaching Clinics.
Keysy and his pals, including Andrew Flintoff, Shane Warne, Tammy Beaumont, Anya Shrubsole, Michael Holding, and Shaun Pollock, assessed the videos you sent in on social media and tried to fix your batting and bowling problems...
Session six - September 10, Lord's
England Women's Beaumont and Shrubsole joined Keysy at the Home of Cricket, the venue where they beat India in late July to win the World Cup, Shrubsole taking 6-46. The pair shared their cricket tips with a number of school girls, who got the chance to demonstrate their skills in a net. Tammy and Anya gave advice on grips and balance at the crease, the keys to hitting cleanly through the off-side, and drills you can work on with your friends. There was also chat on how to become a consistent catcher, while Beaumont and Shrubsole answered questions from young cricketers - and one or two from Rob as well!
Session five - August 27, Headingley
One-day batting was the theme in Leeds - it seems Jermaine Blackwood knows no other way - with Keysy and Nasser Hussain delivering tips for youngsters on how to improve their run scoring. Rob explained how parents and coaches should incentivise kids by awarding them more runs for hitting certain areas in training, while Nasser showed how fluidity of movement was more crucial than extravagant footwork and the dangers of moving too far across your stumps, while he also discussed the importance of making defensive drills fun. For all that, plus Nasser playing the cut shot, Keysy's on-drives and a whole lot more, watch the video at the top of the page.
Session four - August 6, Old Trafford
Back on his home ground, Lancashire lad Andrew Flintoff joined Rob Key for the latest coaching clinic, as did Shane Warne to give his top tips to young spinners. Warne talks about trying to get as straight as possible in your approach to the crease, getting your weight forward and trying to just spin the ball as much as possible when starting out, leaving the consistency to come later. Freddie, meanwhile, encourages young bowlers to follow through once they've delivered the ball, and also talks about his own struggles facing Warne with the bat and how he looked to combat that. We also catch a glimpse of young Freddie Jr having a bowl. England's next great all-rounder, maybe?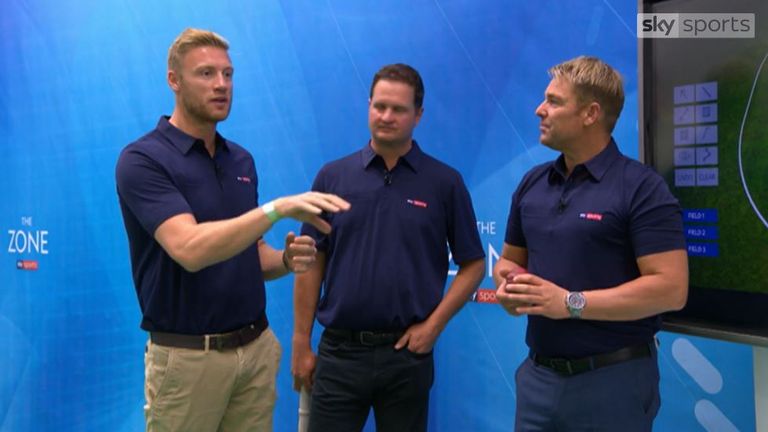 Session three - July 30, The Oval
Having helped out in week two (see below), Shaun Pollock was back again, to demonstrate his top bowling drills for youngsters, including ensuring you lock your front leg in your delivery stride and how best to target the top of off-stump, like Morne Morkel does so effectively. Rob provides the batsman's perspective on how to negotiate such accurate seam bowling, while also running through some batting drills, like Tom Westley's one-handed routine.
Session two - July 16, Trent Bridge
Our second clinic of the summer is all about fast bowling and who better to offer expertise in that area than Michael Holding and Pollock. The pair join Rob and Ian Ward to offer advice on how to develop a run up that is comfortable and best for you - and why just charging in as fast as you can is not the way to go! They also analyse a few video clips and offer areas the young bowlers can work on to improve their actions, including how to maintain balance in your delivery stride and the importance of a strong wrist position. And for the batsmen, Rob explains how he went about facing some of the world's fastest bowlers.
In our first coaching clinic of the season, Rob is joined by Nasser Hussain and Ian Ward to go over the batting basics. How to grip the bat, which guard to take and finding the best stance for you. The trio also answer questions on whether to change stance, guard or both depending on the bowler, using Joe Root as an example of one way to go about it, and analyse a video clip of a young batsman advancing down the track.